Pinoy Missionary Couple Biked Their Way Through 4 Countries With Their Toddler in Tow!

They started their journey in Cambodia and finished their trip in Singapore after 40 days.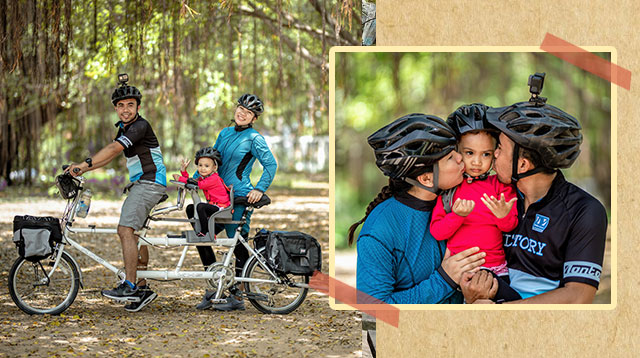 Joram Equipado, 34, is one of the lucky ones who can merge his passions — cycling and traveling — with his faith and service to the Lord. As a pastor and volunteer missionary in Cambodia, he does charity bike rides around the city to raise funds for different charity missions.

"In 2018, we did 'Pedal for Pencil,' a 60-kilometer ride with 20 other riders to raise funds and give bags and school supplies to kids in our village [in Cambodia]. We raised more than US$500 (around Php26,000) and gave out 60 bags with supplies," he shares in an email interview with SmartParenting.com.ph.

Joram says cycling and traveling allow him to enjoy his "me-time" with God and nature. Thankfully, his wife, Jennifer (or Jen for short), a 32-year-old teacher and a fellow volunteer missionary in Cambodia, gives her full support.

Joram with wife Jen and daughter Jayni in Royal Phnom Penh University in Cambodia.

PHOTO BY 

Courtesy of joram Equipado

ADVERTISEMENT - CONTINUE READING BELOW

The two met in Cambodia in 2013 while they were both doing short-term missions. A year later, they went back to the Philippines in 2014 to get married. They stayed in Mindanao for three years, serving at a local church before going back to Cambodia, and accompanied by their daughter, Jayni, this time. 

In March 2019, Joram was invited to join a one-week conference in Singapore for Fatherheart Ministries, an international religious organization. Instead of flying, Joram hatched a plan: he would bike his way to Singapore from Cambodia in 21 days.

When Jen found out about his plans, however, she proposed something crazier — she and Jayni could join him!

After praying, planning, and sharing it with their family and friends, Joram and Jennifer decided their adventure could help raise funds for a cause, and they picked the Daughters of Cambodia. Joram was already a volunteer for the non-profit organization, which seeks to "empower those trapped in the sex industry in Cambodia to walk free and start a new life."

Thus, the Freedom Ride was born — a 40-day journey across four countries — Cambodia, Thailand, Malaysia, and Singapore. The couple's goal was to raise US$25,000 (around Php1.3 million) in donations for their 2,500-kilometer trip. For every kilometer their family biked, they hoped to inspire people to donate US$10 dollars (around Php500) to help women who are victims of human trafficking and sexual exploitation. They set up an account on DonorBox, an online fundraising website that allows individuals and nonprofit organizations to receive donations. They also set up a Facebook page, J3gether, to update followers on their journey.

CONTINUE READING BELOW

Recommended Videos

What other parents are reading

Preparing for the ride of their life

The Equipado family used a tandem bike and a bike trailer for their daughter, Jayni. Inside she has her rechargeable fan, water, food, her favorite teddy bear, and a comfy pillow and blanket.

PHOTO BY

courtesy of Joram Equipado

Joram and Jen mulled leaving their daughter with her aunt, but Jayni didn't want to stay behind. "She had not been away from us even for a day," Joram explains.

The couple bought a folding tandem bike from Bangkok two months before the ride because Jen wasn't confident enough to cycle on busy highways. About a month before the Freedom Ride, they received another blessing: a bike trailer for Jayni, which came all the way from the Philippines.

The family got acquainted with their bike by cycling through the streets of Phnom Penh. They borrowed a stationary bike from a friend to train during rainy days and opted to use the stairs instead of elevators when going up and down their apartment.

ADVERTISEMENT - CONTINUE READING BELOW

"We cycled for a cause, not for applause, and we did it to express ourselves in many ways, not to impress people. Giving all the glory and honor to God whom we call Abba, Father.

"We understood that the 40-day journey would be hard, so we had to prepare our physical bodies. At the same time, we also did emotional and spiritual preparations," Joram shares. "Aside from asking for prayers, we did Daniel Fast (a religious partial fast) and family worships. During our family devotions, we talked about the plans and envisioned the difficulties, then prayed about it."

Since they would be traveling by bike, it was important to travel light and only pack the essentials. Jen was in charge of the first-aid kit with medicines and vitamins, oils and balms, and books and coloring materials for Jayni. Joram secured tools and repair kits for the bike, lights, powerbanks, smartphones, speaker, camera, a drone, and camping gear (hammock and fan). Other essentials include their ATM cards, passports, and the Bible.

"We only packed four sets of clothes and one pair for Sunday's best. As for Jayni, she was allowed to bring one stuffed toy," Joram shares.

A different kind of adventure

Joram packed a drone so they could record their 40-day journey. Here they are biking through Kampong Thom province in Cambodia.

PHOTO BY

courtesy of Joram Equipado

ADVERTISEMENT - CONTINUE READING BELOW

The Equipado family crossed Cambodia for seven days from Phnom Penh to Poipet, Thailand's border. It was the "easy" part of the journey because they were familiar with the roads and could communicate with the locals. But they experienced extreme heat during noontime or sudden downpour in the afternoons, which caused delays. "In some parts where we could not find any shelter, we just had to pedal our way through using raincoats and covered the trailer of Jayni," Joram says. "We had seven flat tires due to punctures — five of that happened in Cambodia."

The next stop was Thailand, the longest route of the journey but also the most scenic one. "We struggled a lot communicating with the locals but we found Google Translate very helpful. We also enjoyed the food and the hours of cycling on bike lanes," Joram shares.

Their ride took them to lesser-known but beautiful tourist destinations, like Prachuap Khiri Khan, a sleepy seaside town in Thailand.

PHOTO BY

courtesy of Joram Equipado

ADVERTISEMENT - CONTINUE READING BELOW

Their ride through Malaysia was the hardest and the most tiring. They were not allowed to bike on the highways, so they took narrow old roads with lots of hill climbs. "There was one instance where we were still cycling up to 11 p.m. trying to find a place to stay for the night," Joram shares. The family still managed to swing by popular tourist spots like Cameron Highlands and Legoland.

The family experienced new things including staying inside a tiny home in Malaysia.

PHOTO BY

courtesy of Joram Equipado

On August 9, 2019, the family crossed the Border of Johor Baru to Singapore, just in time for Singapore's Independence Day. Here, they only did five kilometers of cycling because the country's laws prohibited their bike type, plus the trailer, for road use. The family opted to call a van to bring them to their final destination in the city center.

ADVERTISEMENT - CONTINUE READING BELOW

Traveling made a shy child come out of her shell

Jayni enjoyed her visit to the Boh Tea Plantation in Cameron Highlands, Malaysia.

PHOTO BY

courtesy of Joram Equipado

Joram says the best part of the journey was cycling from country to country as a family, enjoying God's creations, and experiencing good Samaritans who showed kindness and generosity along the way.

Though there were a lot of people who expressed misgivings about taking their toddler along, Joram says he is thankful their daughter joined them in their trip.

"Jayni came out of her shell during this journey. Before she would only talk a lot inside our tiny apartment and with people she knows. But on the road, we noticed she approached almost everyone and even asked for their names," he says. "Or she would introduce herself and told people about the things she saw and experienced."

Jayni, who would have tantrums in Cambodia, was well-behaved during their travels. Her parents said she was also a picky eater, but she adjusted to the different food offered to her. Joram says, "She always had this wide-eyed expression that showed she was so eager to learn and make friends with other adults and kids along the way."

ADVERTISEMENT - CONTINUE READING BELOW

He adds, "She learned a lot of new vocabulary as well and she's more active and talkative than before. I guess her world became bigger and brighter. Her faith and trust in us and God also grew deeper."

Deepening their faith and relationship as a family

Their charity bike ride was filled with scenic stops, like going to the Swiss Sheep Farm in Thailand.

PHOTO BY

courtesy of Joram Equipado

The Freedom Ride raised US$4,856 (around Php252,000), and every dollar went to the Daughters of Cambodia for their counseling and medical sessions, daycare, salary, food, and rent.

For Joram, the 40-day journey strengthened their faith and confidence in God. He was also changed by the trip. "The way I [treat] my family as a husband and father changed," he shares. "I became more intentional in providing for them, protecting them, and planning for their future. I learned to give authority and trust to my wife for the things that she is in charge with instead of being bossy.

ADVERTISEMENT - CONTINUE READING BELOW

The adventure also taught him to appreciate the simple things. "I learned to identify the essentials and non-essentials in life. We can be happy and content not having all the luxuries and hoarding material things. As of now, we are starting to follow a minimalist lifestyle," he says.

With their experience, we can expect this couple to have more adventures as a family. Their next charity bike ride: Taiwan, China, Macau, then Hong Kong! "God-willing, next year!" Jerom says.

We found another Pinoy couple who is raising their kid in Cambodia! Click here to read why Cambodia is considered one of the most family-friendly countries.

What other parents are reading

Celebrate your pregnancy milestones!


Enter your details below and receive weekly email guides on your baby's weight and height in cute illustration of Filipino fruits. PLUS get helpful tips from experts, freebies and more!

You're almost there! Check your inbox.


We sent a verification email. Can't find it? Check your spam, junk, and promotions folder.

Trending in Summit Network