Mom Shares Toddler Twins' Heartbreaking Accidental Death, Hopes Facebook Post 'Will Help Other Parents'

Our thoughts and prayers go out to the family.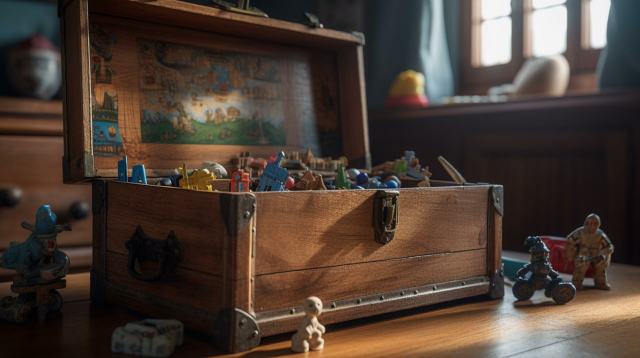 Trigger Warning: This article is about the accidental death of two kids. This may be difficult for some readers.

Florida, USA – A mother of two 4-year-old twins who tragically suffocated inside a toy chest hopes that their devastating story will serve as a cautionary tale for others.

Sadie Myers shared their story in a heartfelt Facebook post, expressing her profound grief and reflecting on their loss. She stated, "Not many will understand the pain of losing two children simultaneously, and losing them in a manner that defies logic. However, I have to believe that something in the universe singled them out, perhaps to shield them from a future tragedy, or maybe because their souls were too pure for this world."

PHOTO BY

Facebook / Sadie Myers

ADVERTISEMENT - CONTINUE READING BELOW

The twins, whose names were Aurora and Kellan Starr, were the youngest of four siblings. In the same Facebook post, Myers recounted that on the night of August 25th, their father, Don Starr, put all four children to bed while she was at work. She explained that on many occasions, the 4-year-old twins would wake each other up during the early hours of the morning to play in their room instead of going back to sleep. She said that they typically end up falling asleep in unconventional, "weird" places in their room, surrounded by toys.

Tragically, on that particular Friday night, the "weird" place they chose to snuggle up and drift back to sleep in was inside their cedar toy chest, where their stuffed animals are kept. Sadie said, "They pulled out all but a couple stuffed animals, I guess they left some to keep it comfy in there, then they laid inside head to toe with one arm each over their twin and I'm assuming said 'Good night Kell Kell,' and 'Good night Sissy…'"

"Sometime during their sleep one of them must have moved or kicked during a dream and it caused the lid of this old wooden cedar chest to close."

Myers continued, noting that just like most parents, she and her husband were unaware that such wooden toy chests could become airtight and soundproof when closed. She shared, "So as they slept, all snuggled up together, they slowly ran out of oxygen within a couple of hours and passed away. They never even knew it was happening. There was no sudden gasp of air, it was a very slow transition from sleep to passing on…"

The heart-wrenching discovery was made when Myers woke up the following day to prepare for work. She recounted that on that day, her two older boys were playing outside, and she assumed that the twins were still asleep. Don went to check on them but found that they were not in their beds. Panic then ensued as the family searched for the twins throughout the house and even in their street. She said that it was their son, Axton, who made the discovery, exclaiming, "Mommy, I found them! They are so silly, just sleeping in the toy box."

ADVERTISEMENT - CONTINUE READING BELOW

However, Myers quickly realized that "Something wasn't right, but I also quickly realized it was already too late… It makes no sense to me and never will…"

What other parents are reading
First Coast News reports that the Jacksonville Sheriff's office initially reported the children's deaths as a "medical emergency." However, the Florida Department of Children & Families website later revealed that the two children had suffocated inside a "footlocker/toybox."
In the same news report, Myers shared that she had previously tied the wooden chest shut with the stuffed animals inside, as the twins already had many toys out. However, she recalled that the twins "Begged me to open it so they could play with the stuffed animals inside," when she rearranged the twin's rooms to make them feel like "big kid" rooms. She also said, "I still made sure to have something tied on the latch so that the kids couldn't lock each other in and so it wouldn't latch shut if closed, unfortunately that didn't prevent it from being airtight if closed."
ADVERTISEMENT - CONTINUE READING BELOW
Myers and her family will forever cherish their memories with Aurora and Kellan. She reflected, "We were so very lucky to get the gift of having the twins with us for even a short time, because they changed us all for the better and brought sooo much light and love into our lives, every second with those twins was full of laughter, silliness, dancing, silly questions and funny faces, games and jokes, happiness and love!!! We will cherish those memories and always celebrate the twins and we will carry their memory with us in all we do."
According to Kids in Danger, at least 34 deaths to children under 18 have been reported between 1996 and 2014, all involving toy chests. Since 2005, more than 21,500 toy chests have been recalled due to hazards including strangulation, entrapment, injury, and lead poisoning.
A GoFundMe campaign has been established for the family.
Read Sadie Myers' full post here:
ADVERTISEMENT - CONTINUE READING BELOW

Trending in Summit Network