Join the next Smart Parenting Giveaway and get a chance to win exciting prizes!
Join Now
3 Moms Share Their Time-Tested 'Iwas Sakit' Tips During 'Sipon' Season

Their pieces of advice are based on their experiences when their kids got sick.

CREATED WITH SIMILAC GAINSCHOOL HMO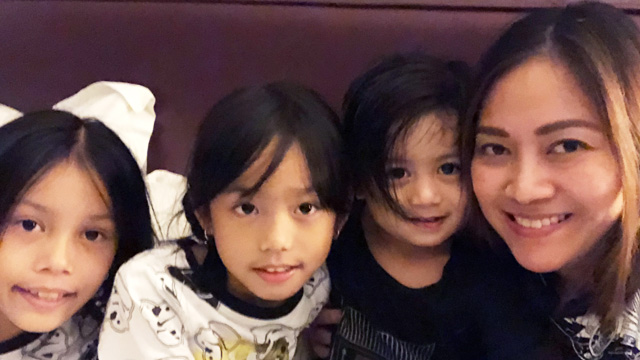 As a mom, you would do anything humanly possible to keep your child healthy. When your child gets sick, it's not only him who suffers — you, as their parent, do, too! There's nothing more difficult and distressing than seeing your child becoming weak and helpless.

Moms Sharm Macalua, 41, Aish Tan, 26, and Nikki Revil, 29 — from the Smart Parenting Mom Network — understand very well the ongoing struggle of every mother who wants to keep her kids safe and healthy.

In her earlier years as a mom, Nikki says she panicked a lot, calling her own mom and aunt whenever she saw symptoms of sickness in her daughter. "I sent them photos even if it was just a small rash. I was completely paranoid. I felt like I was not doing my role as mom well," she says.

"One of the things I did to overcome my anxiety was to count 10 deep breaths and smile — I do this a lot! I need to be calm and composed so that I could think [rationally]. Panic won't help solve the problem, neither would it make the situation any [easier]," the mom of one relates.

Mom of three Sharm agrees: "Taking care of a sick kid is the most challenging part of being a mom. We need to be strong for our children. We need to protect and nourish them properly, but we also need to be healthy for them."

"Whenever my kids get sick, I feel so worried because they are still so little. I'm always 'praning' that it might lead to something serious," shares Aish, also a mom of three. "But as time went by, I realized that these things are inevitable. The only thing we can do as moms is to try to stay calm as much as possible and [do what] we can to prevent these things from happening."

But what can moms do to avoid illnesses from spreading in the family, especially when it seems like everyone is getting sick? Here, Sharm, Aish, and Nikki share how they do it:

1. Look at handwashing as a vaccine.

Photo

Courtesy of Sharm Macalua

.

"You always have to make sure your kids' hands are clean before they eat. Sanitize your house often. See to it that the play area is always clean. Always take vitamins to strengthen your body against viruses. I learned these tips from my kids' pediatrician. Doctors know best.

"I used these tips when my eldest child got really sick with flu and was hospitalized. She probably got it from dirty play areas or the indoor playground in the mall. Also, two of my daughters contracted HFMD (hand, foot, and mouth disease) four years ago. They also got it from the indoor playground.

"Since then, I see to it that they clean their hands before meals. I always make sure the play area is clean. I sanitize everything they use with disinfectants. I'm sure my friends call me, 'germophobe mom,' but I don't care. I just want to protect my kids from those nasty viruses." — Sharm

2. Never underestimate the power of water.

Photo

Courtesy of Nikki Revil

.

"Among the several tips and tricks I've [learned] from the influential people around me—my mom, grandmother, and aunts—keeping kids dry, warm, and hydrated is the most effective way to prevent sickness.

"During play especially in the summer, my [daughter] tends to sweat more than usual. I need to replenish these lost fluids with water as much as possible—and it also helps [her] poo regularly.

"I started giving [my daughter] water regularly when she reached eight months. She got sick, [and had] constipation and [was dehydrated]. That was [also] the instance her fever reached almost 39 degrees. It almost gave me a mini heart attack." — Nikki

3. Avoid close contact with sick people.

Photo

Courtesy of Aish Tan

.

"I learned the hard way that prevention is the most critical step when it comes to illnesses. For example, my kids would easily catch [a] cold before. It was embarrassing to be always warning my kids in public to stay away from people with a cold or cough because I might hurt other people's feelings.

"But I've learned then that health is a priority, which is why I take the initiative to do preventive measures. Now, I ask my kids to wear face masks when going to crowded places or when family members or classmates have a cold. This also helps prevent spreading the virus to others. An ounce of prevention is worth a pound of cure." — Aish

4. Let your kids play to stay active.

"[I] consider exercise to be very important. This is why we schedule physical activities for the kids throughout the week, such as [playing] in the condominium gardens or playground and swimming." — Aish

"Exercise is so important for kids to stay active and healthy. If they are not active, their bodies will deteriorate and [they'll] fall sick often." — Sharm

"I told myself that [my daughter] should go out and play under the sun more often than usual. That's what I have been doing. Interaction with other kids and play are really important for growing tots." — Nikki

5. Mix your child's favorite food with a nutritious diet.

"There are lots of ways we could prevent our kids from getting sick, like keeping them hydrated, letting them drink nutritious milk, and letting them eat healthy food. Nutrition is essential because it helps strengthen the immune system." — Aish

"Nutrition also plays a major role in keeping kids fit and energetic. Healthy food and vitamin intake are keys to achieving a better immune system. It is better to be one step ahead than suffer the cost and strain of seeing your child sick." — Nikki

As these moms noted, kids need to eat a balanced diet with nutritious food, like fruits and vegetables, to keep their immune systems healthy. It also helps to complement your child's balanced diet with growing-up milk Similac GainSchool. Coupled with a nutritious and balanced diet and an active lifestyle, Similac GainSchool helps kids grow up healthy and active.

The new Similac GainSchool is the first growing-up milk in the world and the first in the Philippines that contains HMO, specifically 2'-fucosyllactose (2'-FL) HMO. It helps strengthen a child's immune system, which is the key to fighting off infections in their bodies and preventing diseases. This is the reason millions of moms around the world trust Similac GainSchool for their children.

It's okay to be a little paranoid when it comes to your children's health. As a mom, you only want them to grow up healthy, happy, strong, and smart. And if that means being more meticulous about their well-being, then so be it!

Similac GainSchool is a growing-up milk drink for children 3 years old and above and is not intended as a breastmilk substitute. To know more about Similac GainSchool, visit its official website.

ASC REFERENCE CODE: A029P051719S
This article was created by Summit StoryLabs in partnership with SIMILAC GAINSCHOOL HMO.