What Makes a Child Happy in Life? This 2019 Report Singles Out One Factor

It's not enough to get your kids off their gadgets.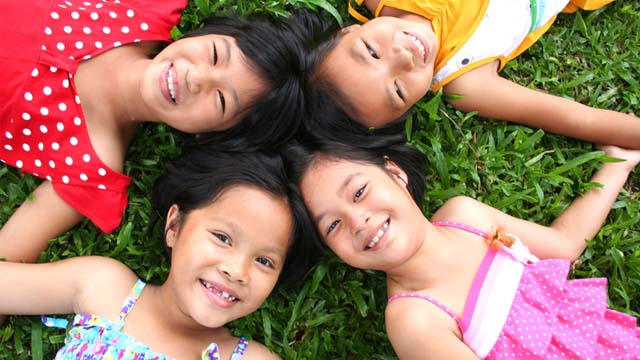 Parents wish nothing for their children but to be safe, healthy, and happy. To keep them safe, we safeguard them against possible threats: we discuss online danger and other critical issues like bullying and teach them how to conduct themselves outside of the home. 

To keep our kids healthy, we make sure we feed them right, vaccinate them, and do what we can to avoid unnecessarily exposing them to illness. 

To keep them happy, we...are often dumbfounded because happiness is such a vague concept. There are moments we see them delighted, excited, even, but is it the same as being happy?

What other parents are reading

In the 2019 World Happiness Report released in March, data places Finland as the happiest country in the world for the second year in a row (incidentally, they also have one of the best education practices in the world. Read about them here and here.) In the report, two important details were highlighted:

ADVERTISEMENT - CONTINUE READING BELOW

One, it is not the success that brings person happiness; instead, being happy drives one to become successful.

And two, how a person spends his leisure time contributes to his happiness.

In this digital age where we spend most of our waking time on our mobile phones and other gadgets, it's safe to say that leisure time for both young and old involves exercising our thumbs typing, scrolling, and controlling buttons using our electronic device.

In the report, the "Monitoring the Future" survey was cited. The famous report, conducted among 13-18 year olds since 1976, and among 8th and 10th graders since 1991, notes that in the last decade, "the amount of time adolescents spend on digital screen-based activities has skyrocketed, with the average 12th grader spending more than six hours a day of leisure time on screens (the internet, texting, and social media). Forty-five percent of adolescents report being online 'almost constantly.'"

What other parents are reading

True, the world has evolved and the way kids do things now is different from how it used to be decades ago (mobile phones have replaced landlines, school research is done online instead of the library, and homework is now assigned using social media platforms), and one may argue that going digital is a necessity.

However, Find the Fire author Scott Mautz notes this: "The more time you spend on a screen, the more you lose out on face-to-face time (opting instead for Facetime), the more you stop attending religious or social events, the fewer books you read, and the less sleep you get.

"Those are often fundamental cornerstones of health and happiness."

He goes on to say that an increase in online activities means less time to do all other "critical activities," which may impact general well-being.

Thus, our first — and toughest — task as parents is to get our kids to spend less time on their mobile phones, gaming consoles, and computers.

ADVERTISEMENT - CONTINUE READING BELOW

However, merely getting kids off their devices is only half the battle, Mautz notes. It also matters a lot what our kids do with that freed-up time — their leisure time — because as mentioned, it will determine their happiness and, ultimately, their success.

What other parents are reading

How to begin a no-gadgets rule at home

1. Communicate the rule.

It's not a rule unless you make it known to those who must abide by it. Start with areas at home where gadgets are not allowed, such as the dining table — no devices during meals. A family conversation at dinner may be a lot to ask for if you're not used to it, so start slow but steady. In time, it will flow naturally.

2. Have consequences.

Gadgets use should be a privilege, not a right, and certainly not the norm. Make your kids work for that privilege. Inversely, when the rules are not followed, there have to be consequences that are made clear to everyone.

ADVERTISEMENT - CONTINUE READING BELOW

3. Walk your talk.

Mom and dad, you're watching your kids, but who's watching you? That's right, your kids are. So if you're not setting a good example for them to follow, don't expect them to abide by the rules, either. 

Oh, and in case you are wondering what the report's findings are regarding kids who spend more time reading books or having more time for human interaction, and if they are indeed happier, the study gives an emphatic YES.

Trending in Summit Network