This Couple Says Raising Kids in Singapore Is Expensive But You Get 'Peace of Mind'

A mom of two shares how she and her family are thriving in this first-world country.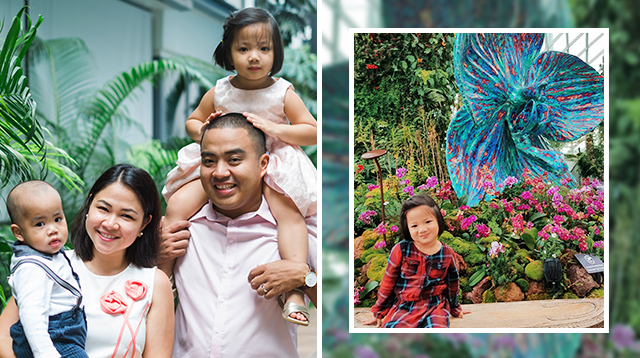 Miko and Clarissa de la Paz had only been married a year when an opportunity came knocking — Clarissa got an irresistible job offer in Singapore, prompting her husband to look for opportunities there as well. But both were understandably hesitant to make the big move.

"We didn't really have plans of leaving Manila. Life was great back home, and we are both close to our families," Clarissa tells SmartParenting.com.ph. "But my mom said just to give it a try. It's always easy to go back home."

Clarissa moved to Singapore in September 2013, and Miko followed a month after. During their first year abroad, they would go home to Manila every month and fly back and forth for special occasions.

What other parents are reading

Living in a kid-friendly country

Clarissa de la Paz and her family have been residing in Singapore for five years now. (From left) Son Basti, Clarissa, husband Miko, and daughter Alessi.

PHOTO BY

courtesy of Clarissa de la Paz

ADVERTISEMENT - CONTINUE READING BELOW

In 2015, Clarissa became pregnant with their first child, Alessi. She opted to give birth in the Philippines because of how expensive childbirth in Singapore. She added, "My husband's parents are both doctors, so it's just logical to give birth in Manila and get medical support. Apart from the expenses, we also just want to be with family during the newborn stage."

She did the same for her son, Basti, who was born in 2017. According to Singapore's Ministry of Manpower website, the government can provide up to 16 weeks of paid maternity leave. Clarissa's company gave her the said amount of time for both her pregnancies.

Now that her kids are 4, and 2, Clarissa and her husband are experiencing the kid-friendly ways of her adopted country. "When I was breastfeeding, it helped that all the malls would have a nursing room," she notes. "There are stroller ramps and elevators everywhere, and there are many parks here which families frequent especially during the weekends. You also have the famous Singapore Zoo, Night Safari, Jurong Bird Park, and Sentosa. These are all in the city."

What other parents are reading

Clarissa and her family live in a condo with a vast park right beside it.

PHOTO BY

courtesy of Clarissa de la Paz

CONTINUE READING BELOW

Recommended Videos

The couple also appreciates the fact that living in Singapore makes them feel secure. "We have peace of mind that even if they're not with us, they'll be safe. You see so many kids just walking to school or riding the public transport by themselves," Clarissa says.

Another perk: Clarissa has a helper in Singapore, which she says, "other first-world countries do not commonly enjoy." The helper is also a Filipino and has been with her in-laws for 20 years before coming to Singapore when Clarissa's daughter was 3 months old.

"[Our helper] walks our kids to and back from preschool and daycare. We wake up to breakfast she's prepared and with our packed lunches ready. During the day, she cleans the house, does our laundry, and runs our errands," she shares.

What other parents are reading

A day in the life of a parent living in Singapore

Clarissa attests to Singapore being kid-friendly, with Instagram-worthy tourist destinations! Here's Alessi at Gardens by the Bay.

PHOTO BY

courtesy of Clarissa de la Paz

ADVERTISEMENT - CONTINUE READING BELOW

Clarissa works in advertising while Miko works in finance. In the morning, the couple prepares for work while the kids prepare for school. Both take the train to work as there is an MRT station located near their condo. It's another "perk" they cannot help but compare to the Philippines.

"Public transport in Singapore is very efficient. There is no time wasted in traffic," Clarissa shares. "You have so many options to take to get to your destination. Singapore is very small, so it's so easy to go around."

"I start checking my emails as soon as I hop inside the train. You can be so productive already, unlike in Manila before, where I would drive," she says. "Internet is also fast so you can do so many things on your mobile device during the commute."

What other parents are reading

Visiting this water playground near their condo has become a weekend staple for the de la Paz family.

 PHOTO BY COURTESY OF CLARISSA DE LA PAZ




"It's very impressive how Singapore keeps on building MRT lines. It's nonstop. We also sometimes take the bus, taxi, or car via ride-hailing apps. We are always hopeful that someday Manila will adapt the public transport system of its neighbors," Clarissa says.

ADVERTISEMENT - CONTINUE READING BELOW

There are a lot of child-friendly destinations in Singapore, but the Dela Paz family chooses to go swimming during the weekends. "It's become a staple activity. Our kids love the water, and our daughter has swimming lessons every Sunday," Clarissa shares. "There's also a park beside our condo, so we walk with the kids there."

Since Singapore is also a favorite tourist destination for Filipinos, Clarissa and her husband find themselves playing host to family and friends who visit, allotting weekends to meet up. Recently, her sister and cousin have also moved to Singapore, so they are also able to have family get-togethers.

What other parents are reading

Falling in love with another country

In Singapore, kids can enjoy the outdoors and parents don't need to worry about their safety.

PHOTO BY

courtesy of Clarissa de la Paz

Though they've only lived in Singapore for five years, Clarissa cannot help but share all the things she loves about the country. "My husband and I often joke that Singapore spoils you — it makes living here very easy," she says.

ADVERTISEMENT - CONTINUE READING BELOW

Work salary

Clarissa makes it clear that she can only speak for herself, but for the industry she works in, you can earn more than double of what your salary would be in the Philippines. Economically, the Singapore dollar also continues to grow stronger, so they get more value when sending money back home. Taxes are even lower at seven to 15 percent.

Diversity

Singapore is a melting pot of culture and people. Not only has the family learned to celebrate different festivals and holidays, but they've also learned to adapt to the ways of the country. "Our kids learn Mandarin in school and we also sometimes have to speak Singlish (Singaporean English) to better communicate with some locals," Clarissa shares. "I also enjoy sharing our Filipino culture to people I meet. We always act as ambassadors promoting the Philippine culture. You realize the world is both big and small at the same time."

Singapore is home to various nationalities, and Clarissa enjoys meeting and working with people from across the globe. "People here live the expat lifestyle, so they tend to move markets, hopping from one country to the next. I'm in a global team here, and our clients are based in London," she says.

Clarissa shares that schools often invite parents in school activities. Field trips are four times a year — and always with parents!

PHOTO BY

courtesy of Clarissa dela Paz

ADVERTISEMENT - CONTINUE READING BELOW

Food

There are a lot of authentic cuisines to choose from — Singaporean, Indian, Indonesian, Thai, among others. The country is famous for its hawkers, so Clarissa and her family enjoy bringing their guests to the popular ones. "They say it's expensive in Singapore, but it also surprises us that whenever we come home to Manila, the price of eating out has also caught up, sometimes even comparable to Singapore rates," Clarissa notes.

Ease of access

Clarissa shares that Singapore is all about efficiency. "You can do pretty much everything online here — we order our groceries online, we file our taxes online," she shares. She also loves that Changi Airport has so may flight options to various parts of the world. "When push comes to shove, you can arrive at the airport on the hour before your flight — which we've done so many times — and still make it."

What other parents are reading

Challenges of a Filipino family living in Singapore

One of the things Clarissa misses about the Philippines is the beach! Good thing Malaysia is nearby. Take a four-hour drive, and you'll arrive at Rawa Island.

PHOTO BY

courtesy of Clarissa de la Paz

ADVERTISEMENT - CONTINUE READING BELOW

Though both Miko and Clarissa have stable jobs, living in Singapore is still expensive, especially for foreigners. Apart from rent, fees for the kids' education are steep. "We need to enroll our kids in international schools here, which average around 3,000 SGD per month," she says. That's around Php116,000 a month when converted into Philippine peso.

But the couple sees it as a positive thing. "This is something we're looking forward to because Singapore is such a melting pot, so schools are so diverse in culture, and that's exactly the kind of exposure we want our kids to have," Clarissa says.

When asked if they are considering moving back to the Philippines in the future, Clarissa says it's always an option, just like it is to continue living in Singapore. "Singapore has been kind to us, and I don't regret my decision," Clarissa shares. "But now our dream is to raise our kids to be global citizens. So we're looking at doing what people here do — move markets and try living in another new country someday."

What other parents are reading

Celebrate your pregnancy milestones!


Enter your details below and receive weekly email guides on your baby's weight and height in cute illustration of Filipino fruits. PLUS get helpful tips from experts, freebies and more!

You're almost there! Check your inbox.


We sent a verification email. Can't find it? Check your spam, junk, and promotions folder.

Trending in Summit Network