Moms Stay At Home, Dads Go To Work? Rica Peralejo On Redefining Gender Roles In Family

Why society should stop dictating the responsibilities of moms and dads.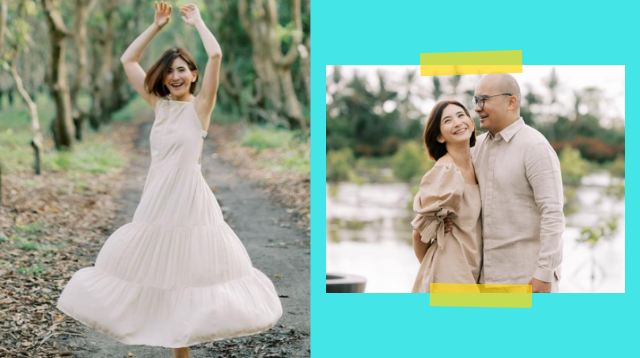 Welcome to Real Parenting, a space where parents can share the joys, pain, and the mess of parenthood. Want to get something off your chest? Share your parenting journey? Email us at smartparentingsubmissions@gmail with the subject "Real Parenting." Click here to read more 'Real Parenting' stories. 

It's the 21st century, but even in today's modern times, gender biases, which most often than not put women at a disadvantage, continue to exist. Case in point: gender-based stereotypes between the role of moms and dads when it comes to running the family— that is, moms stay at home while dads bring home the bacon.

In support of the call to #BreakTheBias this National Women's Month, Smart Parenting's Editor-At-Large, Rica Peralejo-Bonifacio, shared her thoughts on this gender-based stereotype in parenting.

Moms' and dads' roles in the family should be flexible 

Episode 3 of Poprica, Smart Parenting's YouTube program featuring Rica, tackled why it's time to retire the gender-based bias: "parenting is a mom's job while providing is a dad's responsibility."

ADVERTISEMENT - CONTINUE READING BELOW

Watch the full episode here:

MORE POPRICA EPISODES:

"Mayroon kasi tayong gender bias na ang nanay pang-bahay lang, ang tatay 'yung dapat na nagpo-provide." But Rica emphasized, "In reality not all of us can stick to that cultural bias."

The mom of two believes that the roles assigned to moms and dads based on their gender should not be rigid and imposed. Instead, it must be defined by the unique circumstances of each family.

"Hindi ko sasabihin na tama 'yun or mali 'yun kasi...I always say, 'You always choose what is best for your family,'" she explained.

Rica went on to explain the long-established gender norm that men are the provider, while women are the primary caregiver and homemakers. 

She says, "Culturally, it is seen as dapat 'yung lalaki ang leader. Actually, hindi lang kasi provider eh. Pero parang leader ng home. Siya talaga nakakapag-provide ng pera kung hindi stability o ng direction para sa pamilya."

This reflects the saying we have in Filipino: "Ang mga tatay ang haligi ng tahanan. Ang mga nanay ang ilaw ng tahanan."

But as times change, so should our perception of the obligations moms and dads should fulfill in running a family.

Nowadays, more women are taking higher and executive positions at work. Disney, for one, has recently named its first woman chairman of the board, Susan Arnold. It's clear that women can thrive in the workplace, too, like men.

"We see a lot of women who actually can earn more than the husband." Rica and her husband, Joseph Bonifacio, are the walking testament to this.

ADVERTISEMENT - CONTINUE READING BELOW

"Obviously, my husband is a pastor, and I am a celebrity. So, whatever I make is sometimes already the equivalent of what he makes in a month," she shared.

Saying this, Rica notes that she doesn't mean to undermine her husband. She also emphasized how she admires Joseph's work ethic.

She says, "Also, that is an admirable trait of a man to not be so focused on the material thing and to not aim too high."

How Rica and Joseph's roles changed over time

Turning to her own experience, Rica recalled how she and her husband's role in the family in terms of providing financially has shifted.

She says, "When I married my husband, I told him I will continue working but all the neccessary, things in our life, katulad ng napkin ko, ng toothbrush ko, ng kuryente namin, ng pagkain namin, 'yung mga basic things na kailangan ko, para mabuhay.

ADVERTISEMENT - CONTINUE READING BELOW

"Ang rule lang namin, dapat masasagot ito ng trabaho mo. Kailangan mabuhay mo ko kahit hindi ako magtrabaho."

"I said that whatever I made from whatever I would do back then is something that's extra."

The celebrity mom says they adhered to this kind of financial set-up between the parents because "we wanted to establish ourselves as a family na  gusto ko 'yung asawa ko magkaron ng kumpiyansa sa sarili niya na kaya niya akong buhayin no matter what."

"And that was good for a time." Rica shared they eventually outgrew these rigid roles and rules on how they should handle finances as husband and wife. "After a season of that, I started working more, I started contributing to the family more.

She adds, "To this day we actually don't have lines anymore of 'ano ba 'yung sa'yo, ano ba 'yung samin.' Basta nagtutulungan na lang kaming dalawa. There is no sense of insecurity from his end, no sense of superiority from my end." 

ADVERTISEMENT - CONTINUE READING BELOW

In the end, Rica suggests that other couples also take a look and reassess how they define their roles in the family. She adds that when tension is felt, it's worth asking the question: "Do I continue subscribing to what the culture or community is saying about the way we do finances as a couple?"

Watch the full vlog below:

ADVERTISEMENT - CONTINUE READING BELOW

The #BreakTheBias conversation continues in Poprica! In the next episode, Rica hands the mic to Joseph to give his take on the issue from a husband's perspective. Subscribe to our Youtube channel by clicking here.

Trending in Summit Network