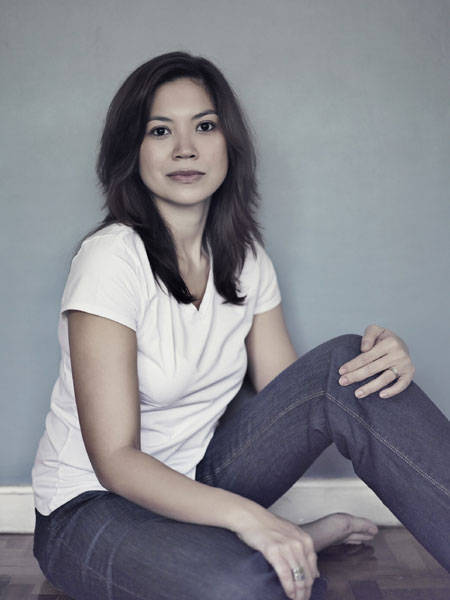 Believe it or not, I came to know of the cool online shop "Mothering Earthlings" through my circle of mom blogger friends. Come to think of it though, isn't that usually how word gets around about the latest fabulous online (and offline) finds – through fellow moms (and dads, sometimes) who just can't stop raving about their newest discoveries?

Once I browsed through the "Mothering Earthlings" website though, I found out that the "mother" behind the shop is also a mom blogger like me. Although we don't agree on certain things, to be honest, I sometimes find myself laughing out loud while reading her posts, especially about her two boys, Gael, 6, and Aiden, 4.

Now, here's your chance to get to know Rone Valles Guerrero, the mompreneur-mommy blogger behind "Mothering Earthlings" in her own words:

"Mothering Earthlings began when two earthlings (i.e. my kids) invaded my world. They came into my world and turned it upside down. This was when the search for cool and funky clothes began. It was hard. Kids' clothes were either too boring and conservative or ridiculously expensive.

The original idea of Mothering Earthlings was to make graphic onesies and tees. Then I found all these mompreneurs who were making good quality products at a fraction of the price of the imported brands. Each mom seemed to specialize in a few products that catered directly to a certain parenting lifestyle - there are the baby carriers, statement tees, journals, baby socks and a whole lot more.  

My sister (who is my business partner) and I then realized we didn't want to compete with these moms - instead we wanted to create a mom's `shopping haven,' carrying all the brands and products."
[previous|page|next]
Mommy Rone went on to say that the goal of "Mothering Earthlings" is to "pull together the best and the coolest Filipino designs and brands under one roof." Since today's moms are hands on – "we are into baby wearing and attachment parenting;" involved – "we don't miss PTCs, many of us homeschool and there is a rise in the number of work-at-home moms;" and "green" – "we choose to use cloth diapers and organic food," Mothering Earthlings is "all about this new lifestyle of moms."

When asked where she got the unique name behind her online shop, Rone candidly says it was her mom who thought of it: "I wanted something quirky, fun and different; something that slacker/scary/crazy moms like me could totally relate to. I couldn't have picked a better name."

Despite being one among many online shops, Rone says that "Mothering Earthlings is unique because it is 100% Filipino. It houses 17 brands and we continue to grow. It carries everything a child and mom may need from clothes to shampoo, cloth diapers to ring slings, nursing wear to journals, bibs to footwear."

As a mom who runs an online shop, Rone says that it has definitely has its advantages, among which are the following:
•    "You need only a low start-up capital."
•    "You can work from home, on the go, on your phone ... anywhere there is WIFI!"
•    "With the Internet there is a shift of power to the word on the street and non-traditional media. Internet is affordable so it is easy to capitalize on this."
•    "I have a flexible schedule that allows me to catch all the programs and activities of the earthlings."
•    "No dress code.  I can work in the rattiest shorts and tank tops."

Although, Rone admits that her shop's earnings are still not enough to sustain her financially, she believes that in time it will. "I know it," she beams with confidence.

So, for those of you who dream of setting up your own online business, you may want to follow Rone's advice: "I read this in an article: `The key to success is to be compensated based on your passion.' Isn't it so true? This is exactly why women decide to start their own businesses when they become moms. As mompreneurs, we are the brand - it is the combination of our experiences, things that interest us and things that drive us. So if we are true to ourselves, our brand will work," she says.

"I'm not exactly qualified to give business tips! But if there is one thing I can share, it is to do your research. A lot of it. You aren't the only one out there with a genius idea. See what is out there, what isn't. Figure out what your target market is up to, what they want. Only a deeper understanding of your target market will enable you to communicate with them effectively."

Words of wisdom from someone whose home and heart has been "invaded by earthlings," don't you think? Come to think of it, haven't we parents all been "invaded" in one way or another?

To know more about Mothering Earthlings, visit their online shop here: www.motheringearthlings.com. You can also send an email to motheringearthlings@gmail.com.
All photos from www.motheringearthlings.com