Pinay Mom Shares How Her 8-Year-Old Suffered After She Used Gadgets as 'Secondary Yaya'

She thought allowing her child to use gadgets one hour a day wasn't so dangerous.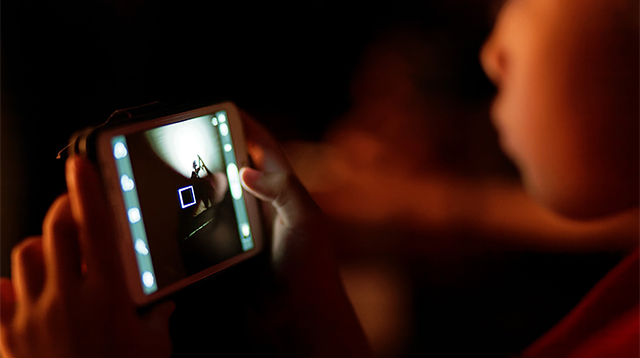 With recent news of the "Momo Challenge" and fake children's videos circulating on YouTube and YouTube Kids, as well as video games Roblox and Fortnite showing disturbing content, parents are urged to be more vigilant when it comes to monitoringwhat their kids are watching online. And this Pinay mom has come forward to share with us her family's experience to show parents that exposing kids to this content can have devastating effects.

In a closed Facebook group, Sara, who asked that her name be withheld for privacy, revealed in a post that her 9-year-old daughter confessed to disturbing thoughts after watching videos online. She gave SmartParenting.com.ph permission to publish it.

"It took me a while to finally come public with this. I debated with myself on how coming out with this will affect my daughter. But the mommy in me doesn't want any other mommy to go through the same," her post began.

"Six months ago, my daughter, just before she turned 9 [years old], was suicidal. The school called me up and showed [me] drawings that alarmed them. Drawing after drawings of how to harm herself. Storylines of a girl who [wanted] to kill herself.

"I have asked myself how could an eight-year-old know this."

What other parents are reading

"YouTube taught her this. Roblox players told her, 'Go kill yourself.' YouTube showed 100 ways to kill yourself. [The Netflix show] 13 Reasons Why romanticized the idea of suicide.

"[She has] Attention Deficit Hyperactivity Disorder (ADHD) and is impulsive. This and suicidal thoughts are lethal. I called our occupational therapist and visited our behavioral doctor. They immediately referred me to a child psychiatrist. Her advice: absolutely zero screen time!

"When our kids cannot process [thoughts] properly they are very prone to self-harm. Please stay away from YouTube, Roblox, and any online games. Even Minecraft can teach our kids how to drown themselves.

"She is ok now but is being closely monitored on a month to month visit to all the doctors.

"I just wish to share to raise awareness and to keep more kids safe."

ADVERTISEMENT - CONTINUE READING BELOW

What other parents are reading

How excessive screen time can harm our kids

Speaking with Smart Parenting via Facebook Messenger, Sara admits she was one of those moms who allowed her first two children, who are now ages 14 and 9, to be exposed to gadgets before they turned a year old, using it as a "secondary yaya." She is trying to avoid the same mistake with her youngest child, who is 1 and a half.

"My second daughter started with Disney channel and TV shows. Back then, there was no YouTube," Sara shares.

At age 3, her daughter was diagnosed as hyperactive and then with mild ADHD at 5 years old. Her treatment started when she was around 6 years old.

"I thought she was behaving with screen time. She has ADHD, but with screens, she can focus and sit still," Sara shares. "I thought it was helping her focus."

Sara says that the whole family had no inkling that her daughter was having harmful thoughts. Her daughter did not behave any differently at home. When her daughter's school called Sara for a meeting in July 2018, she was completely caught off-guard by what the teacher showed her.

Sara went to the school with her daughter's occupational therapist (OT) because it was part of their routine. The OT had taught the teacher how to handle her daughter during a breakdown.

When her daughter's teacher showed Sara the drawings, she was in denial. "I said, baka it's just an effect of 13 Reasons Why because my eldest daughter was watching [the show]. I said, 'Baka gaya-gaya lang.'"

The OT, however, became worried and said they shouldn't ignore what was happening. Luckily, Sara's daughter had a scheduled session with her behavioral doctor that week. The doctor then referred her to a child psychiatrist.

Sara had to call six doctors to book the soonest possible appointment. She finally found one that could see her daughter after two weeks. "Those two weeks were a nightmare because I didn't know what was happening," Sara shares.

CONTINUE READING BELOW

Recommended Videos

When being online becomes a dangerous influence

While waiting for the appointment, Sara reached out to her daughter. Her daughter was hesitant at first, and even said, "Mommy, I want this over."

But Sara pushed on. "We processed it together as suggested by our behavioral doctor. She opened up. She said she was depressed because she was losing friends," Sara says.

Her daughter also showed her the videos and games that influenced her thoughts. Sara was beside herself because before all this happened, she had been limiting her child's screen time use.

"I try my best to limit her use to one hour a day. Sometimes I allow her to use it a little longer but as a reward. Little did I know that those 'one hour a day' could still cause harm," she says.

Screen time has to be strictly monitored

Sara was present while the child psychiatrist talked to her daughter. "[The doctor] said [the suicidal thoughts] may be a one-time thing," Sara shares.

But the doctor pointed out that Sara was lucky she saw her daughter's drawings, and her daughter did not do anything else apart from it. "Since my daughter has ADHD and is impulsive, when she thinks of something she will just do it. That's why having suicidal thoughts was dangerous," Sara shares.

Sara shares that her daughter is doing better. She continues her sessions with her doctors and her ADHD medication. Most importantly, screen time is strictly monitored — she can only watch when the whole family is watching. She also cannot access gadgets like her iPad, phone, and laptop. Instead of screens, her daughter now goes to the playground and interacts with her friends.

ADVERTISEMENT - CONTINUE READING BELOW

What other parents are reading

Sara is lucky her daughter's teacher reached out to her, and they immediately took the necessary steps to help her daughter. She hopes other parents will never have to face a similar situation.

"I want to raise awareness on the use of gadgets, social media, and YouTube. Not all kids can cope with the bad messages it sends," she says, adding that devices should never be used as babysitters. "If we can't avoid screen time, we need to make time and sit with them to know what they are watching. It's for us to be aware of how it affects them."

How we can monitor what our children watches online

Nothing beats sitting down and watching with them, but parents can also put parental controls on the YouTube Kids app so kids can have a safer online experience. A feature called 'Parent-Approved Content' allows parents to choose EVERY video their kids will watch.

How to enable it: From the app, open settings, go to your child's profile and select "approved content only." Then start selecting videos, channels, or collections you like by tapping the "+" button. You can also search for a specific creator or video.

By enabling this feature, your kids cannot search for content on their own. They'll have to ask mommy or daddy first!

You can also go to settings and choose a content level for your child depending on her age. The "Younger" version is the default experience with a wide range of sing-alongs and age-appropriate learning videos. The "Older" setting is when you think your child is ready for a less restricted experience.

If you opt for the "Older" setting, parents may still find a video that they don't want their child to watch. When that happens, immediately block and flag the video for review. You can find detailed steps on how to do that here.

ADVERTISEMENT - CONTINUE READING BELOW

Don't be afraid to reach out if you or your child is feeling anxious, helpless, or despondent. If you need someone to talk to: 

Crisis Line +633 893-7603 / +63 917 800-1123 / + 63 922 893-8944 
Manila Lifeline Center at +632 896-9191 or +63 917 854-9191
Department of Health's 24-hour suicide prevention hotline Hopeline +632 804-4637 / +63 917 558-4673 and 2919 for Globe and TM subscribers 
You can also join SOS Philippines on Facebook, a support group founded for survivors of suicide loss and Filipinos undergoing mental health ailments like depression and bipolar disorder.

What other parents are reading

Celebrate your pregnancy milestones!


Enter your details below and receive weekly email guides on your baby's weight and height in cute illustration of Filipino fruits. PLUS get helpful tips from experts, freebies and more!

You're almost there! Check your inbox.


We sent a verification email. Can't find it? Check your spam, junk, and promotions folder.
Trending in Summit Network