Love Yourself So You Can Love More: Expert Tips On Dealing With Mom Rage And The Importance Of Self-Care

This expert says self-care is more than just treating yourself or indulging. Read her tips on identifying triggers and what you can do to prevent mom-rage.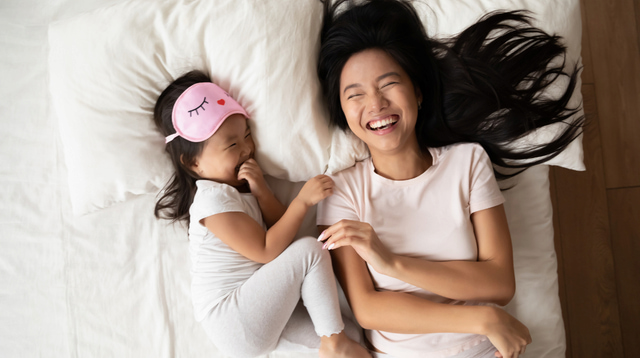 Many moms will agree that this phenomenon has happened to them once or twice and it has gotten the best of them. We're talking about mom rage—that phenomenon where you explode because you've just done 10 chores but there are 10 more waiting and that's not counting your toddler who wants some TLC after she spilt your coffee on the table a few seconds ago. It's just one task after the other and there's no window for rest.

"Mom rage is a common feeling of intense anger, severe irritation, frustration, helplessness, all at once and you cannot do anything about the situation at that present moment," says psychologist, speaker and author, Michele Alignay, Ph.D, RPsy, RGC. "It's excessive emotion and wala ka nang pagsisikan."

'Sometimes it's not good to bottle your emotions [even when you say] eh, ganito naman ako lagi.' It's not a good excuse.'

Just like 'mom guilt,' mom rage is also a coined term and there is no perfect study that quantifies it, says Dr. Alignay. "It's not an actual diagnosis nor a clinical disorder," she adds.

Quoting psychotherapist Carli Blau, Dr. Alignay expounds that mom rage is a phenomenon where in mothers feel intense anger that is unexplained and which can affect their daily lives, including everyone around her.

"When you have small kids and they don't have an insight on what's happening to mommy, they can be affected by [mom rage] unlike big kids na aware na and if may nagawa ka, there can be immediate repair and work. 

Triggers of mom rage

Dr. Alignay points out that mom rage can be different for everyone. It can be characterized by intense, explosive, and an out-of-control anger or outbursts or it can also be something that's out of character. "Yung hindi na ikaw yun," says Dr. Alignay.

ADVERTISEMENT - CONTINUE READING BELOW

'Self-care is not just binge watching K-drama or tapping 'add to cart'. "You have to find better ways."'

Feelings of mom rage may also linger, become persistent, or be triggered by something. She adds it may be harder for mothers who are not used to expressing their emotions.

"Sometimes it's not good to bottle your emotions [even when you say] eh, ganito naman ako lagi.' It's not a good excuse," warns Dr. Alignay. 

RELATED: Moms Are Often More Tired Than Dads: How Men Can Be Better Partners

Several factors may trigger mom rage, according to Dr. Alignay.

1. Insecurities. 

Some people have deeply rooted insecurities, and these become a trigger if they don't face them. These insecurities may stem from not being able to achieve what one wants to achieve whether in life or in their careers. Whatever it is, it stems from a 'hugot' or a lack of acceptance of the current stage one is in.

2. Personal guilt and shame.

Guilt and shame for whatever reason is a feeling nobody wants especially mothers. Many factors may stem from guilt and shame. "Mothers may be ashamed for doing less [for their families] and from that guilt and shame, that's where they are trying to soothe their kids and husband," Dr. Alignay says.

3. Lack or support and security.

Having no one to share your problems with can trigger rage.  "Wala akong masabihan. I don't feel affirmed," are just some of the emotions that may trigger rage, says Dr. Alignay.

'...mom rage is a sign that one's emotional needs are not being met, don't wait for somebody to recognize it for you.'

4. Role inequality.

Sometimes, mothers feel that they must handle the heavier load in the family such as working, taking care of the kids, and managing the home at the same time compared to their husbands.

ADVERTISEMENT - CONTINUE READING BELOW

Recommended Videos

RELATED: Share The Load Para Iwas Parental Burnout! Mga Paraan Mas Ma-Involve Ang Partner Mo

5. Hormones and mental health.

Post-Partum Depression, Post-Partum Anxiety and even midlife may contribute to mom rage. Mom rage may be triggered when too many shifts are happening in life, says Dr. Alignay.

It is our emotions that point us to a need, says Dr. Alignay. "Many times, we project these emotions [in the form of mom rage] because somebody triggered it."  

RELATED: Regine Tolentino Opens Up About Postpartum Depression: 'Iyak Ako Nang Iyak Araw-Araw'

Self-care and dealing with mom rage

Just because one experiences mom rage does not mean one is at a dead end. There are several ways to cope and deal with it, according to Dr Alignay. Up there is the need to seek help when needed and allotting time for self-care.

Author of the newly-launched and timely book, You Can Care For You: The Soul and Science of Self-Care under Feast Books publishing, Dr. Alignay draws some highlights from her book and share how self-care can spell the difference between rage and reining in one's emotions. 

You Can Care For You: The Soul & Science of Self-Care by Michele Alignay, PhD talks about self-care beyond self-indugence.

PHOTO FROM 

FACEBOOK /MICHELE ALIGNAY

ADVERTISEMENT - CONTINUE READING BELOW

1. Catch yourself.

When you feel that you are about to explode, step out—whether it means leaving the room or going out of the house to catch some air. "[Doing so] is a brave and courageous thing to do," says Dr. Alignay. It's equal to recognizing that you need help. 

2. Develop better coping skills.

This doesn't necessarily mean indulging in your favorite K-drama or 'adding to cart' like there's no tomorrow.  "You have to find better ways," says Dr. Alignay.

Learn to acknowledge that you need to deliver one day at a time and that you cannot do everything all at the same time.

"Adjust your ideals, your realities, expectations and standards to have better coping skill," she adds.

3. Seek professional help.

If the rage happens too often, maybe it's time to seek an expert's help. Go to a psychiatrist, psychologist, or counselor who know the kind of help you need. 

4. Do a lot of self-care.

"Self-care is scientifically proven to address emotional outbursts and to manage people out of their depression," says Dr. Alignay. Because mom rage is a sign that one's emotional needs are not being met, don't wait for somebody to recognize it for you.

"Rather than being swept off, tulungan mo na sarili mo," she adds. Self-care comes in so many forms—sitting with your emotions by writing in a journal, doing something you enjoy, exercising, and getting a good night's sleep, are just a few.

ADVERTISEMENT - CONTINUE READING BELOW

Dr. Alignay also emphasizes on the need to distance oneself from social media from time to time and other toxic relationships. "Put your mind to things that are uplifting."

Dealing with mom rage through self-care is something within every mother's boundary, Dr. Alignay assures. "You have the power, responsibility, ability, and inner resources to care for yourself…Love yourself so you can love more," she concludes. 

 

Visit michelealignay.com and her Facebook page for more info on her and her new book.

WATCH THIS RELATED VIDEO ON ANGER MANGAGEMENT FOR PARENTS:

What other parents are reading

Celebrate your pregnancy milestones!


Enter your details below and receive weekly email guides on your baby's weight and height in cute illustration of Filipino fruits. PLUS get helpful tips from experts, freebies and more!

You're almost there! Check your inbox.


We sent a verification email. Can't find it? Check your spam, junk, and promotions folder.

Trending in Summit Network