This Simple Phrase Was All It Took to Make Me Feel Visible. Say It to Other Moms

A mom who needed a boost of confidence in her parenting got it from someone she didn't expect.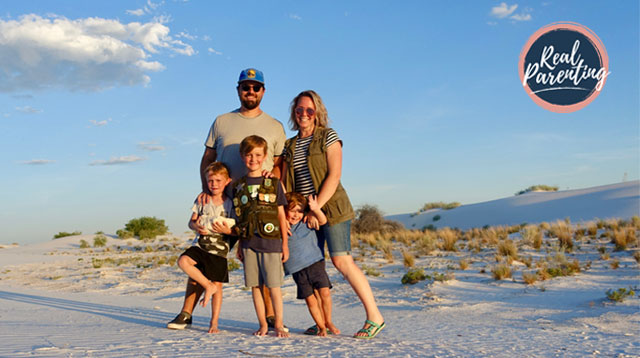 The last year of motherhood left me broken wide open. When most moms were bringing their kids to gymnastics and piano lessons, I was hustling between three different therapies a week for my two oldest children. As a Special Educator by profession, it hit me by surprise that they would need social-emotional and physical and occupational therapies.

I waited too long until things were really bad with my eldest before I realized I couldn't do this alone. Between weekly therapies and a 10-week intensive course at Ateneo for my eldest sons' therapy, my time seemed eaten up. Emotionally, I was worn out — the space I usually reserved for myself to recharge had dwindled. My allocated writing time for my blog and other freelance jobs devoured my fitness time. By the end of 12 months of therapies and extreme emotional wear and tear, I was left feeling, as Filipinos call it, 'ubos na.'

Summer was approaching at the time, which meant our annual trip to the United States was around the corner. I was one step closer to being near my mom, and surely, a seasoned mother like her who raised six kids could fix all my shortcomings. I changed our summer plans to visit Arizona from the usual two weeks to four, and I was on my way being whole again.

What other parents are reading

Finding my breathing space

As our visit approached, I realized my expectations were chalked up too high, and it might be quite foolish to think one person and a few weeks visit could emotionally heal all the hard work we had been through this last year. That twelve-month break between international travel always made me forget how much work a trip like that actually entails. 

ADVERTISEMENT - CONTINUE READING BELOW

I flew from Manila to Phoenix, a 28-hour travel itinerary, with my three boys by myself. When we landed, we hit the ground running, attending one family dinner to the next. I didn't plan anything our first few weeks hoping to decompress and spend time with my angel mother.

The author (third from left), with her two boys, describes her mom as "one of the most lovable and loving human beings there is. I am so fortunate our hearts are tied together forever."

PHOTO BY

courtesy of Amber Folkman

 

But one visit a year to your home country doesn't allow you the comforts of relaxation because there are too many people to see, too many errands to run and too many tacos to eat. I approached my family reunion across the world with the wrong mentality; I was not going to an ashram with my mom as my yogi instructor to practice mindfulness and be at one with myself and children. I was going to be in high stress, sleepless and time cramped inter-continental trip.

CONTINUE READING BELOW

Recommended Videos

What other parents are reading

Motherhood can be lonely — but I wasn't alone

I literally have to laugh out loud when I remembered my expectations. The funny thing was my time away from our regular routine in Manila, and a simple exchange between my sweet aunt granted me space and confidence I needed. 

Time away from our regular routine of school, therapies, and traffic allowed my perspective to shift. The labor of a mother does not go away when traveling but doing it at my mother's home in the mountains of Arizona was healing. Being in open nature every day was cathartic, but being around family humanized my children and me.

The whole family had fun on a DIY slip-and-slide at my aunt's place in Arizona.

PHOTO BY

courtesy of Amber Folkman

I witnessed that all kids are challenging, not just my own. That might sound silly, but I spent the last year feeling like my kids, and my parenting was the worst. I was in the trenches of motherhood and could not get my mind out of itself. It was humanizing to know everyone has hardships. You can't hide much when you're close quarters with family. We all witnessed each other's kids pendulum of behaviors, and it lent me a new sense of solidarity. You mean I wasn't alone in this? They also had kids who melted down? Wait, your kids had to go to therapy also? It was remarkable to feel "normal," or better yet, not alone.

ADVERTISEMENT - CONTINUE READING BELOW

What other parents are reading

A simple phrase that made me feel visible

Like my own kids, I visited my mother's side of the family once a year while growing up. My mother and her siblings were kind and gracious. I loved our yearly reunions and remembered them fondly. I wasn't very close with my aunts and uncles, but I always felt love and affection from them and towards them. In the last few years, my mom and two of her siblings have moved closer to one another. When I came home with my boys, we usually hopped from one house to the next sharing meals, playing on each other's yards or indulging in hours of conversations. 

After one of our numerous large family gatherings at my aunt's house, I was busy buckling my three kulit boys in the car when she waved peacefully at me. Then she said with encouragement, "You're doing a great job!" 

I almost cried right there on the spot. It was a simple phrase said to me in passing by my aunt that stirred a positive emotional shift in me I had been looking for. She had seen me. I felt visible, my hard work and hardship felt visible. I wasn't particularly close to this aunt, but our bond of family and her words of positivity unlocked in me the permission to love myself and my boys more wholly.

What other parents are reading

 

"You're doing a great job." It was a simple phrase that deflated months of doubt, stress and so much emotional labor. I had been doing a great job, hadn't I? I was doing my best. I had given everything, and finally, it felt as if someone acknowledged that. The hardship hadn't all be undone in one simple phrase, but it was what my mother heart needed to hear to let confidence slip in and keep me going.

ADVERTISEMENT - CONTINUE READING BELOW

Perhaps one day I won't need the words of others to help me see what is right in front of my face — a mom doing her best. Or perhaps I will need the support of others and let human connections do their job of love and healing. Either way, it's a win. 

So, if any of you, readers, need to hear it, YOU'RE DOING A GOOD JOB! Let this be a gift we pass on to others.

Amber Folkman, the blogger behind "A Momma Abroad," is a California native who spent her university years in Hawaii where she met her husband. After a few years in Seattle, her husband's work brought him to Manila where Amber and her eldest son relocated in 2009. They now have three crazy boys ages 6, 4 and 2, whom they refer to as "#3PinoyBoys" because life in the Philippines is all they know.

 

What other parents are reading
Celebrate your pregnancy milestones!

Enter your details below and receive weekly email guides on your baby's weight and height in cute illustration of Filipino fruits. PLUS get helpful tips from experts, freebies and more!
You're almost there! Check your inbox.

We sent a verification email. Can't find it? Check your spam, junk, and promotions folder.
Trending in Summit Network