My Lifestyle Was Not 'Acceptable' as a Filipina. Then I Became a Single Mom at 21

"There is no way I could have imagined this life six years ago. It's not normal but that's okay."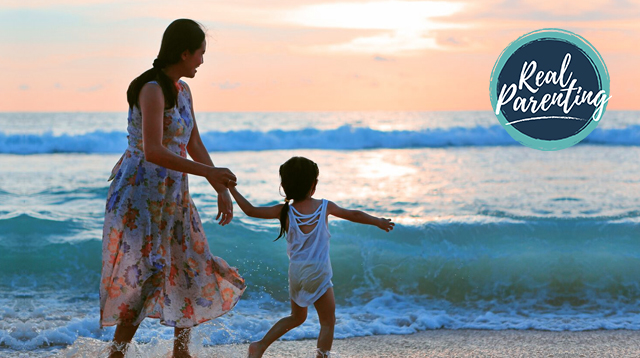 Growing up, I pictured myself having a fun, successful life: ambitious and socially active, getting richer after each year of my career, and traveling around the world. While I wasn't opposed to it, motherhood didn't quite figure into any of my dreams.

So, when I learned I was pregnant a couple of months after my 21st birthday, it was the end of my life as I knew it. I was going to be a single parent with the sole responsibility of raising and providing for my child. Everything was over. 

But this ending only meant a new life was expected to begin — not just for the daughter in my womb but also for me.

What other parents are reading

Unplanned travels

The past six years have taken me from single motherhood to co-parenting with my longtime partner. I left Manila for California and came back, only to decide to move to La Union. I've gone from chasing after the admissions office of traditional schools to homeschooling at the beach. From a destructive depression, I have found myself nurturing my peace of mind.

It began so turbulently with my unplanned pregnancy. My lifestyle was far from ideal — not just for motherhood but as an "acceptable" Filipino woman. I was unmarried, just barely out of college, and a nightcrawler in the music and party scene. It was a nightmare of a time to hear what people were saying about me. It took me a while, but I learned how not to listen.

There is no way I could have imagined this life six years ago, but it only goes to show that there is no clear path to forging the life that you want.

Fortunately, I had the support of my family who — after a few confrontations, some scolding, a lot of crying — afforded me the option to give birth in the United States. As a soon-to-be single mom, it seemed like the best decision for my daughter to earn birthright citizenship, a touchy subject in the U.S. Congress, especially in the current administration. But a provision that has existed since the 1860s states that any child born on U.S. soil will gain American citizenship. As soon as she was born, my daughter would have a place in the first world: health benefits, SSS, and a passport that allowed her entry to many countries that will require a visa from me. 

ADVERTISEMENT - CONTINUE READING BELOW

I was pregnant and living with my sister in California — it was not fun. I grew up visiting my family in Los Angeles and impatiently waiting to get to legal age so I could drink, go to Las Vegas, and party with my friends and cousins. Instead, I was there as a preggo in her seventh month, giving in to cravings of boba milk tea in the middle of the night. Every day, I took a bite out of a humble pie; no, it wasn't delicious, but it was good for me. 

After years spent wasting my youth on vices, I was sober. I walked three miles every day. I actually ate my vegetables. Many nights, I  lied awake and faced my demons. I told them to go away. Every step along my pregnancy, I got heavier with child, but I felt lighter of all the negativity and toxicity that I had accumulated throughout the years. I let this time transform me into a mother, preparing me for what was to come.

What other parents are reading

The author and her daughter Alana who was 4 months old in this photo.

PHOTO BY

courtesy of Aussy A. Aportadera

CONTINUE READING BELOW

Recommended Videos

Where do I want to bring up a life?

After giving birth and having spent half a year in the U.S., I thought about finding a job there and staying. But I held on to a dream of Manila that made me come back. Despite the trauma of my past, I still thought of the kids that my daughter would grow up with, not unlike the childhood that I had. I thought of the stories I could write there, the people I would collaborate with and create a better culture of the city. I came back with hope, a little bravery, and a stronger will.

Thankfully, my return allowed me to meet my partner, a Filipino who grew up in Washington D.C., who had also come to live in the Philippines with this version of Manila in mind. Despite living on different continents before then, we shared the same values and complemented each other's outlook in life. From as early as my daughter's first birthday, my partner made sure that we would be in each other's lives.

Manila, however, has changed so much in the last decade. My partner and I were living together on a weekend basis, trying to give my daughter a sense of home in the best way we could while teetering on each other's families' conventions. But as Manila modernized and developed, navigating it became harder and even suffocating. The traffic constantly cut our days four hours shorter. The city forced us to hang out in malls instead of parks. The schools my daughter attended all fell short of our expectations, and always raised their eyebrows at our unusual setup. 

ADVERTISEMENT - CONTINUE READING BELOW

Our mental health suffered, too, with the near-impossible juggle of work, fitness, quality time, and personal space, not to mention, the persistent stray comment that we were "playing bahay-bahayan." Someone always had something to say. And so, simply put, we both agreed this wasn't making us happy and, quite frankly, we didn't have to deal with this kind of life.

What other parents are reading

Goodbye, Manila. Hello, LU

We decided to leave Manila, but we didn't choose to go abroad. We set our sights to the suburbs outside of Metro Manila where there were trees and fresh air. But we found that the worries of the city life still managed to reach us there. 

What finally brought us to La Union was pure serendipity. We went on an overnight trip, got a glimpse into a day in the life in the surf town, and saw a bunch of kids that our daughter got along with right away.
"Why don't we move here?" my partner asked. We weren't surfers, but we were looking for an adventure — something that made us use our bodies and our minds to reach our goals. We had office jobs, but we realized that we weren't working on the things we loved. Why not leave the stress of the city and these careers behind? Why not let go of these pressures that come with getting rich by working for someone else?

ADVERTISEMENT - CONTINUE READING BELOW

If you persist in the search, though, and find yourself with a little love and luck, you can have it.

We let these questions burn at us for months when we returned every couple of weeks in search of an apartment, each trip confirming how much we loved the millennial vibe, provincial pace, and the beach. We finally knew for sure that La Union, "LU," was the perfect place to move when we discovered the homeschooling cooperative set up by its community of parents. 

We really believe that there's positive energy in LU that makes it easy for people to recharge. That's why it attracts dreamers or awakens the dreamers inside of everyone. It's these same dreamers that have created the surf town economy, allowing the wild and free space that the next generation can explore to exist.

What other parents are reading

Our move out of Manila, where we had been raising our daughter, has been cathartic and life-changing. We wake up with a lesson on life at the beach every day, and we no longer skirt around labels and rules that social conventions imposed upon us to become our own family.

ADVERTISEMENT - CONTINUE READING BELOW

There is absolutely no way we could have predicted this would happen. There are even decisions that we made along the way that we wouldn't advise others to make except for this: 

Even when we were criticized for living a life that wasn't "normal," we took risks, to be honest to ourselves and keep pursuing what made us happy. Now we live extraordinarily.

What other parents are reading

Celebrate your pregnancy milestones!


Enter your details below and receive weekly email guides on your baby's weight and height in cute illustration of Filipino fruits. PLUS get helpful tips from experts, freebies and more!

You're almost there! Check your inbox.


We sent a verification email. Can't find it? Check your spam, junk, and promotions folder.
Trending in Summit Network