3 Milestones of Motherhood Every Mom Should Celebrate

Here are three amazing real stories of moms who radiate grace, strength and positivity.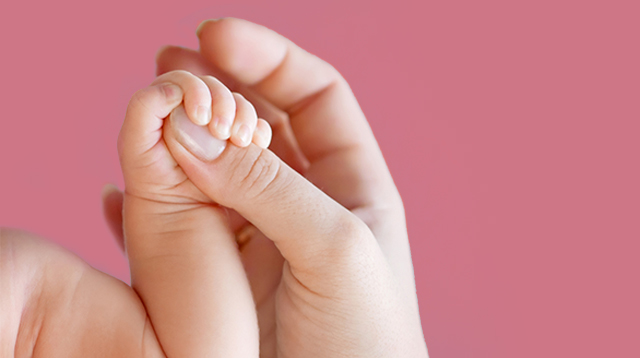 On Mother's Day, our goal is simple: celebrate the milestones of motherhood —  whatever it is. You potty-trained your 1-year-old? Good for you! Finally left your baby without thinking you're a bad mom? We're glad to hear it. Told your exclusive breastfeeding mom friend you're mixed feeding? To hell with the consequences (right?).

Motherhood is a minefield, so anything that brings you relief and joy, go ahead and raise your arms with glee. In fact, celebrate with a cupcake, no matter what day it is.

It's why we love the following three mothers. We had picked them from the entries we received after we invited fans of our Facebook page and members of the Smart Parenting Village Facebook group and Parent Chat, our community at SmartParentng.com.ph, to share stories of motherhood.

They embody the traits we love in moms: a seize-the-moment attitude, superhero-like strength in desolate times when most would have frozen and crumpled, and a radiant positivity this world badly needs.

(Special thanks to Holiday Inn & Suites Makati for the Mother's Day gifts for these moms!) 

ADVERTISEMENT - CONTINUE READING BELOW

What other parents are reading

On our Facebook page, we asked moms to share their barkada stories. This one from Rosenelle Tajanlangit, and we love the "we're a team" vibe between her and her friend.




I'm Rosenelle Tajanlangit (far left), a mom of two (Rexelle Leiann, 10, and Reanne Leuise, 4). My friend, Christine Maitem (wearing white), is also a mom of two (Seth Renz Liam, 2, and Athena, 5 months). We've been friends since third-year college — that's 15 years! Pareho na kaming stay-at-home moms ngayon.

This picture was taken last year. Mabilisan at biglaang plano. It was 10:30 p.m. when she told me that she wanted to go on an outing — the next day! She even considered my husband, who was working the night shift, and told me he could sleep in the car on the way. True enough, they fetched us at the house the next day!

Marami kaming 'nakakaloka' mommy moments. For example, challenging talaga kung ano ang ilulutong ulam. Madalas kaming nagtatanungan, "Anong ulam ninyo?"

Another memorable experience namin is 'yung tinulungan ko siya na makapag-"MINE" ng babywear (In online selling, you reserve a piece of item by commenting 'mine'). She was still working and needed my help because there was a limited number of slots for the babywear. Habang nasa biyahe siya papuntang work, ako nasa bahay at pinadadala ko yung screenshots ng damit kung ok ba 'yung design para ma-"mine" ko na. Luckily, she got one! Skills sa typing at screenshots lang ang katapat!

What other parents are reading
On the Smart Parenting Village, we asked moms to share their "MOMments." There were many, but Alphie Emata–del Rosario's experience stood out for us especially when she spoke about this photo.
ADVERTISEMENT - CONTINUE READING BELOW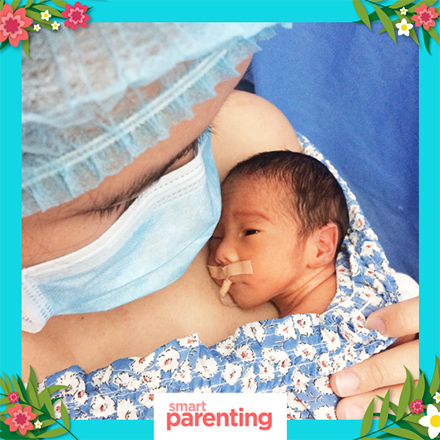 My son was born 12 weeks early via emergency Cesarean section. I did not have the "Unang Yakap" or even a photo of us together in the delivery room. He needed immediate medical attention as soon as he came out. His cry came five minutes later, and he had to be given oxygen support and put in an incubator. When I visited him the next morning, he had contraptions on his body, and a glass wall separated us.
ADVERTISEMENT - CONTINUE READING BELOW
The photo above, which the nurse on duty was kind enough to take, was the moment I finally got to hold him in my arms. It was our first Kangaroo Mother Care session, and the timing could not have been any better. Silas opened his eyes to look at me as if feeling every second of my heartbeat. It was a glorious and emotional moment.
My son and I stayed like this for hours.
I did not care about my aching back from sitting on a monobloc chair for hours long or my throbbing CS wound. I just wanted to be in an embrace with my son and savor every incredible moment of being a mother. This photo was my validation that I am a mother. Although I failed in carrying him longer, at this moment, I was his perfect caregiver, his lifeline.
What other parents are reading
Over at Parent Chat, we asked moms to send in their tributes to their mothers, the lolas taking care of their apos. Vanessa Palad-Salosagcol, who is currently 20 weeks pregnant, had us with the photo she sent where her mother stayed up all night to watch over newborn Sophie, now 8 years old (she has another daughter, Ellie, who is 6). Sophie suffers from Cockayne syndrome, "which causes short stature, premature aging (progeria), severe photosensitivity, and moderate to severe learning delay." 
ADVERTISEMENT - CONTINUE READING BELOW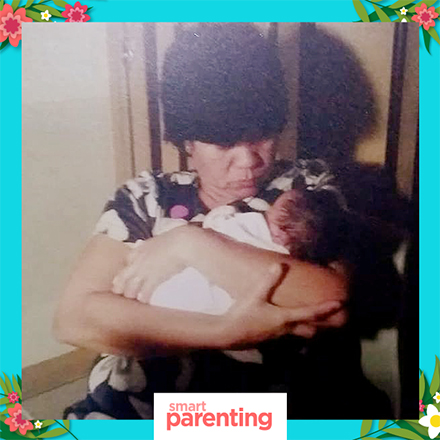 Dear Mama,
The relationship between a mom and her daughter is perhaps the most complicated one — ours included. Since I was young, we haven't seen things exactly eye-to-eye: you cautioning me about doing this and me insisting on doing things still my way. But, one thing's for sure, you inspire the path I am currently in right now. 
ADVERTISEMENT - CONTINUE READING BELOW
My motherhood journey so far has been quite a tough one. The night this photo was taken was the first of the many challenges we would face with and for Sophie my firstborn. 
Sophie was finally roomed in with me, and being the novice mom that I am, I asked if you could stay with me that night. An hour or so after midnight, we noticed Sophie turning blue and unresponsive. I was trying to wake her up and see if she would cry, but seeing her so quiet, I went on full on panic mode. I shouted, "Ma, tumawag ka ng nurse!!! BILIS!" 
You sprinted out of my room and called frantically for one. The nurse came back and calmly told us that Sophie might need some warming lamp, and the air-conditioning be brought a few degrees lower to stabilize her temperature. Still tired from my Cesarean operation, I slept a few winks that night, but you kept vigil the whole time for fear it will happen again. The love you have for your first apo and your newfound mission in life was sealed.
ADVERTISEMENT - CONTINUE READING BELOW
Ma, you are my daughter's fiercest advocate.
You were there when Erwin couldn't be there to accompany me in every major procedure Sophie had to undergo. It was you who unabashedly shed a tear or two when Sophie cried, while I kept a straight face and be the "strong one." 
Never a day goes by without you asking about Sophie's sleep pattern and food intake and tirelessly reminding me to keep on feeding her so that she will get heavier. Your devotion for Sophie is much like your faith to Mama Mary and the rosary — unwavering, steadfast. And seeing you witness how Sophie deteriorates as the years pass by and helpless about it, gives me so much pain. 
Thank you for being the loving, caring and hands-on mother and grandmother that you are and always have been. And I won't be standing here today, ready to receive any blow that life may swing my way if not for the kind of resilience you have shown and lived. I aspire to the type of quiet contentment I see in you whenever you serve our family and simply just being with us.  Happy Mother's Day, Mama! We love you!
ADVERTISEMENT - CONTINUE READING BELOW
To the moms, our respective community moderators will be in touch with instructions to claim your gift. 
What other parents are reading
On a daily basis, we at SmartParenting.com.ph receive

Trending in Summit Network