Blogger Mom's Chart Comparing Working and Stay-at-Home Moms Causes Uproar

The mom behind it seems to imply being a stay-at-home mom is the better choice.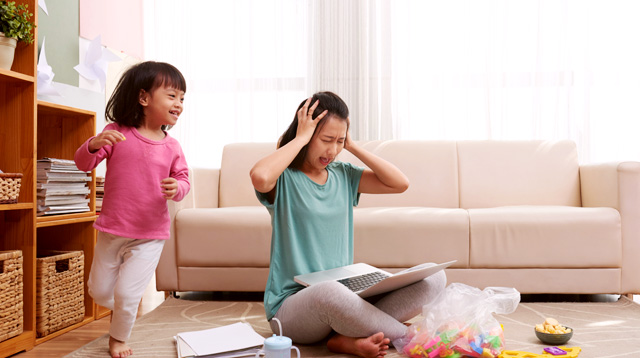 Every motherhood journey is different. Some moms find fulfillment in staying at home to raise their kids, while some moms thrive in balancing a career and caring for their children. No matter the circumstance, moms are free to choose whatever path they want to take. But this chart created by a blogger, Lori Alexander of The Transformed Wife, seems to imply that one is a better choice than the other.

Earlier this month, Lori, a mom of four, posted a photo of a chart on her Facebook page that posed the question "Should Mothers Have Careers?" It listed a few comparisons between the life of a working mom and a stay-at-home mom (SAHM). Here was the chart:

Some of the points were so confusing that it felt like she was pitting the two kinds of moms against each other. Here are some of the statements from the chart:

"A working mom is away from home hours every day, while SAHMs are home all day long."

ADVERTISEMENT - CONTINUE READING BELOW

While some jobs require moms to work outside, others can choose to find 'work-at-home' positions, because yes, being away from your child for a long time can really take its toll. However, some moms sacrifice this to provide for their family — and they don't need others judging them for that choice.

On the other hand, staying at home can also get incredibly lonely. "Some days are great, and some days, well, it all just gets too much that I just want to sit in the bathtub and drink wine. But then, I remember that we don't have a bathtub or even a bottle of wine," writes Michi Esguerra-Roxas in an essay published on SmartParenting.com.ph.

What other parents are reading




"A working mom comes home exhausted while SAHMs rest while her children nap."

Yes, a working mom is often tired because apart from their full-time work, they are also handling the majority of family and household responsibilities. But it doesn't mean that SAHMs have it any more comfortable — a survey actually found parents admitting that staying at home with kids is even harder than going to work.

Either way, both prove one thing: motherhood is an extremely challenging job, and moms need all the help and support they can get. Parenting isn't just the mom's responsibility after all — raising the kids requires teamwork between mom and dad.

What other parents are reading

"Working moms serve fast food or microwaved dinners, while SAHMs make dinner from scratch, which are always nutritious and healthy."

The assumption that working moms can only serve fast food is plain ridiculous. There are quick and easy meals you can whip up in 30 minutes or less that is still nutritious. Besides, is it just the mom who cooks for the family? Dads are pretty great at it, too.

CONTINUE READING BELOW

Recommended Videos

"Working moms are too tired for intimacy with husband, while SAHMs are always intimate with their husbands."

The number of times you are intimate with your partner has nothing to do with whether you work or stay-at-home. Lack of sex in a marriage can be due to many reasons, and it's unique to every couple. Besides, if you have young kids, it's more likely that they will take up your time and zap your energy that both you and your partner won't even have time for a nightly romp. And lastly, intimacy isn't just about sexual pleasure — there are many ways to bring back the spark if you really want to rekindle your relationship.

What other parents are reading

"A working mom's life is falling apart, nor does she feel like she's a good wife or mother. A SAHMs life is fulfilling — her husband and children rise up and call her 'blessed'!"

Whether you're a career woman or a SAHM, there will always be moments of self-doubt and an overwhelming sense of guilt. It does not help that moms suffer from various kinds of shaming brought about by well-meaning people in their lives. And this chart only makes a mom's feelings of inadequacy worse.

A recent study found that moms who voluntarily stayed home and those who worked outside the home of their own volition scored higher satisfaction levels and were the most psychologically healthy compared to those who were forced to make a choice. And that's what each mom should strive for — to do what she wants and what she thinks is best for their family — without the fear of being judged for her choices. If anything, fulfillment comes when a mom is happy with her life and the decisions she has made.

ADVERTISEMENT - CONTINUE READING BELOW

What other parents are reading

Unsurprisingly, Lori's post went viral. In an interview with USA Today, Alexander clarifies that the chart was based on her own experiences — she was a working mom for 23 years. 

"When I was working, I was exhausted, and sex was the last thing on my mind," she says in the interview. "The left side of the chart was my life as a career woman, and the right side is a summary of my life now. I know that many women have to work, even if they don't want to, for financial reasons. And I tell them to pray, seek the Lord for wisdom, then give it to him, nothing is impossible. Do anything you can to be home, but until that time, do what you can do to the best of your ability."

While Alexander's thoughts were controversial, something good still came out of it: moms flocked to the comments page to basically agree on one thing: whether you work or stay at home, motherhood is still tough work. And whatever you choose, the gratification is still the same.

Thoughts? Share it below on the comments!

What other parents are reading

Celebrate your pregnancy milestones!


Enter your details below and receive weekly email guides on your baby's weight and height in cute illustration of Filipino fruits. PLUS get helpful tips from experts, freebies and more!

You're almost there! Check your inbox.


We sent a verification email. Can't find it? Check your spam, junk, and promotions folder.
Trending in Summit Network