Join the next Smart Parenting Giveaway and get a chance to win exciting prizes!
Join Now
Let's Stop the Parent-Shaming and Work on Empathy and Compassion

We, the parents, need to put a stop to the public shaming of moms and dads because it helps no one.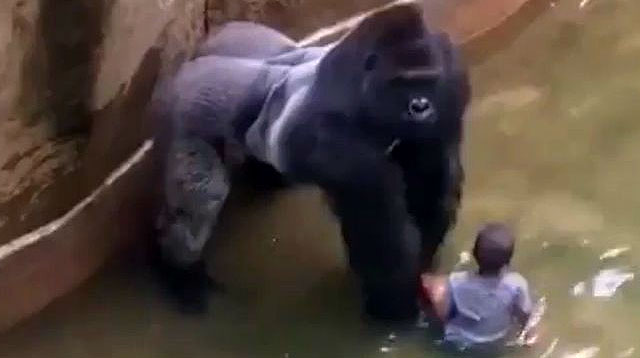 A viral trending story this week has been this incident at the Cincinnati Zoo. Zookeepers were forced to shoot Harambe, a 17-year-old endangered silverback gorilla, after a 3-year-old boy fell inside his enclosure.

The reactions were immediate on social networks. There was the horror about the killing of an endangered animal (the hashtag #justiceforharambe was born), followed by questions directed towards the zoo ("how did the toddler even gain access in the first place"), and, of course, the knee jerk "where was the mother" reaction.

"Zoos aren't your babysitter," Jeff Corwin, an American animal and nature conservationist, said to Fox News. "Take a break from the cellphone and the selfie stick and the texting. Connect with your children. Be responsible for your children." 

"I don't think this happened in seconds or minutes. I think this took time, for this kid, for this little boy to find himself in this situation," he added. 



More from Smart Parenting
ADVERTISEMENT - CONTINUE READING BELOW
When most of the animal experts interviewed in the media agreed, more or less, how the zoo handled the situation, all eyes zoned in on the boy's mother, and the response has been vicious. It's one thing to make a critical comment, but comments like the ones below spew judgements that are not helpful.   
"I had much rather see her dead than the gorilla."

"Too bad he didn't kill the brat. They should be banned from the zoo for life."

"If God was watching over your child he would not have let him be born into such an uncaring mother."

"Give me 10 children and I can guarantee that none of them will end up in a gorilla enclosure."

"Today, an endangered gorilla was shot at the Cincy Zoo because a toddler's parents were to damn lazy to watch their child."
As the story unraveled, the family's color, the mom's occupation (she's a teacher), and the dad's history with the authorities fueled speculation that she's a "bad" mom. The negative comments forced the mom and the school where she works to deactivate their Facebook accounts. Another Facebook user who shares the mom's name also ended up on the receiving end of the negative backlash. 
ADVERTISEMENT - CONTINUE READING BELOW
The comments have become so cruel that the authorities are concerned for the family's safety. "Even though they're not direct death threats, we're going to reach out to the mother and let her know what's going on, if she doesn't know already…We're going to err on the side of safety for her and her family," Cincinnati police spokesman Lt. Steve Saunders said in a statement.
More from Smart Parenting
What makes us even sadder is many of those who are making vitriolic comments are parents. Maybe we shouldn't be surpised about the mom-shaming. But when we read stories like this we need to pause before clicking that "send" or "enter" button, and imagine ourselves in the other mom's shoes. Let's be honest. A child being thrown into a dangerous situation can happen to any of us. Not because we are negligent or inattentive, but because kids are curious by nature and drawn to things like moving fan blades or electrical sockets. 

We need to practice empathy and compassion, and if we have to make comments, let's follow the lead of folks with these comments: 
ADVERTISEMENT - CONTINUE READING BELOW
"We can all say 'what if' but now is the time to learn the lessons."

"One terrible accident does not define a mother."

"I honestly feel sorry for all involved. I'm sorry for the traumatizing ordeal that the family went through, and I'm sorry that the gorilla lost his life. 

"This is a tragedy. It's a tragedy for the family of the boy. It's a tragedy involving a beloved gorilla. Things can happen with children even when they're under a watchful eye of a parent."

"I just feel so sorry for this mother. I know as a mother that things and accidents can happen in the blink of an eye, even if you are a good mum."
As of this posting, the authorities are studying all angles to help prevent this kind of tragedy from happening again. Wthere the authorities find the parents of the zoo or no one responsible, the gorilla's death doesn't have to be in vain. We can all learn from this incident.
More from Smart Parenting