Struggling with Bedtime? This Book Will Yawn Your Kids to Dreamtown

"Can You Yawn Like a Fawn?" makes your kid yawn, literally.

Photo from macmillan.com

Yawning is contagious. When you see someone yawn, there's a high chance that you'll yawn too whether you're actually sleepy or not. A storybook is harnessing this quirky and unexplainable human phenomenon to force, err, help children fall asleep. 

Do you remember that bedtime story book released last year written by a psychologist that uses odd sentence structure, repetition and cues telling storytellers when to yawn? It's called The Rabbit Who Wants to Fall Asleep and it was such a hit. 

Now, there's a new children's storybook, released early February this year, that's also designed to help kids, especially little ones, fall asleep faster. It's got everything from illustrations of cute yawning animals, repetition and a soporific language, says the book's description.


More from Smart Parenting
ADVERTISEMENT - CONTINUE READING BELOW
CONTINUE READING BELOW
Recommended Videos
The 32-page long book titled Can You Yawn Like a Fawn? is targeted for children 3 to 6 years old. It's mainly about establishing that all the animals are starting to get sleepy and that it's bedtime. Kangaroos, dears, penguins and ducks and other sorts are all snuggling closer to each other and telling each other good night.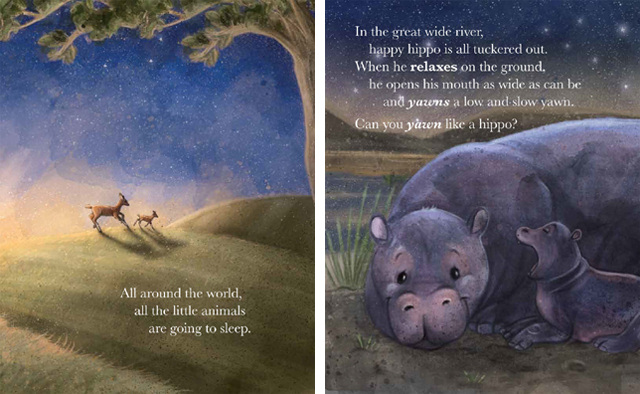 Photo from macmillan.com

Like The Rabbit Who Wants, Yawn Like a Fawn also has text cues on how storytellers should read the text, either with bold or italicized letters. The book also encourages readers to use the child's name in the story. The story itself has parts where it instructs the child to copy the yawn of a baby animal, hence the title. 

Doubting if this book really works? If it helps, Monica Sweeney, the author, is a Certified Family Sleep Institute Pediatric Sleep Consultant and worked as a school psychologist for 12 years. She has also published other books prior to this one, like the Loom Magic series. 

She Knows has tested this book out and, according to them, it does what it said it would do, which is not to make kids fall asleep but to soothe and ease them into bedtime. 

The book is illustrated by Laura Watkins, is in English and published in the U.S. It's not in the Philippines yet but it sells on Amazon for $15.99 (P760) in hardcover. 

ADVERTISEMENT - CONTINUE READING BELOW

Trending in Summit Network