'Be Yourself, Don't Be Ashamed Of It' Lessons Bashed Pinay Teen Learned From Her Parents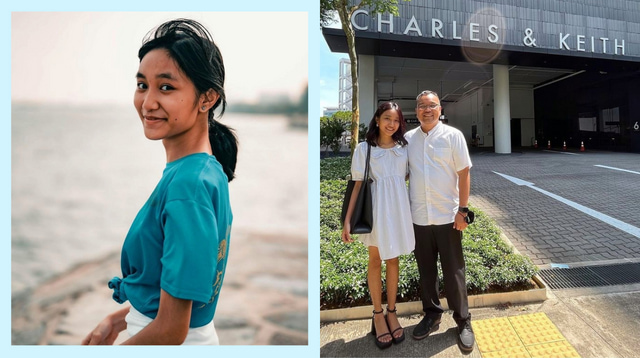 The teenager who swept social media by storm because of her response to bashers, Zoe Gabriel, shared with Smart Parenting how she was raised by her parents to be grateful and respectful. 

In a Zoom interview with Zoe, the 17-year-old senior high student exuded humility, grace, and charisma. 

"I reacted to the negative comments because the first couple ones were attacking my Dad. And they made me really uncomfortable. That's why I chose to speak up about the situation," Zoe shared why she chose to post a video refuting the negative comments. 

Related: Pinay Teen In SG Bashed For Luxury Bag Responds With Class, Proud Of Dad Who Bought Her P3K Bag

Zoe recently shared a Tiktok video proudly showing a gift from her Dad - a bag from Charles and Keith. To which negative comments were hurled, "who's gonna tell her (that Charles and Keith is not a luxury bag)?
Netizens were quick to defend her side, and even Charles and Keith reached out to her. Zoe and her Dad had a tour to their headquarters in Singapore and had lunch with the owner. 

ADVERTISEMENT - CONTINUE READING BELOW

Zoe continued to recall, "I don't exactly remember the comments, but I really remembered feeling upset about it. Because you didn't do anything wrong. So I didn't think that was fair."

One thing we're curious about Zoe's story is how she developed into a grateful and respectful daughter.

Smart Parenting asked Zoe to share some important lessons she learned from her parents:

7 Life Lessons From Zoe Gabriel's Parents

1. Gratitude and respect

"My parents always taught me that you should show respect to the people that's giving you things. To take care of it, and make sure to use those things you've been given." she shared. It may not always be from parents, but also gifts from others. 

RELATED: Want Grateful and Non-Materialistic Kids? Do These.

2. Be careful with spending

Zoe also shared the story when their family was struggling, "A lot of it was similar to the ones I shared in my video. Because I was really young. I didn't really understand why sometimes we couldn't get the things that we wanted. And so I remember feeling a little confused about it."

She continued, "But as I grew up and looked back, that's when I started realizing, oh maybe because we couldn't afford it. "

All those experiences, she said, resulted in one important lesson, "I'm really cautious about how I spend my money and I feel a little bit worried when I feel like my parents are spending too much. Because that's what they imparted on me, to be careful with how I spend."

ADVERTISEMENT - CONTINUE READING BELOW

Recommended Videos

RELATED: Raise a Child Who Will Grow Up Without the 'Bili Mo 'Ko' Attitude

3. Work hard

We asked Zoe, does she ever recall a the time when she realized that they were struggling and they couldn't afford everything?

"That's a good question. I don't think it was a one time thing, I think it was a gradual progression of understanding. I think, there were a few times when I was about 7 years old, that was the time when school started to get really expensive and my dad lost his job and so we were struggling to put food on the table, from what I remember. We actually ended up going back to the Philippines for about a month, before he got a new job and came back."

These experiences lead to her parents teaching Zoe and her siblings about working hard. "With my parents, they taught me that even if you couldn't afford it, it doesn't mean that we can't have it. It just means we need to work a little bit harder to achieve that thing," Zoe shared.


ADVERTISEMENT - CONTINUE READING BELOW

She continued, "If you work hard for it, it'll mean more to you. Like the value increases because it's completely yours."

RELATED: 5 Ways To Teach Your Child Healthy Money Habits, According To A Financial Advisor

4. Save up

She continued to share, "What they taught me to do is that, even though they couldn't buy something for me, I could save it up for myself. I learned how to put aside my own money from my allowance if there's something that I wanted. I'm saving up for these things. Usually it's books, because I like to read. Harry Potter stuff and like that."

RELATED: How Your Kids Acquire Your Attitude Towards Money

5. Don't be ashamed of who you are

Part of Zoe's story is the negative comments she received on TikTok, and we asked her how her parents taught her to cope with negative situations like these. 

"They taught me to cope by standing firm on what I believe in and staying grounded to the things that I know to be true. Be yourself and don't be ashamed of it."

'Be yourself and don't be ashamed of it.' -Zoe Gabriel, 17 years old

This lesson from her parents proved true as she shared that her parents knew about the bashing, "I actually mentioned it to my mom, but they thought like, that's fine. They thought it's not really a big of a deal. And it blew up, and that's when my mom told my dad.

"He was like kind of late to the party, he got the news when the hate comments started drowning out and everyone was already defending me. I chose to answer all the negative comments on my own."

ADVERTISEMENT - CONTINUE READING BELOW

6. Stay away from bad influence

Though she gained her fame from social media, Zoe said she didn't intend to be an influencer. "I didn't have plans on becoming a social media influencer. I was just having fun on TikTok," she said. 


We also asked her about what her parents say about social media use, and she shared, "A little bit okay now since I'm older but they taught me to stay away from bad influences and to use it with caution because there's a dark side to it. And to be careful of what I say and post, because it's still real people that you're talking to."

She also added that when she was younger, she was only allowed to follow a couple of people, their family, Taylor Swift, and some squishy accounts. 

She was in first year of high school when she was allowed to have her own social media accounts and post her content. 

RELATED: 3 Things Parents Should Do Before Letting Children Join Social Media

7. Family has your best interest

Zoe continued to share that they're really close as a family. They spend time watching a movie, because her Dad likes it. And because her Mom likes going out, they usually go food tripping famous food stalls together. 

She also said, and these words almost sound like they didn't come from a teenager, "So how I interpreted that, is to stay close with my family because they're the ones who'll always have my best interest at heart. And they're the ones who I can fully trust. That's what they taught me."

ADVERTISEMENT - CONTINUE READING BELOW

RELATED: Want Grateful and Non-Materialistic Kids? Do These.

Zoe shyly left this message to her parents, "Thank you for everything. I owe them everything. Because they gave me everything that they could. It's just thank you all the way."

And to all Ates and Kuyas (eldest of the family), "It's not always going to be easy, and there are a lot of sacrifices that we might have to make, but just know that you are still loved and cherished by your parents. And you are worthy and you're doing good. As an Ate, sometimes I forget that I'm still a kid myself." 

We told Zoe to keep up the good work and continue to use her platform, and she humbly answered, "I'll try."

Celebrate your pregnancy milestones!


Enter your details below and receive weekly email guides on your baby's weight and height in cute illustration of Filipino fruits. PLUS get helpful tips from experts, freebies and more!

You're almost there! Check your inbox.


We sent a verification email. Can't find it? Check your spam, junk, and promotions folder.

Trending in Summit Network