To Post or Not to Post? These Moms Say It's Your Wall, Your Rules

Social media is a platform for sharing, so, as one mom, puts it, "Deal with it."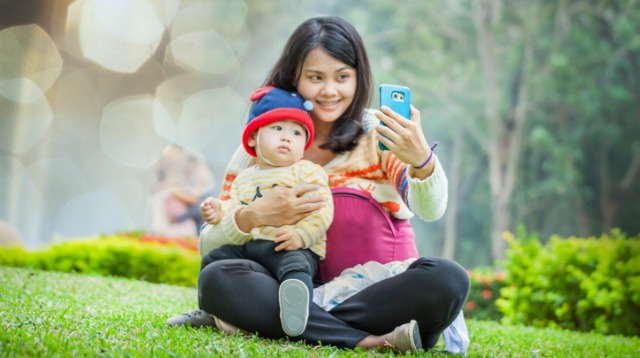 In this day and age, parents can capture almost everything their kids do: Cute smile, adorable first words, grades in school, beautiful OOTDs, and a whole lot more. This treasure trove gets stored in our phones, computers and electronic gadgets, of course. But more often than not it finds its way first on our social media for our family and friends to see. 

Whenever there's a cute photo or a funny video of my baby that I want to share on social media, I ask myself to post or not to post? In my heart, I want to shout to the world how proud I am when she shows her charming smile, when she hits her milestones early, and when she does silly things. But sometimes my mind says, "Naku, baka nauumay na sila." 

Is it so wrong to overshare? I asked my fellow moms about their opinions, and here's what they have to say.

What other parents are reading

ADVERTISEMENT - CONTINUE READING BELOW

Katrina Del Rosario, mom to Keiko, 3, shares photos twice or thrice a week, and she looks forward to her friends' baby posts as well. "Sharing stuff about them is one way to put good vibes out there. Innocent and cute kids are what we all need to see at least 10 times a day or more." 

It used to cross her mind that people might get tired of too much posting. But Kat said parents would understand and won't judge the tons of baby posts on their feed. "My wall is only for those who appreciate, and I have friends and relatives who like what I post. Why would I care about the rest? They can unfollow anytime. My Facebook account is my way to have a little space on the Internet. Deal with it."

For Jacquelyn Francisco, mom to Hans, 4, and Pia, 11 months old, sharing her kids' milestones on social media is a good avenue to update her family and friends. Her Facebook account is set to private, however, and she does not accept strangers' requests to be friends.

"I don't mind being flooded with baby posts. But I understand not all people are happy with that. We cannot please everybody, anyway. But if our Facebook friends are indeed our friends, I'm sure they are happy to know and share our happiness."

Jacquelyn adds she finds a parent's post often helpful. "I even get to know products which they use for their kids or places they go to with their kids, and I can immediately ask my friends for feedback."

CONTINUE READING BELOW

Recommended Videos

What other parents are reading

Mayet Pua, mom to Zeia, 5, and Zane, 1, posts about her kids on social media every time she feels like sharing it, which can happen one to five times a week. "We share the memorable experiences and moments that make us feel happy and proud of our kids." 

She also does not mind seeing a lot of posts about kids from other parents and friends. "People's varying tolerance of each other's' post applies to any topic, be it political, social, religious, or too much baby posts. It's normal to have different reactions, and it's not something I bother myself with."

ADVERTISEMENT - CONTINUE READING BELOW

Vanessa Joy Dadufalza, mom to Vikka, 4, says, "Everything in excess is bad, as long as it's not posting/sharing excessively and not posted as public it's fine with me. Nothing that would embarrass my daughter is okay."

Tin Lalchandani, mom to Sarika, 3, sees nothing wrong with posting a lot of stuff about her kid on social media. That said, she says, parents should inform themselves of the risks involved (e.g., privacy) and guard those risks (e.g., limit which info to share, and to whom you share that info).

What other parents are reading

ADVERTISEMENT - CONTINUE READING BELOW

Clarins De Jesus, mom to Gabe, 3, is careful about who her audience is, and she prefers it if people will ask her permission before posting a photo or video of her daughter. "I filter what I post. If I know my kid will be embarrassed by the photo/video in the future, I prefer not to post it."

Chesca Borromeo-Padilla, mom to Noelle, 2, and a baby boy on the way, only posts occasionally. "I am a bit modest when it comes to sharing photos and videos of my daughter on social media. I share them privately with loved ones via messenger apps instead."

For Chesca, sharing the joys of parenthood is always a good thing especially parents nowadays are information driven. "It always pays to be well-informed. Now there's an array of approaches on how to raise a child; it is just a matter of choosing what works for your family."

ADVERTISEMENT - CONTINUE READING BELOW

Sheila Manzate-Rapatalo, mom to Sophia Ryanne, 4.5, looks at posting photos and videos as a way to connect and bring a smile to family and friends. "I think sharing in itself can't be classified as good or bad (except on sensitive photos of course). But otherwise, for me, just take posts for its face value. Don't put any meaning behind it."

What other parents are reading

ADVERTISEMENT - CONTINUE READING BELOW

May Camacho used to get annoyed by too many baby posts. But it all changed when she became a mom to daughter Lucia, 1. She admits, "I thought those parents were so full of themselves, their perfect lives, perfect babies, just too much for me. You don't fully fathom what it's like until you become a mom. But now, I do not care if people get annoyed with my posts. They can always unfollow or hide my posts if they wish to." 

While she welcomes baby posts, she has also learned to veer away from some pages. May said "I slowly unfollowed some of them. It is but human to compare but seeing how 'perfect' they frame their lives doesn't add value to mine. I want to cherish and celebrate my baby on her own, without comparison and competition."

Sasha Belmonte, mom to Hope, 2, fears that her daughter's photos would end up in the wrong hands especially now that nothing seems private on social media. But she still shares pictures of her daughter. 

I asked if other parents' post affect her parenting style. Sasha replied, "Sometimes, we think that other parents have it way easier than we have, that they are better parents, that their kid is smarter than ours or vice versa. We should not let these 'post worthy' statuses affect us. After all, we are parents who do what we think is best for our kids. And we must be mindful of our motives when we are posting our 'proud parent' moments."

ADVERTISEMENT - CONTINUE READING BELOW

What other parents are reading

Akira Valencia Sullano, mom to Matteo, 1, is a staunch supporter of sharing positivity and encouraging others especially first-time moms like her. "It's all about acceptance and respect. Whether you belong to those who would like to keep her kid's life private or the latter, it's your preference.

"There should be a healthy balance between what we share and the frequency when doing so. If you go through my social media, you will find photos of my son's birthday celebration, milestones, any new thing I discover about him, which is pretty much every day. But not all of them will land on my social media. I tend to be very picky on what I post especially that people in the digital world can be very critical and unforgiving to the point of bullying." 

Asked if social media has helped or affected her parenting style, Akira said, "Social media is a powerful tool to encourage, inspire and even enforce. But it's a double-edged sword and can pose a great danger to how we manage our lives, including parenting style. Admittedly, we, millennial parents, can be competitive. We should limit ourselves from comparing our kids with others to avoid unnecessary stress and unconsciously putting senseless pressure to our child."

Social media is a platform for sharing. Some posts about their travel and food trips; others post their selfies and relationships. A lot are posting about their political and social views (or rants). So, we, parents are just happy to share our precious children, and I think there's nothing wrong with that. Walang basagan ng trip, right? 

Din Real Bautista is a proud fulltime homemaker. Most of the time, she's busy raising a kind-hearted and strong human being named Monica with the help of the most amazing husband, Beejay. And the rest of her time, she's making sure her life is better outside social media.

ADVERTISEMENT - CONTINUE READING BELOW

What other parents are reading

Celebrate your pregnancy milestones!


Enter your details below and receive weekly email guides on your baby's weight and height in cute illustration of Filipino fruits. PLUS get helpful tips from experts, freebies and more!

You're almost there! Check your inbox.


We sent a verification email. Can't find it? Check your spam, junk, and promotions folder.
Trending in Summit Network