Are You a Mamarazzi? Moms Share the Pros and Cons of Posting on Social Media

In the age of sharenting, there are pros and cons that you need to take note of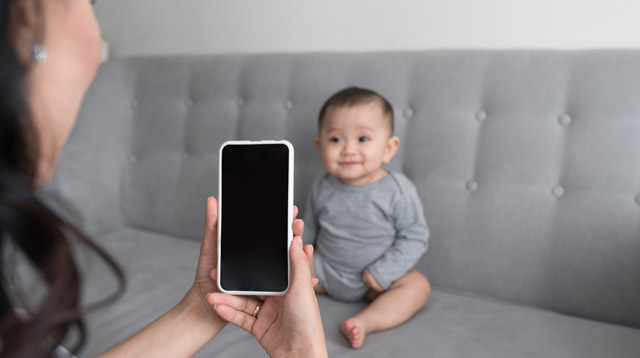 It's been said that this generation is the most well-documented of all generations. From the moment two lines appear on the pregnancy test, to you first ultrasound and baby bump photos - your baby's existence has already been beamed multiple times through social cyberspace.

Your little one is a part of the digital universe where selfies, GIFS, and a myriad of filters make virtual deer ears and bunny noses staples in his digital album.

What other parents are reading

What is sharenting

Recently added to The Collins English Dictionary, sharenting is described as "the habitual use of social media to share news, images, etc. of one's children." To put it simply, it's a combination of sharing + parenting.

But are you oversharing? When is the right time to share photos and tips to fellow moms? We asked a few parents to weigh in on the pros and cons of sharing and parenting in the digital age:

Marking milestones

"I'm a mamarazzi. I started stalking them since they were born. Posting photos on Facebook is the best thing I've ever done! Since I can't easily find their baby photos, all I do is retrieve them from Facebook. My account is set to private - even our profile and cover photo are vague so they don't get stolen by people.

I like documenting their funny and cute moments just because they are; and once in a while I show them. I even made a coffee book from those photos and gave it to them. They know that mom has a few thousand friends and that we are proud of them and they now know what Facebook is. I've never posted anything out of anger, hate or trying to shame." — Malen from Washington, mom to daughters ages, 7 and 6 and son, 2

ADVERTISEMENT - CONTINUE READING BELOW

"When my kid was still a baby, my husband was very much into privacy (still is) so I rarely posted photos. But not posting photos of our son made me feel sad because I felt incomplete and, in a way, inauthentic. Being a mom is a big part of who I am and I wanted to share it with family and friends. It also felt weird to post only about myself — like I was some self-absorbed twit or something.

So after many discussions, my husband finally agreed to let me post photos and stuff about our family. My posts are limited to only family and friends so there is still a degree of privacy. However, the other day, my son (who is now 7) saw [that I was about] to post a photo of him sleeping and told me that was private. " — Ria from Quezon City, mom to son, 7

"I am very guilty of this. My son is completely aware, though. But maybe because of his age, he might think it's a normal thing that mamas do... he has never once said 'don't share that.' I will have a word with him and explain in full. In my defense, I have 'lessened' my posting and sharing (yes, sa lagay na 'to) but I am doing this completely for my own documentation purposes." — Stephanie from London, mom to son, 5

"I think it's okay as long as it's shared with the intention that the parent is proud of them growing up. You only have so much time until they are all grown. But, yeah, good to let them know once they understand. My daughter knows I post her pics and I show her." — Richie from Pasig, dad to daughter, 4 and son, 1

CONTINUE READING BELOW

Recommended Videos

What other parents are reading

Taking into consideration your child's age

"When they're young, they don't understand consent. Once they are old enough, I think parents should ask the child first—depending on the maturity of the child and their level of understanding. But as a ball park, I would say between 10-12 years." — Emily from New Orleans, mom to son age 8 and daughter, 5

"I ask my 13-year old first if I can post something about her. I want her to feel din kasi that her opinion and stand on anything matters to me and that I respect her privacy. She started refusing to be photographed about 3 years ago…0-10 yrs old she was, more or less, okay with it. But really, if they say they'd want to be left 'unphotographed,' I would respect that talaga. I would explain to her why I want her photos posted! Baka sakali matauhan! Hahaha!" — Caren from Quezon City, mom to daughter, 13

Privacy is of utmost importance

"My profile is private and the ones who see the photos of my kids are family and friends naman. I just pick and choose what to post. To add, I'm just careful not to post things that will endanger my children's safety. I often post late rather than real time in order not to reveal the exact location of my kids. I also try to blur out certain details like what school they go to (when posting school achievements). I never post their passports or boarding passes." — Eizza from Manila, mom to son age 7 and daughter, 4

ADVERTISEMENT - CONTINUE READING BELOW

"I don't post so much about my kids because of privacy and also for their protection." — Pristine from Cebu, mom to son, 9 and daughter, 1

"I post very little because I like our privacy, and also to protect my kids, they change eh, and I don't want to expose them too early. But I post when they tell me to post. So balance lang." — Tania from Taguig, mom to sons ages 25 and 10 and daughter, 12

"Just recently, I decided not to post much na about my son. Well, at least not anything na parang will give him a certain image na mabait or smart. I post about him when he is being like a regular kid na sweet, makulit, pero I am careful to brand him as anything else cause I am afraid that when he grows up, he might have an image that he will feel he needs to live up to." — Carla from Taguig, mom to son,  5

What other parents are reading

Sharenting as a way of connecting with other parents

"Basically, our guideline in posting is anything that might be beneficial for others, like parents, to learn from or be encouraged of or would bring a good laugh/spark joy to brighten the day of our loved ones, friends, and acquaintances." — April from Manila, mom to daughters ages 4 and 2 

"I like to post pictures because I like capturing real life moments with my kids. But my posts are private to friends. And I also like sharing about unschooling because I want more parents to know about it (again parents in my friends list) so part of that is posting the "every day." — Trix from Manila, mom to daughter 4, and son, 3

ADVERTISEMENT - CONTINUE READING BELOW

Always think twice or thrice before posting online

Times have changed and nowadays, a click of a button can easily unearth some pretty embarrassing (and even potentially damaging) images and information that our kids may or may not mind a few years down the road.

According to an article on The Guardian, "There is much we don't know about the effect of broadcasting our kids…But what's clear, is that it's not all about the picture: it's about the intention of the person posting it. If a parent has edited the photo to make their audience believe in an unrealistic body or life, the child will likely learn their body or life is flawed.

If a parent is putting it online to get likes, the child will see their job involves seeking validation from strangers. We should be looking at our own impulses and objectives, the things that propel our thumbs to share, because while we have no idea what privacy will look like in 10 years' time, we know for sure our children are learning from our choices today."

As we go through the world of social media where likes, comments, and shares dominate, it's important to keep in mind that as  digital visitors (mostly born from a different generation), we are raising digital natives whose lives are naturally intertwined with the culture and technology that surround them.

What other parents are reading

While our milestones are contained in a hardbound album, our kids' growing up years are online, where Google and Facebook know them by name, recognize them by face, and can even tell what they did last summer (as well as every other summer and/or life events posted). 

ADVERTISEMENT - CONTINUE READING BELOW

On the lighter side, as a fellow mamarazzi, it might be good to think twice about posting that oh-so-cute potty training or bathing in the batya photos on our social media accounts today. The need to check on our reasons (with potentially embarrassing repercussions for our kids) and motives on why we "sharent" becomes all the more important as we usher these little ones into a digital world.

What other parents are reading

Celebrate your pregnancy milestones!


Enter your details below and receive weekly email guides on your baby's weight and height in cute illustration of Filipino fruits. PLUS get helpful tips from experts, freebies and more!

You're almost there! Check your inbox.


We sent a verification email. Can't find it? Check your spam, junk, and promotions folder.

Trending in Summit Network