My Sisters Are My Biggest Blessings: 'They Always Have Your Back'

A mom's wish for her two daughters is to develop a strong and lasting friendship.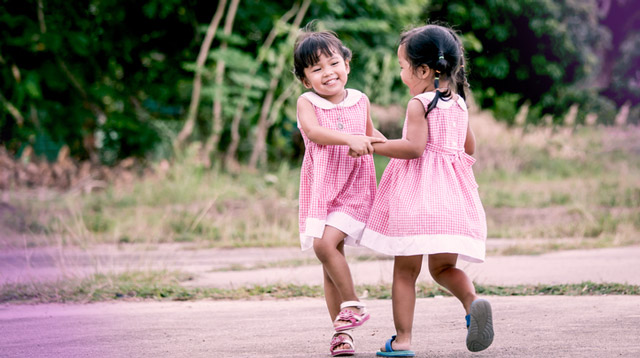 Ines Bautista-Yao is a wife and mother. Her daughters, Addie and Tammy, make up her world. She is also an author of YA contemporary romance books: One Crazy Summer, What's in your Heart, Only A Kiss, When Sparks Fly, and Swept Off My Feet.

To my dearest Addie and Tammy,

When I first found out I was going to have another baby girl, a small part of me was disappointed. I wanted a baby boy because it seemed that was what everyone wanted. The Yaos wanted someone to carry on the family name, the Camuses were complaining that the boys were hopelessly outnumbered, and the Bautistas wanted?to see what it would be like to have a little boy in the family for the first time ever. So, when the doctor doing my congenital ultrasound said, "Oh, don't worry about that. That usually happens with boys," I knew.

The disappointment didn't last long. When I realized that my four-year-old daughter was going to have a sister, I realized just how lucky they were both going to be — just how lucky both of you are now. Because one of the biggest blessings in my life are my sisters.

ADVERTISEMENT - CONTINUE READING BELOW

Growing up, your Ninang A and I used to fight all the time. I didn't want her following me around, and I didn't want her wearing the same clothes I did. But even if I always told her what to do and got mad at her for telling on me every time we fought, we always stuck together.

Whenever we were dragged to parties or events, we were grateful we had each other. We used to love watching (and performing!) musicals together, too. We'd sing and dance to whatever we saw onscreen, even making up our own musical numbers. Today, when we hear a line from one of our favorite childhood movies, we automatically recite the dialogue that comes next or break into song. But the most important time was when we had problems in the family. I know I got through that difficult phase because I had my sister with me. Ninang B was still too young and at the time, all we wanted to do was protect her because she was our baby.

But Ninang A and I held on tight to each other. We leaned on each other because no one else understood what we went through the way the other did. This is what is so wonderful about having a sister. You will always have someone who has your back, someone who understands what it's like to deal with your parents when they're frustrating (yes, I know your papa and ?I will annoy you girls to death, it's a fact of life), and someone to turn to when no one else will be there for you.

What other parents are reading

ADVERTISEMENT - CONTINUE READING BELOW

Right now, it drives me crazy the way you two fight every few minutes, but when you play together and enjoy each other's company, like when you were singing Manang Addie's made-up song about Baguio, I want to cry because it reminds me of how your Ninang A and I used to be. And I pray that when you get older, your friendship will be just as strong or even stronger.

The age gap between me and your Ninang A is very small, two and a half years. Your Ninang B and I have a 14-year age gap. You two have a five-year age gap. But the number of years doesn't matter. Even if Ninang B was our baby and we took care of her while we were growing up, now that she's older, she takes care of us, too! Ninang B is the one who makes sure our birthdays and parties are special because she knows how important it is to feel loved. She worries about us and checks to see that we're taking care of ourselves—not just dressing right but also eating and living right.

ADVERTISEMENT - CONTINUE READING BELOW

But most of all, now that we're older and all the petty fights? are out of the way, we can focus on being friends. We enjoy each other's company. Right now, because Tammy is still small and I can't leave her for longer than two to three hours, the only people I really see are my family. But it's not a chore. I love hanging out with my sisters and spending time with them. I love listening to their stories, shopping, eating, and simply just hanging out with them. Because no one in this world knows me or loves me like my sisters do, and I can always take comfort and pride in that.

I know right now, it's hard to see that.

Addie, you are seven years old. Tammy, though fun and funny most of the time, can also be a burden on you. She grabs your toys, takes up all of Mama's attention, and destroys your stuff. But she also loves to snuggle with you when you're lying in bed, follows every word you say because she wants to be just like you, and runs to hug you when she sees you after school.

ADVERTISEMENT - CONTINUE READING BELOW

Tammy, you are two and a half. Though you adore your Manang like crazy, you also get jealous when Mama sits beside her, you don't like sharing your toys with her, and you don't listen when she tells you to do things. But she takes care of you, especially when you want to play with her and her friends, you're the first person she looks for when she gets out of school, and she always tries to teach you what is right and wrong (as well as your ABCs and 123s).

When you two get older, these little annoyances and squabbles will fade away to be replaced with genuine love and the desire to be with each other. This is my prayer; this is my wish. And I hope that when you see, from my relationships with your ninangs, just how wonderful it is to have sisters, you two will treasure this gift you have been given and nurture it for the rest of your lives.

ADVERTISEMENT - CONTINUE READING BELOW

Love,

Mama

This letter was originally published in the book Letters to My Children, a compilation of heartwarming notes penned by public figures and celebrities for their kids. The book is published by Summit Books. Find Iya on Facebook, or Twitter and Instagram @inesbyao.

Siblings as best friends is the ideal, but what do you do about sibling rivalry? Click here to manage fights between your kids. 

Trending in Summit Network