Mother's Day Special: SPrience Free 2N3D Family Vacation At The Farm At San Benito!

Smart Parenting curated an experience at The Farm perfect for a family of four or more!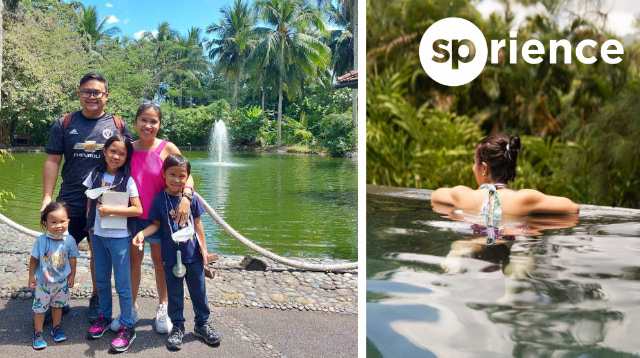 I had known of The Farm at San Benito for many years and have always associated it with celebrities. A visit is guaranteed to be an absolute treat! 

It is the most accessible relaxation spot from the metro—a mere hour and a half drive away from Makati—making it perfect for a stress-free family getaway. 

No need to book plane tickets, hauling off kids to the airport and boat ride just for a dose of the healing power of nature. The trip back would also not be too long which means whatever relaxing I'd get to do in The Farm at San Benito would stay with me even when I arrive back home. Mama-approved!

READ MORE: First Time Ni LO Sa Airplane? Parents Share Tips For Your Toddler's First Plane Ride

A break moms deserve

I had always been curious about The Farm at San Benito because I'd read reviews of it as renewing and refreshing. As a homeschooling working mother of three without househelp, boy do I need renewing and refreshing! I have about nine years worth of pagod and puyat I'd gladly love to leave with Benito.

A few homeschooling scenes at the Bonifacio home.

ADVERTISEMENT - CONTINUE READING BELOW

For kids also

When the opportunity presented itself to visit, the first thing I thought was: I want my kids to come! Being cooped up indoors for the past two years means I jump at every opportunity my kids can get to be in nature. 

And true enough as we drove up to The Farm at San Benito, one of my kids commented: "It's so naturey!" The other replied, "Yes! It's so natureful!" Excuse me, who's teaching these kids English? Ay, homeschooled pala ang mga anak ko.

As if one cue, one of its 50 peacocks greeted us as we drove in, fluffed feathers and all. "Oooooooooooooooooh!" my three kids gushed.

Kids give animal feeding 5 Smart Parenting Stars. "The geese were funny," my son said. Peacocks roam freely at The Farm at San Benito (right).

My boys enjoy playing in nature.

CONTINUE READING BELOW

Recommended Videos

The animals at The Farm at San Benito freely roam around the property and can interact with the guests. Our kids enjoyed it so much and it made our trip part educational, part family bonding, part healing. 

They almost instantly ran out to the pond and observed the ducks and geese swimming and the beautiful landscape was undeniably calming. Of course, that is until one of my kids shout in glee disrupting the peace. Good thing The Farm at San Benito now welcomes families. 

The plot twist

Here's one thing I wasn't expecting: The Farm at San Benito's meals are largely vegan. Oh no, how will my fried chicken-loving kids survive?

My kids surprised me as they were more than happy to try the vegan dishes and they found familiar friends: nuggets, potato chips (oo nga naman, vegan yun!), pizza, and pasta. They loved the fresh fruit juices.

READ MORE: Ayaw ng Gulay? Try Serving Veggies as Merienda Plus Other EffectIve Tips From Moms

ADVERTISEMENT - CONTINUE READING BELOW

A mommy treat at the wellness clinic 

As my family settled into our room, I was whisked off to The Farm at San Benito's wellness clinics. It is a unique resort because it is a medical wellness resort. Everything from its food, activities, and surroundings is meant to help its guests heal.

A doctor gave me a holistic assessment before I was cleared to do any of the activities. To be honest, I wasn't sure at first I needed to undergo one, admittedly I was probably too cocky and assumed I'm in the pink of health.

But after a few easy questions, including my sleeping hours (she said I need to do better here), what sort of exercise do I do (here too), and whether or not I'd been sick with Covid-19, I realized I shouldn't be too confident about my health. 

Living in a pandemic has made me realize just how underrated the saying "Health is wealth" was. Taking the time to invest in it, whether eating better or even visiting a wellness resort, is well worth the effort. 

As my husband and reluctant companion to my quick healing getaway put it, he would recommend a visit to The Farm at San Benito at least once to everyone.

5 Smart Parenting stars for a family getaway at The Farm at San Benito. 

ADVERTISEMENT - CONTINUE READING BELOW

The Vital Dome experience

I had the pleasure of trying the Vital Dome, an advanced infra-therapy machine that uses pure far infrared to regenerate the body. I was informed that it detoxifies the body naturally with heat.

Think of it almost like a sauna without all that steam on your face. For someone who particuarly hates steam during facials, this definitely interested me. I could never get myself to try out a sauna precisely because the steam on my face feels suffocating.

I tried the detoxifying setting, which isn't as intense as the setting made for athletes and I was assured through every step by the attendant. Before entering the Vital Dome I was made to drink an entire water bottle because I was sure to sweat a lot, and this would prevent dehydration.

RELATED: From Real Moms: 12 Simple Things to Do for a Relaxing Me-Time 

I also had to take a few tablets for electrolytes since I naturally have low blood pressure which The Farm at San Benito discovered when they performed a routine check of my blood pressure pre-treatment.

The attendant asked me if I was nervous and reminded me that things would be fine. Perhaps it's Vital Dome's design that can cause a bit of anxiety. 

I admit there was a slight hint of it over lying down and being unable to move for at least 40 minutes, but I reminded myself that it was safe. And the attendant gave me the choice of being in the room with me in case I needed anything at any time, or if I wanted to be alone to rest. 

ADVERTISEMENT - CONTINUE READING BELOW

I bravely chose the latter and challenged myself to give in to the stillness.

Stripped down to my undies, I lay in the Vital Dome and accepted that I badly needed to enjoy being in the moment. No deadlines, no homeschool, no bills. Just the beautiful trees outside the treatment room dancing as the sunlight pierced through.

Before I knew it, my time was up. The Vital Dome wasn't as hot as I was expecting it to be. It was warm but not uncomfortable to a point where I needed it to stop. 

And yes, it was a good sweat session. I already felt I'd done my body good by detoxifying and eating vegan food. After the treatment, I was asked to drink another bottle of water to replenish lost fluids and reminded I was not allowed to shower for the next five hours.

We give the Vital Dome 4.5 Smart Parenting stars. 

ADVERTISEMENT - CONTINUE READING BELOW

Hilot massage

I was most excited for my Hilot massage. Between carrying my toddler, housework, laundry, and that no-yaya life, I definitely needed to relax. 

But you'd be hard-pressed not to feel relaxed at The Farm at San Benito. Everywhere I turn, I can feel myself ready to disconnect from the daily stresses of motherhood. Simply soaking up the healing power of nature was enough to rejuvenate. 

My evening massage, even if just for an hour, was the cherry on top of the (vegan) cake. It capped off my relaxing day–yes even with our three kids in tow. I might have slept earlier than I said I was going to. Doctora would have been proud.

5 Smart Parenting stars for the Hilot Massage, this Mama got the break she needed!

Family bonding

The next day our kids continued to enjoy The Farm at San Benito's activities for kids such as animal feeding, mandala making, and some good old-fashioned swimming!  

ADVERTISEMENT - CONTINUE READING BELOW

We brought our floaties and the kids swam while I tried out the Acqua Sanctuary and Hydrotherapy. Hydrotherapy is precisely that–targeted water therapy to massage specific parts of your body, like your neck, back, shoulders, and legs.

It was an unforgettable experience for our family and a trip I'm glad we took our kids to. Parents can enjoy wellness activities while building memories with their kids.

It gets a 5-Smart Parenting Stars rating from this no-longer tired mama of three!

We give the pressure pools 4.5 Smart Parenting stars. Bawas back ache!

Trying yoga for the first time gets 5 Smart Parenting stars from daddy.

ADVERTISEMENT - CONTINUE READING BELOW

"We give it 5 stars!" says the 3 kids for Mandala Making.

Swimming at The Farm at San Benito also gets 5 stars from the kids.

Win this SPrience!

My kids were sad to leave and are already asking when we can return. They've even told some of their friends to ask their parents to take them there!

ADVERTISEMENT - CONTINUE READING BELOW

Good thing Smart Parenting is giving away a free 2-night, 3-day stay for a family of four (2 adults and 2 kids) at a date of the winner's choosing!

This SPrience package includes:

• A stay at the Garden Villa with nutrient-rich vegan breakfast

• One 45-minute use of Aqua Wellness

• Participation in mindful movements (yoga, mandala flower meditation, nature walks, sound healing, kids activities, and more)

• Use of swimming pools, meditation pavilions, and Pure Energy gym. 

Terms and conditions apply.

How to join

How to join:


1. Follow, like, subscribe to Smart Parenting's social media accounts:



Facebook: https://www.facebook.com/smartparenting.ph
Instagram: @smartparenting
Twitter: @_smartparenting
Youtube: Smart Parenting
Tiktok: @smartparentingph

2. Post any photo, reel, or story using the Smart Parenting Mommyverse filter on Facebook (https://bit.ly/SPFBmommyverse) or Instagram (https://bit.ly/SPIGmommyverse) or simply search SP Mommyverse in the filter gallery. This will serve as your entry to win prizes.

Don't forget to tag us and use the hashtags #SmartParenting #Mommyverse.


3. Go to Smart Parenting Facebook page and see pinned album. Comment your proof of entries (screenshot, link to post) on the photo of the prize you want to win from the album. Use different photo entries per prize.

You can also send your entries through the Smart Parenting Village Facebook group! Click here to join.

We'll be accepting entries for all prizes until May 30, 2022!

4. Get a chance to be the winner and be featured on Smart Parenting!


Bookmark this live blog for daily updates: https://bit.ly/SPMommyverseGiveaway

#SmartParenting #Mommyverse #Mothersday2022

Happy Mother's day!

For the whole month of May, The Farm at San Benito is giving moms 30% off the Holistic Medical Sanctuary. Moms can also go on a holistic retreat and enjoy 30% off Hilot Lakambini and Anti-Aging Detoxifying Facial. For more info call +63 918 884 8080/+63 917 572 2325/+63 917 572 2223+63 917 572 2977 or e-mail reservationsteam@thefarm.com.ph.

ADVERTISEMENT - CONTINUE READING BELOW

Ronna Capili Bonifacio is the parenting editor of Smart Parenting.

Celebrate your pregnancy milestones!


Enter your details below and receive weekly email guides on your baby's weight and height in cute illustration of Filipino fruits. PLUS get helpful tips from experts, freebies and more!

You're almost there! Check your inbox.


We sent a verification email. Can't find it? Check your spam, junk, and promotions folder.
Trending in Summit Network