My Child Is My World, But I Am Not JUST a Mom: 8 Nanays Who Inspire Us!

We celebrate Women's Month with stories of empowered Pinays.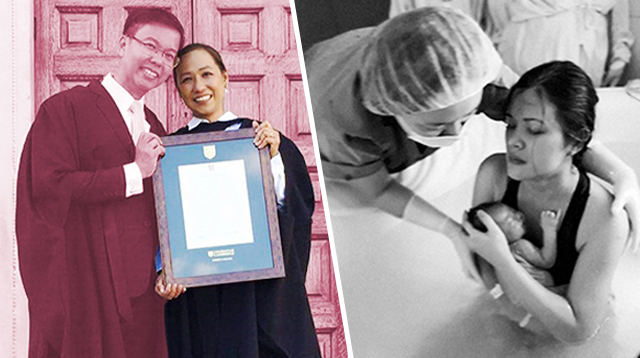 We've done stories that being a successful, empowered woman and mom are NOT two different things. You can be both. This Women's Month, let these stories inspire and show you nothing is holding you back from becoming the strong woman you want to be. Let's celebrate you, momma!

8 empowering stories of strong Pinay moms

1. You can be a mother and still pursue your dreams.

Tanya Recalde was able to supply her son with breast milk while she completed her Master's Degree in the United Kingdom.

PHOTO BY

courtesy of Tanya Recalde

Back in 2014, mom Tanya Recalde was able to supply her third baby with breast milk in the Philippines while she completed her Master's Degree in Corporate Law at the University of Cambridge in London, United Kingdom. She had not known she was expecting when she applied for a Chevening scholarship, and she was heavily pregnant by the time the results came out.

ADVERTISEMENT - CONTINUE READING BELOW

Choosing to leave and pursue her degree was a difficult decision to make. Tanya was leaving behind three sons, including her youngest, who was only four months old at the time. It didn't help that people told her she was selfish for wanting to study instead of taking care of the kids.

Thanks to her husband's help and support, not only was Tanya able to finish her studies, but she made sure her baby was "breastfed" for six months and mixed fed until she came back home for good.

Now, Tanya is taking on another challenge: she was recently named as one of the Hubert H. Humphrey Fellows for 2019! She is headed to the United States for 10 months to pursue "non-degree academic study and related professional experiences" as a Fulbright scholar.

This time, it's not only her husband who's letting her chase a new dream — even her sons, now ages 11, 9, and 4, are excited about this unique opportunity. "My middle son gave me his blessing during my Fulbright interview. [He told me] that may I be blessed with the desires of my heart," Tanya shares with SmartParenting.com.ph.

Read Tanya's story here.

What other parents are reading

2. You are YOUR strongest advocate. 

Despite an autoimmune disease,

Emmeline Villar pursued motherhood

.

CONTINUE READING BELOW

Recommended Videos

After being diagnosed with lupus, an autoimmune disease, doctors told Emmeline Villar a devastating prognosis: the chances of having a child were slim. "I wanted to be a mommy more than anything else I've ever wanted in my whole life," she told Smart Parenting.

But Emmeline didn't let the illness define her. She ran for Congress and became a Diwa representative for three consecutive terms and then became pregnant in January 2015. She knew it would be a risky, even life-threatening pregnancy, but she did not want to give her baby up.

What other parents are reading

In September 2015, after months of strict monitoring, checkups, blood transfusions, and intravenous treatments, Emmeline gave birth to a healthy baby girl, Emma, and her daughter gave her a renewed sense of purpose. "I was able to withstand grave challenges and problems after Emma was born because Emma became my strength," she says.

In December 2016, Emmeline launched Hope for Lupus to give those with lupus a fighting chance at life and end the preconceived notions people had about the disease. In 2018, she took on a new role as the Department of Justice undersecretary.

Emmeline is still managing her autoimmune disease, but she has never let it slow her down from fulfilling her responsibilities as a mom and a government official. "I get tired but the things that I do make me happy. Always see the positive side of things. That's the reason why I survived," she says.

Read Emmeline's story here.

What other parents are reading

3. Never underestimate your strength.

ADVERTISEMENT - CONTINUE READING BELOW

Through a gentle birth, Jesame Nabong-Mesia shows how strong a woman is.

PHOTO BY

courtesy of Jesame Nabong-Mesia

After a traumatic first birth, Jesame Nabong-Mesia was compelled to educate herself about her options for her second pregnancy. "I was in and out of the hospital for a month [for my first birth experience,]," Jesame tells Smart Parenting. "[It] made me feel that my body was incapable of giving birth."

For her second child, Jesame came up with a birth plan and decided to go with a gentle birth in a private hospital. "As I read success stories of gentle, unmedicated births, I became more enlightened about the power of a woman's body and the benefits of having a natural birth to the mother and the baby," she shares.

What other parents are reading

Jesame found an ob-gyn who was a natural birth advocate and also enlisted the help of a doula to deliver her baby. But no matter how much she prepared for the arrival of her second child, her labor was still painful and long. The mom had a lot of conflicting thoughts and fears but gradually let her body take over. Finally, she was able to deliver her daughter, Marcela Luna, via a gentle birth.

"Women are made to believe that childbirth is something that they cannot do by themselves — that they have to rely on pain medicine, artificial induction, or episiotomies. Yes, sometimes these are necessary, but I hope that we don't forget that a woman's body is designed to give birth. It is capable of doing that," she shares.

ADVERTISEMENT - CONTINUE READING BELOW

Read Jesame's story here.

What other parents are reading

4. Do not let anyone shame you from doing what you must.

Zianne Tremedal may be a young mom, but she knows her priorities.

PHOTO BY

courtesy of Zianne Tremadal

Zianne Tremedal became pregnant at the age of 18 while in her third year as a Medical Technology student at Southwestern University in Cebu City. When she heard her child's heartbeat, Zianne broke down in tears. It was a mixture of joy and sadness. "Ang sarap sa pakiramdam 'pag narinig mo ang first heartbeat ng baby mo," she told Smart Parenting.

At the same time, however, Zianne worried about their future, and it motivated her to finish her studies, saying, "Ayokong sundan ng isang pagkakamali pa. Ginawa ko, ginusto ko, so pinanindigan ko."

What other parents are reading

Throughout her pregnancy, Zianne attended all her classes including her major subjects and laboratory classes. She held her head high despite the knowing looks and hushed conversations she would get from strangers whenever she passed by.

After giving birth, Zianne returned to school right away, leaving her son, Euri, in her parents' care. She cried almost every day with the separation, but she knew she had to do it if she wanted to secure her son's future.

On April 2018, Zianne's hard work paid off. The mom graduated from college without any delay and got her degree. "Mahirap pero worth it," she says.

Read Zianne's story here.

ADVERTISEMENT - CONTINUE READING BELOW

What other parents are reading

5. You never stop being a mom.

Lollette Oliva-Alipe adopted Maki when she was 53, and she wouldn't have it any other way.

PHOTO BY

courtesy of Lollette Oliva-Alipe

Lollette Oliva-Alipe thought she was ready to be a grandmother. Her eight kids were either teens or adults, and they didn't need mom at their beck and call anymore. But fate had other plans.

In October 2009, Lollette and her husband, Em, were about to go to bed when they heard a commotion outside their home. A security guard in their subdivision was asking for help — he found an abandoned baby inside a plastic grocery bag at the vacant house across their street.

They rushed the baby to the hospital and learned she was only a few hours old. While waiting for social services to take the baby, Lollette and Em decided to watch over the newborn for the time being.

ADVERTISEMENT - CONTINUE READING BELOW

What other parents are reading

During their five-day stay inside the hospital, everyone in Lollette's family fell in love with the baby, and they knew she was going home with them. "We named her Faith Makana. Maki for short," Lollette tells Smart Parenting. "Makana in Hawaiian means gift — she is a precious gift from God."

Fast forward 10 years later, and Maki is now a bright and active grade school student who is keeping Lollette young!

"We are very aware that we may not be around for her, so we are more conscientious about building memories and teaching her the values we want her to have," Lollette shares. "I want her to grow up never ever feeling that she was not loved and accepted. I pray that she will always remember her worth through my eyes, and through the eyes of Jesus."

Read Lollette's story here.

What other parents are reading

6. Becoming a mom is just one facet of being a woman.

ADVERTISEMENT - CONTINUE READING BELOW

For the 'MOMsters,' pole dancing wasn't just a form of exercise — it also allowed them to feel more accomplished as moms.

 PHOTO BY DAN AGUSTIN

Too often women are boxed into a particular mold, even more so when they have children. But five moms showed motherhood isn't a hurdle.

What other parents are reading

Marissa Mendoza, Citadel Cruz, Cynthia Rimando, Merce Salandanan, and Emily Ignacio call themselves "MOMsters," a group of moms in their 40s to 60s who pole dance as exercise and a form of self-care. Aside from a stronger body, pole dancing has built their confidence and made them comfortable in their skin. They hope women will realize the importance of loving themselves.

"Take back your life. Sure there are kids, but when they're off at school… it's time to think of yourself," shares Marissa. "There was a time when I felt 'housewife lang ako' but [pole] helped me a lot. I made new friends, my body improved, and it fueled my happy hormones. I'm completely changed."

Read their story here.

What other parents are reading

7. It's never too late to find self-fulfillment.

Lorelei Baldonado-Aquino got her degree after 28 years and was able to graduate alongside her two children.

PHOTO BY

courtesy of Lorelei Baldonado-Aquino

ADVERTISEMENT - CONTINUE READING BELOW

It had taken Lorelei Baldonado-Aquino 28 years before she finally obtained her business management degree. And her story teaches us that our plans don't always work out like how we imagined them, but it is up to us to make it happen.

"Things that were much more important than trying to pass my Calculus [subject] started to happen all at once," Lorelei shares. That included having three children, moving to the province, and devoting herself to her family. "Before I knew it, more than two decades had already passed," she says.

What other parents are reading

Lorelei was happy, but she couldn't shake off the desire to earn her diploma. When her two children set off to college, she decided it would be nice if they could all graduate at the same time. So, she took a leap of faith and enrolled in U.P. Diliman where her kids were studying.

It was a tough, grueling semester filled with different challenges but Lorelei persevered. At the end of the semester, she passed with a final grade of 2.50. And she got to fulfill her dream of marching in her sablay alongside her two kids. How's that for a success story?

Read Lorelei's story here.

What other parents are reading

8. Moms do not hesitate to help other moms in need.

Patrisha Organo went viral for breastfeeding a passenger's baby while on a plane.

PHOTO BY

courtesy of Patrisha Organo

ADVERTISEMENT - CONTINUE READING BELOW

When Patrisha Organo, a breastfeeding advocate and a flight attendant of Philippine Airlines Express, saw that a fellow mom needed help in-flight, she did not hesitate to heed the call. In November 2018, she shared a photo of how she breastfed a passenger's baby in-flight, and her social media post quickly went viral.

Her story touched us not just because she went beyond her duties, but she empathized with a fellow mom. She not only knew how important it was to feed a hungry baby, but she also knew how helpless the mother was feeling. "There was only one thing I could offer and that [is] my own milk," she shares.

In a phone interview with Smart Parenting, Patrisha says she felt compelled to tell her story because she wanted to inspire other moms to help others in need of breast milk. "And also to inspire them not to give up on breastfeeding," she shares. "Let's all support each other."

Read Patrisha's story here.

What other parents are reading

Celebrate your pregnancy milestones!


Enter your details below and receive weekly email guides on your baby's weight and height in cute illustration of Filipino fruits. PLUS get helpful tips from experts, freebies and more!

You're almost there! Check your inbox.


We sent a verification email. Can't find it? Check your spam, junk, and promotions folder.
Trending in Summit Network