How to Work From Home Without Losing Your Mind

It can be difficult to strike a balance, but you can get things done even if there are little ones running around the house!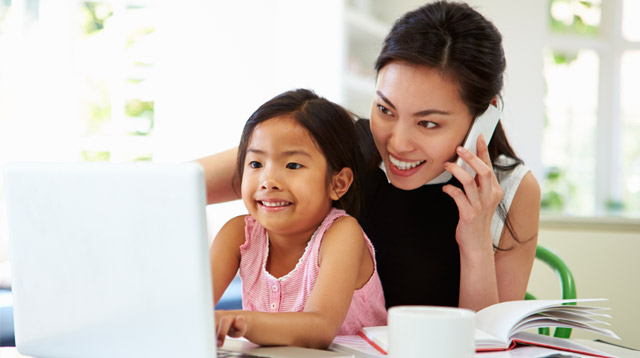 Time to confess — given a chance, we'd all love to work from home. It's an ideal situation that can help us save money on transportation, plus, nothing beats the comfort of sending emails from your living room. This setup is beneficial for parents who have small children, too! They can still earn a living while caring for their kids. While it can be heaven, we have to admit that balancing work and watching over curious toddlers is not a walk in the park.

Kids are clever at finding ways to interrupt you when you're in the middle of getting things done. It's as if your laptop is a beacon that they want to examine closely. As a work-from-home mom of two young kids, I know the situation very well — one minute I'm crafting an email to a client and the next, I'm on all fours to give them a horseback ride.

What other parents are reading

How to work efficiently at home while still caring for your kids

Don't let the challenges get you down. There are ways to train your children to give you time for work. It's not an easy process, but with patience and practice, it can be done. Make video calls without the fear of a little one sneaking up behind you and breeze through your to-do list by maximizing their nap schedule, making use of baby gear, and asking for help. Here are tips that can help you manage your work-from-home situation:

Make the most of baby gear

As much as we want to believe that our newborns can sleep quietly in their cribs while we work, it happens once in a blue moon. If you want to be able to work and keep them calm at the same time, take advantage of the many baby gears available.

ADVERTISEMENT - CONTINUE READING BELOW

Babywearing is a great way to avoid a fussy baby while you get work done (it keeps your hands free, too). You'll be able to take them with you when you're running around the house and they can take longer, calmer naps as they're comforted by your touch, scent, and heartbeat. When they've grown a little, you can keep them on a rocker next to you. Get one with a mobile attachment to keep them entertained. Once they're learning to walk, put them in a walker. Keep an eye on them, though, to avoid accidents.

Use their sleep hours to your advantage

If your child is still an infant, this can be a little tricky because their sleep patterns are still unpredictable. But once you've gotten the groove of it, you can take those small pockets of time to squeeze in a little work. When they're at this stage though, we highly recommend you schedule work time only during the day because you're going to need as much sleep as your little one.

What other parents are reading

Take it slowly and day by day. You'll soon be able to predict when your little one will doze off during the day. You can also attempt to adjust their sleep times. Soon enough your child will transition to the best sleeping pattern where they sleep the entire night and nap both during mornings and afternoons.

Use your little one's nap time wisely. Install a baby monitor so you're not tempted to constantly check on them every five minutes. You'll be able to crank out reports and submissions without distractions. When this stage is over though, nap times will become less frequent. When they reach the age of three or four, they will resist naps altogether. This is where our next tip comes in.

CONTINUE READING BELOW

Recommended Videos

Establish healthy boundaries

Once they're three or four years of age, your kids can talk to you and understand you clearly. This is a great time to communicate the importance of your work schedule to them. Allow them to understand why you need to work and why you should be left undisturbed. Reach an agreement or cut a deal with them: give them your full time and attention in the morning, but they would have to leave you to work in the afternoon.

One trick I've learned is making them realize that you'll be able to finish your job quicker if they don't interrupt you. You should also try to create a physical boundary. Set up a home office for yourself in a separate room and lock the door. Establish that when the door is locked, they can't disturb you. If you don't have extra room for an office, make use of a play pen to keep their little hands away from your keyboard. Soon, they'll learn than when these boundaries are in place, it's work time for mommy or daddy.

A video baby monitor is useful in keeping your mind at ease while they're in the other room. Set up their play area so everything is within reach and make sure to child proof the room so they don't get into any accidents. It's going to be difficult setting up these boundaries with your kids and being unavailable can make you feel bad.

ADVERTISEMENT - CONTINUE READING BELOW

You'll be relieved to know that this setup is actually beneficial for kids this age because they're forced to play independently. Independent play is, in fact, important for their development so you need not worry about them being starved for attention. Let them learn to enjoy their independent time and don't stress too much about taking time out to work.

What other parents are reading

Don't hesitate to ask for help

As the saying goes, it takes a village to raise a child. Even if you're a full-time parent, there is no shame in enlisting help from your spouse, your relatives and friends, or even a caretaker who can watch your kids. Hire household help if you feel you need extra hands around the house.

Remember, you don't have to do everything by yourself. Get a babysitter or a nanny to keep an eye on them even if it's just for an afternoon. You can also consider placing them in a daycare three times a week. Whatever option you choose, it's important to get help when you're in need of it. Not only will you get your job done, you won't feel overworked because of it as well.

Looking after your children also means looking out for yourself. Your physical, mental, and emotional well-being is also important. If you truly want a healthy balance between family life and work life, don't be afraid to get the support you need.

What other parents are reading

Celebrate your pregnancy milestones!


Enter your details below and receive weekly email guides on your baby's weight and height in cute illustration of Filipino fruits. PLUS get helpful tips from experts, freebies and more!

You're almost there! Check your inbox.


We sent a verification email. Can't find it? Check your spam, junk, and promotions folder.
Trending in Summit Network