3 Potty Training Hacks You Need to Know Now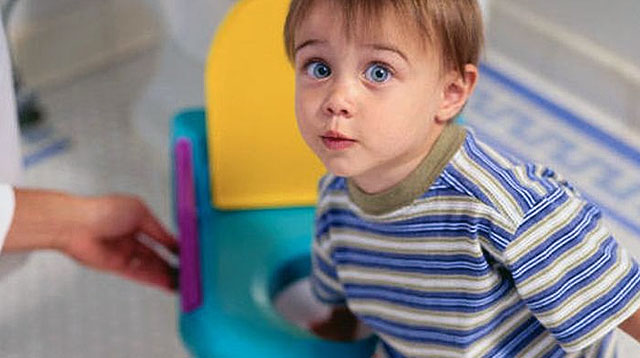 If there's one milestone that is always worth celebrating, it's the day when your tot finally becomes potty-trained. You get to ditch the expensive diapers and pull-ups, and you finally say goodbye to changing the sheets or wiping the floor every time your child accidentally wets himself.

Now the question for toddler parents is how do you know when your child is ready for potty training? And how long will it take?

In the past, we noted the signs--curiosity about underwear, regular pattern on bowel  movement, and curiosity about the toilet (read more here). However, mom-of-six Lora Jensen got specific about the probable age and how long potty training should be with her new book 3 Day Potty Training. She told ABC News that she believes that kids are ready to be potty trained, "both day and night, pee and poo," by the time they are 22 months old...and, like her book's title said, in three days.

In her website, Jensen spoke about how she noticed that her nephews were still not potty-trained at 5 years old, and realizd that there should be a better and faster way to potty-train kids. "I made a mental note of all the things I was NOT going to do. I went to my mom and grandmother for advice on potty training." She consolidated all her learnings by writing one of the most talked about parenting books in social media right now--but not before testing her methods. And she said it worked like magic every time. 

ADVERTISEMENT - CONTINUE READING BELOW

Here, we give you what makes Jensen technique unique. She shares her three no-fail potty-training hacks:

1. Get rid of distractions.
That's for your child and for you, too. For Jensen's three-day potty training hack to work, you would need to dedicate three full days for your mission. "Have your shopping done and meals prepared ahead of time. Do the laundry and clean the house prior to starting. Be ready to play games, color, watch, and just enjoy some bonding time with your child," Jensen tells Christine Coppa of Parenting.com.

What other parents are reading
2. Throw away all diapers and pull-ups.
It's time to get rid of your safety blanket against wetness. Think of it as completely ditching old habits. No more diapers or pull-ups, not even for only when he's sleeping. The idea is that if your toddler isn't wearing diapers, he'd have to go to the potty to keep himself dry and clean. "Training for both [day and night] at the same time keeps the child from getting confused... If you training for both day and night, you eliminate the crutch or feeling they can just go in their diaper or pull-up," Jensen says.

3. Remind--not ask--your child that they need to go pee or poo.
They've been on diapers, so they don't care about where or when they relieve themselves. However, this is the first thing that you should teach your child--to know their bodies. Help them know when it's time for a pee or a poo. "Don't ask them, just remind them about a potty break," Jensen says. "If the child feels they have control over learning [the process], they're not going to fight it." That includes waking them up in the middle of the night just to pee, so set an alarm.
While Jensen says she cannot guarantee that her three-day potty training method will work for you flawlessly, she promises that it will "drastically reduce the amount of time you spend toilet training." The important thing is to train your child be able to recognize his body cues and know what to do when he feels like he's going to pee or poo.
What other parents are reading
During your three-day mission, encourage your child drink more water. More liquid intake means more trips to the potty, and you'd want that for the three-day training--the more times your child needs to pee, the more times he gets to practice doing it without diapers. And then, cut all liquid intake after dinner and make sure to make that final trip to the bathroom before going to bed.

Don't expect perfection either. "Accidents will happen; that is part of training. Children learn from having those accidents," says Jensen. That includes during the three-day potty training schedule and even after. Her advice: clean up the accident and simply encourage your child to make it to the toilet next time. Positive words and simple rewards also helps her process, too, Jensen adds. Give these only when your tot succssfully makes it to the toilet--no exceptions.  
Willing to give Lora Jensen's three-day potty training hacks a try? Have at it and let us know how it goes!

What other parents are reading

Trending in Summit Network