Got a Child 0 to 3 Years Old? 3 Signs You're Doing Parenting Right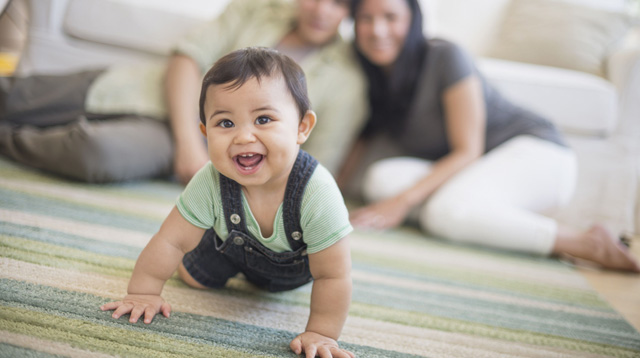 Nurturing your child's development requires daily, constant help. Simple activities, though small, give the process that crucial leg up -- in fact, you may find that you're already instinctively doing some of them. What's important is that these activities begin early on. "We need to get started well before school. We need to start in the crib," says Ronald Ferguson, director of the Achievement Gap Initiative and professor at Harvard University. 

Backed up by existing research, Ferguson developed a set of guidelines parents can use to maximize their children's development. Specifically, these are activities parents should do to support the early-childhood development of infants and toddlers 0 to 3 years old. 

Ferguson calls these "The Fundamental Five", three of which we've outlined here. You're right on track if you are doing the following:

1. Maximizing love and minimizing stress
Parents don't need to be told they need to show love to their babies, they already do! What Ferguson stresses is for parents to be more conscious about it and to do it on purpose. "Warm and responsive parenting lays the foundation for healthy social, emotional and cognitive development in infancy and beyond," says Ferguson. 

React promptly to your child's needs, like soothing them when they're upset, and respond to your child's facial expressions, movements and verbalizations. It doesn't take much. Making eye contact, smiling back and engaging in conversation are already signs of a responsive parent. 

Research shows that excessive stress can hamper a baby's brain development, specifically memory and behavioral responses, according to the guidelines. Leaving the baby crying when she clearly needs attention, like needing to be fed or needing a diaper change, is an example of a stressful situation for a child. It goes beyond attending to necessities as well. We also need to shield children from situations that are too much for them to handle. "Being in a household where people are angry and arguing a lot can be stressful to an infant or toddler," says Ferguson. 

ADVERTISEMENT - CONTINUE READING BELOW

What other parents are reading

2. Talking, singing and using gestures with your baby
"We can think of babies as visitors in a foreign country," says Ferguson. "Babies have yet to learn our language and the way we communicate. "If people are talking gibberish and baby talk, that doesn't help." To maximize your baby's speech and language development, parents have to talk to their babies in real words from the very beginning, says Ferguson. Babies like high-pitched, sing-songy voices, and parents can do that with real words, he adds. 

The more you talk to your baby, the faster he'll be able to talk to you back and obtain a diversified vocabulary. Using gestures like pointing to objects while naming them supports a child's language development as well, according to the guidelines. 

In addition, Ferguson stresses a point that's important for Filipino parents to know. He says bilingual parents should not be afraid to talk to their babies in both their native language (Filipino for us) and in English. One won't interfere with the other and the baby will learn both. Research from the National University of Singapore found this to be true as well. 

3. Reading and discussing stories with your baby
We're all aware of the importance of exposing children to books and reading to kids for language and cognitive development. "It introduces them to words, concepts, and forms of discussion and reasoning that they might not encounter in other activities," explains the guidelines. But, Ferguson also stresses that reading to children ages 3 and below is just as important. Cognitive and language development at 36 months is influenced by how much a parent reads to their child, research shows. 

But simply reading aloud is not enough. Again, as with a lot of aspects of parenting, being engaging is important. "The richness of discussions during shared book reading tends to predict children's later literacy skills," says Ferguson. "As soon as your child can give you feedback, have a discussion." 

Respond and agree to the comments your child makes during storytime. Encourage her to make predictions and inferences. Ask her what she think will happen next in the story and why a certain event happened the way it did. For this, your question can sound like "What made the little crocodile sad?" 

Happy parenting!

Source: Harvard, TURN

ADVERTISEMENT - CONTINUE READING BELOW

Recommended Videos

What other parents are reading

 

Celebrate your pregnancy milestones!


Enter your details below and receive weekly email guides on your baby's weight and height in cute illustration of Filipino fruits. PLUS get helpful tips from experts, freebies and more!

You're almost there! Check your inbox.


We sent a verification email. Can't find it? Check your spam, junk, and promotions folder.

Trending in Summit Network