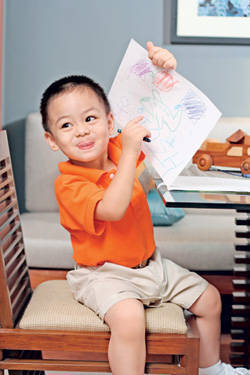 In a world dominated by gadgets and constantly evolving technology, it's still good to know that centuries-old and traditional ways of imparting knowledge to your child are still effective.
In an article written by Jon Schnur for TIME, he lists several ways that parents can unlock their child's academic potential, without breaking the bank and through simple ways. We round up some of his most striking suggestions on making sure your child optimizes his development in preparation for school.

1. Read to your child every day and expose him to books.

Before the iPad, video games, and TV were in existence, books were the most (if not only) reliable source of news and information for everyone. Similarly, the spoken word from books not only helps one practice reading and comprehension; it also helps foster a bond between the reader and the one being read to. 
This is why Schnur recommends reading to your child for at least 20 minutes daily. Try setting aside a portion of each day and designate it as "reading hour". You'll discover just how relaxing and therapeutic the gift of reading can be. 
Here are just a few of the benefits of reading to your toddler:
• Promotes longer attention span. Reading involves more brain processing.
• Develops listening skills
• Stimulates the imagination
• Builds vocabulary
• Develops a love for books and reading
• Can be done at home or elsewhere
You may also want to read:
• How to Develop Your Baby's Love for Reading 
• 5 Tips to Nurturing a Love for Reading in Your Toddler 
• Nurturing The Reader In Your Child: 5 Strategies To Get Your Preschooler To Love Reading 
Choose books that capture your child's interests, and be encouraging when it comes to his pace in learning how to read. Let it be a pressure-free experience. Don't rush him.
[previous|page|next]
2. Talk with your child as much as you can.

We cannot stress enough just how important it is to develop open communication between you and your child. Not only will this help him to express his feelings and interests, it also boosts his intelligence. The frequency of your conversations with your child has direct correlations to his future IQ.
You may also want to read:
• 11 Tips To Help You Teach Your Baby to Talk 


3. Increase his playtime.

Sigrid Perez of Play Universal, a coalition devoted to "enriching and cultivating the benefits of play at home, in school and in communities", says "We are speaking not only to educators and doctors but to fellow parents as well.  We believe learning happens not only in a school setting when they study lessons and pore over books.  The goal is to get as many Filipino parents to embrace the thinking and become more involved in their children's play activities."
Play reinforces the bonding and interaction between parent and child, lets him assert his independence, allows your child to explore his capabilities at his own pace, develops their imagination, encourages socialization with peers, and even promote good health, among other benefits.
You may also want to read:
• 10 Reasons Why Play Is Good for Your Child 


What's your personal technique to prepping your child for school? How do you boost his development? We'd love to know. Leave a comment below.

Photography by Jun Pinzon