Did Your Toddler Hit His Baby Sibling? Punishing Him Is Not a Good Idea

One way to discipline him is to provide your child with a safe space to express his emotions.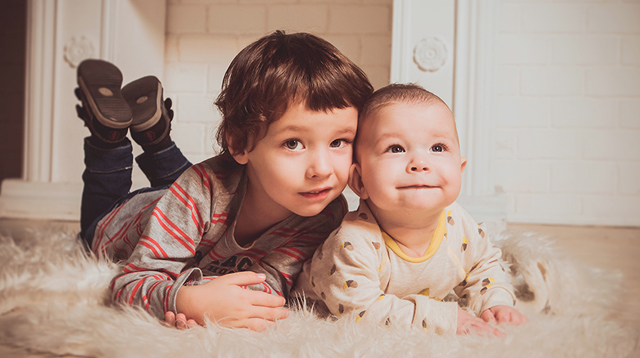 In her column for The Washington Post, certified parent coach Meghan Leahy talked about a parent who was seeking advice for her 3-year-old son. The toddler was having a difficult time adjusting to his 10-month-old brother, given his aggressive behavior toward his sibling, such as pushing, hair-pulling, yelling, and door-slamming.

Toddlers and aggressive behavior

When a child hits his sibling or even his parent, it could be a sign that he is dealing with big emotions, and he doesn't know how to handle it. The result is aggressive behavior. "Toddlers sometimes behave aggressively because they lack the verbal skills to get their needs met," writes Verywell Family. "A child who can't say, 'Don't do that,' when his brother takes the toy out of his hands may hit or bite to express his displeasure."

In an article for Psychology Today, Laura Markham, Ph.D., author of Peaceful Parent, Happy Kids: How To Stop Yelling and Start Connecting, says that when dealing with sibling fights, parents would usually become stern and say things like, "Stop hitting your sibling!" thinking that this would put an end to the aggressive behavior.

"You can count on him hitting her again because he still has all those monstrous feelings," Markham says. "They war within him against his affection for his little sister. He will pat her gently and coo over her, and to his shock, suddenly find himself gripped with the desire to clobber her. That doesn't mean he's a monster. It means he's a small child trying to manage feelings that have undone many older humans."

ADVERTISEMENT - CONTINUE READING BELOW

What a parent can do to end the hitting

This rough stage of sibling fights can be more than enough to drive any parent crazy. But unless you stay calm, it can be incredibly easy to resort to screaming at your child to stop, which we know rarely prevents them from misbehaving again. If your older child is regularly lashing out on your younger child, here are some things you can do.

Separate your older child from his sibling if hitting occurs

Leahy's response to the question she received for her column: "Put that baby in a playpen!"

She explains that separating the two children from each other helps prevent the baby from getting hurt and the older child from lashing out. "You have two very immature people under your roof. You are doing your best to police them, but when you cannot, you have got to put that baby somewhere that he can be safe from big brother, and big brother doesn't feel the need to protect his stuff."

You might also find it beneficial to put your toddler in a daycare program for a couple of days a week, where he can interact with children his own age, hopefully without any fighting involved.

In situations where things get physical, parents may feel tempted to punish their older child. However, according to Aha! Parenting, it may not be the best idea. For instance, when it comes to putting kids in timeout, the article reads, "When the pressure of a child's tangled-up feelings pushes him to lash out, and parents react with timeouts, the child is confirmed in his conclusion that he's a bad kid for being jealous of his sibling.

CONTINUE READING BELOW

Recommended Videos

"The child will just review why he's right, his parents are unfair, and everything was so much better before his rotten sibling was born."

Furthermore, putting your child in timeout might just make him feel more alone and make it even more difficult for you to reach out to him and encourage him to cooperate later on.

Connect with your toddler

Markham advises parents to take the time to connect with their older child in "healing ways." And how do you do this? By simply spending some alone time with him.

"Building trust and connection by spending half an hour a day just being 100% present with him is an essential start," she writes. "Let him decide what to do with the time. Just pour your love into him and ignore all distractions. He will love being the center of your attention, knowing that making him happy matters that much to you.

"Maybe most important, he will see how much you enjoy him, which is the foundation of his feeling of self-worth."

Create a safe space for your toddler to open up

Markham says there are a lot of upsetting feelings simmering underneath a child's blank facial expression when he hits his sibling. After comforting your younger child, your goal is to encourage your firstborn to express how he feels. This first step will help him deal with and manage his emotions, which can also lead to him to control his behavior.

For your child to feel more comfortable with opening up to you, especially when she is still feeling extremely angry or frustrated, try getting down on his level and making eye contact with him as you talk. This simple act can show your child that you are giving him your undivided attention and that you are ready and willing to listen to him. It also helps him feel safer and more in control.

ADVERTISEMENT - CONTINUE READING BELOW

As you converse with your child, remember to inform him that his anger and frustration are valid, and to remain calm and kind. Empathizing with your child is also very important since this will signal to him that you recognize and acknowledge what he is feeling.

Remind your toddler that he is loved and valued

Among the emotions driving your child to act violently toward his younger sibling might be the fear brought by thinking that he has lost his place in your heart and in your family. Constant reassurance of your love for him and of his value in your family can do wonders in helping reduce the likelihood of him lashing out on his sibling again in the future.

Here is an example of what you can say to your child, according to a script from Aha! Parenting:

"No matter how much your sibling gets, there is always more than enough for you. Maybe you worry sometimes that we love the baby more. But that is never true. You can always tell me if you're feeling left out, or angry; you know that. I will always understand and try to help."

Encourage your toddler to "repair" their sibling bond

Even if it may not seem like it now, there is something in your toddler that wants to protect his younger sibling. Strengthen it with simple activities that encourage the bond between the siblings, says Markham.

One thing you can do is let the baby sit on your toddler's lap, and then teach your firstborn how to inhale the pheromones given off by the top of the baby's head. Researchers claim these pheromones can aid in disabling aggressive impulses. Moreover, doing this can also make your toddler more protective of his sibling.

ADVERTISEMENT - CONTINUE READING BELOW

Another thing you can do is allow your older child to be as important a part of your baby's daily routine as you are. For instance, when the baby wakes up in the morning, take her from her bed with your toddler in tow.

There may be many parents out there whose young children regularly manifest aggressive behavior towards their siblings, and who may not completely understand why this happens or how to prevent it from continuing. If you are one of those moms and dads, read more about why kids hit their siblings, and what you can do to help them stop.

What other parents are reading

Celebrate your pregnancy milestones!


Enter your details below and receive weekly email guides on your baby's weight and height in cute illustration of Filipino fruits. PLUS get helpful tips from experts, freebies and more!

You're almost there! Check your inbox.


We sent a verification email. Can't find it? Check your spam, junk, and promotions folder.
Trending in Summit Network