Do You Say 'Be Careful!' All the Time Now? Here's a Better Way to Say It

This simple question helps you encourage your toddler to think things through.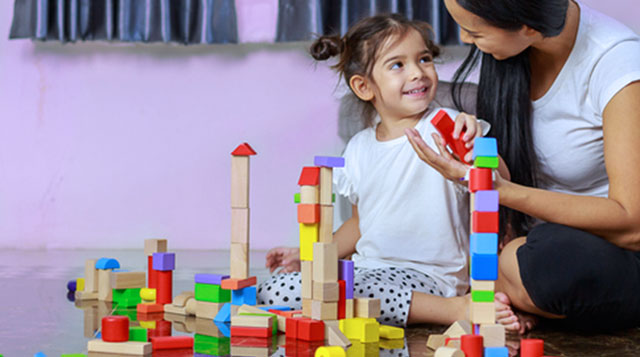 They say, as parents, it's our job to worry about our kids and make sure they are safe, healthy, and cared for. As children grow up, however, they want their independence. They want to explore and unfortunately, the need to satisfy their curiosity (like checking out an electrical socket) makes us panic.

In an effort to keep our kids safe at all times, we tell them "be careful," "wait lang" or "no!" when they run too fast. Saying it often, however, can instill unnecessary worry and doubt, which can affect their confidence and even problem-solving and decision-making skills.

What to do? An alternative to telling you child to be careful is to ask, "What's your plan?" Getting into the habit of asking your child about his plan or strategy offers many benefits.

"Whenever I notice my child doing something I'm unsure of, I ask [him], 'What's your plan?' instead of assuming they're about to get themselves in trouble," suggests mom of three Nikki Davies, who has kids aged 6, 5, and 10 months.

ADVERTISEMENT - CONTINUE READING BELOW

"Instead of shutting them down, it opens up a conversation, and I am able to help them instead of unknowingly hurting their confidence and imagination," she explained.

Benefits of asking your child "what's your plan?" when you want him to be careful

The tip was well-received by other moms, and they even shared their version of the simple question, such as, "How do you plan on doing this?" or "Have you thought this through?" and "Please explain what you're thinking." These questions help boost a child's confidence because they have a voice and their ideas matter. 

It shows how your child thinks

Asking your child what's their plan helps parents get a sneak peek of how children allow them to guide and hone critical thinking. "I'm sure you'll be so surprised by their thoughts and ideas," Nikki added, encouraging parents to try using the phrase.

Though the phrase "what's your plan" might be a bit vague for toddlers to grasp, parents should get in the habit of saying it before offering suggestions or options on what the child can do, advised Elisabeth Stitt, mom, educator, and author of the book Parenting... As A Second Language and the blog Joyful Parenting Coaching.

It can be a tool to hone critical thinking skills, guide kids when weighing options, and make better decisions. Plus, it's a tool you can use even for older kids. As the child grows, parents can allow their kid more room to lay out his strategy and express his thoughts.

CONTINUE READING BELOW

Recommended Videos

What other parents are reading

It should encourage positive thinking

Instead of asking, "What were you thinking?" or "What's wrong with you?" in an accusatory tone, focus on forward-looking questions that encourage good choices now or next time, says Eileen Kennedy-Moore, Ph.D., clinical psychologist and the co-author of the books Kid Confidence, Smart Parenting for Smart Kids and What's My Child Thinking?

Asking questions should help children think and move in the right direction, not pressure or make them feel bad. "We won't always be around to tell our kids what to do, but through gentle questions, we can help guide them, so they learn to think things through on their own," Dr. Kennedy-Moore stressed.

It allows kids to make and learn mistakes

We want children to have their "A-ha!" moments on anything, from discoveries to new ways of doing things to achieve their goal. It is feeds their growth mindset (read mroe about growth mindset here) urges them to solve problems.

As Nikki said, kids often have a plan, but not all of them are well thought out and may just need to be executed in a better or safer way. Resist the urge to immediately alter your child's plan. Allowing kids go through with it — as long as it's safe, of course — lets them make mistakes and learn from them.

"That's what growing up is all about — making mistakes and then having to adjust after having made them," says Stitt. The earlier parents teach kids to have better control of how they think and their actions, the earlier they can learn how to be independent, make good decisions, and cope with adulthood.

ADVERTISEMENT - CONTINUE READING BELOW

So the next time you see your child doing you wouldn't try to something unusual, stop and pause. Instead of being vague and saying, "Be careful," or lecturing him why it's a wrong move, let curiosity take over and ask, "What's your plan?" All it takes is a little mindfulness.

You need to be more specific when warning children of dangers. Read more about it here.

What other parents are reading
Celebrate your pregnancy milestones!

Enter your details below and receive weekly email guides on your baby's weight and height in cute illustration of Filipino fruits. PLUS get helpful tips from experts, freebies and more!
You're almost there! Check your inbox.

We sent a verification email. Can't find it? Check your spam, junk, and promotions folder.
Trending in Summit Network