Is It Okay for Your Tot to Wear Hand-Me-Down Shoes?

Shoes are great but it's better to let your baby learn to walk barefoo if he is learning to walk.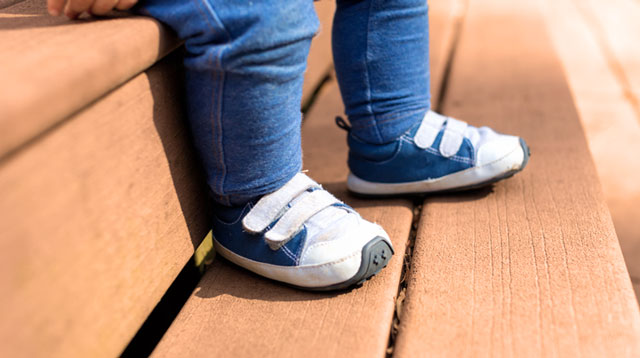 Before you buy any shoes or make him wear hand-me-downs, keep in mind that it's better to let your baby learn to walk barefoot, so there is less need of him to look down when he is walking.

"[Looking down] puts them off balance and causes them to fall down," explained Dr. Tracy Byrne, D.P.M., a podiatrist specializing in podopediatrics (the study of children's feet).

Learning to walk barefoot on the carpet, grass, mat, and even on the sand helps strengthen your little one's feet and legs. It teaches him to plant his feet and spread his toes to grasp even an inclined surface. Barefoot walking has also been associated with grounding may be good for your child. (Read more about grounding or earthing here.)

What other parents are reading




4 things to consider when buying toddler shoes

Ill-fitting shoes, on the other hand, are not only uncomfortable but restricting as well. It can hinder your child from learning how to walk correctly. Miguel Cunha, D.P.M., a podiatrist at Gotham Footcare in Manhattan, in New York, suggests parents let their toddler wear hard-soled shoes "once they start ambulating (walking) because you want to support their feet or help avoid them injuring their feet." 

There are many things to consider when buying your toddler shoes, but always choose the one with the best fit, according to Dr. Joseph Stern, D.P.M., former president of the Canadian Podiatric Medical Association. Here are some guidelines in choosing the best shoes for your little one.

1. Choose comfort and support over style.

ADVERTISEMENT - CONTINUE READING BELOW

You want a pair that provides ample support and allows for proper development and growth of your little one's feet. "The bones in the foot are very soft at this age. Wearing badly fitted shoes won't deform your toddler's feet, but if his shoes aren't very supportive, it can advance any abnormalities that his feet may already have, such as flat feet," explains Dr. Stern.

A lot of the cute, stylish, even designer shoes today are "too stiff, too rigid, with no flexibility at the sole and too much heel raise," warns Dr. Byrne.

Heeled shoes may cause your tot to bounce and tip forward when walking. But too flat shoes like flipflops does not provide ample arch support. Avoid sandals with thin straps or slip-on shoes as these offer little to no support at all.

Toddlers who are still learning to walk need soft, flexible shoes. Look for breathable, lightweight material such as canvas, cloth, and soft leather that are more flexible. Avoid vinyl, plastic, or synthetic materials. You can also try giving his soft shoes some grip with just a glue gun and a stick. (Click here for DIY instructions!)

Little ones who are already confident walkers need shoes that have grip and traction to prevent slips and injuries. Opt for shoes with rubber or leather soles that you can still bend a little, which also helps provide support when your child is trying to achieve balance. Sporty strappy sandals is another option as it also offers ventilation to prevent your tot from getting stinky feet.—

CONTINUE READING BELOW

Recommended Videos

What other parents are reading

2. Always get appropriate-fitting shoes.

It's best to go to a children's shoe store with your toddler so his feet can be measured. Stop buying one or two sizes bigger to save money. You might end up spending more when your child acquires an injury due to ill-fitting shoes.

"Too big and they could be unstable; too small and it constrains the foot," says foot and ankle specialist Steven G. Tillett, D.P.M.

To check for fit, there should be room the size of  your thumb's width between the end of the longest toe and the end of the shoe. Then, stick your pink finger between your child's heel and the heel of the shoe. Your pinky should fit up until the first knuckle in and out easily. Anything more than that is too big for your child. 

Have your child wear socks during fitting if you intend him to wear socks whenever he wears a particular pair of shoes. Don't use socks to conceal or try to fix ill-fitting shoes. Ask your child to walk, run, and jump when trying on new shoes, and even after doing so, his feet shouldn't have any noticeable marks when he removes them. If you see any, the shoe size could be small, with no room for his feet to grow. Or, it could have elements that might irritate your child's feet if he wears it longer.

It is okay to use hand-me-down shoes? There's nothing wrong with it, says Dr. Louis DeCaro, D.P.M., president of the American College of Foot & Ankle Pediatrics. But consider two things before letting your child use hand-me-down toddler shoes. First, does it fit your child properly? And next, check if the sole is okay and not worn out or your little one may not have the grip or traction when using it.

ADVERTISEMENT - CONTINUE READING BELOW

What other parents are reading

3. Don't hoard toddler shoes! 

Toddlers' feet grow fast, so you need to have your child's feet resized every two to four months — and yes, replace and buy new shoes every time he outgrows his pairs. It's also a crucial reason not to purchase too many pairs or the expensive ones for your tot. He needs just a couple — ideally, a sneaker and a sporty-strappy pair — at a time. 

4. Consider your child's growing independence.

Buying and wearing shoes is also a sign of your little toddler's learning independence. He will soon learn to wear his shoes independently, so choose ones that are easy to wear, such as slip-in sneaks (not sandals), or shoes that use velcro, snaps, zippers, and other easy to secure fasteners. Laces are okay, too, once your child is ready to learn to tie them, which means he already displays excellent fine motor skills. (These hacks here and here made it easier for the kids to learn!)

To teach teaching your child to differentiate the left and right shoe, stick half of a ladybug sticker on the in-soles of the shoes so that when the pair is placed in order — the left shoe of the left and right shoe on the right — the ladybug sticker should appear whole.

For tips on encnouraging your little one to walk, click here. We bust some walking myths here. 

What other parents are reading

Celebrate your pregnancy milestones!


Enter your details below and receive weekly email guides on your baby's weight and height in cute illustration of Filipino fruits. PLUS get helpful tips from experts, freebies and more!

You're almost there! Check your inbox.


We sent a verification email. Can't find it? Check your spam, junk, and promotions folder.
Trending in Summit Network