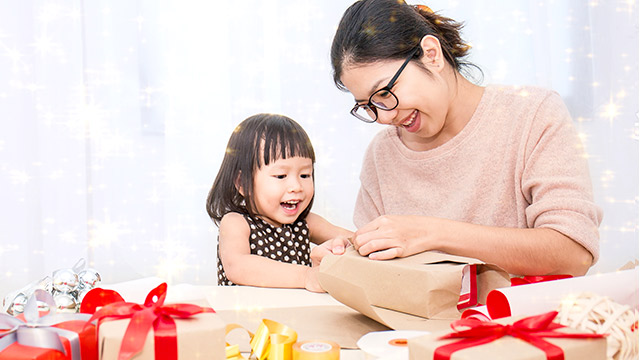 Family reunions and parties need to be virtual this year, so that might lessen the Christmas excitement, especially if your kids look forward to your family traditions.
If your 3+ toddlers express sadness or disappointment at the idea of missing out, give them space and freedom to let out their emotions. Tell them you understand why they're feeling that way and how it's completely okay to feel bad. It helps to provide a truthful explanation of why it's better to be at home during this time.
Remind your children that Christmas spent at home doesn't mean they will have a less jolly time. You can come up with new and exciting holiday activities that the entire family will enjoy doing.
Make sure to ask your kids for suggestions, too, and consider their opinions. Involving them in decision-making makes these holiday activities truly enjoyable. And who knows, these might become your family's treasured traditions in the holidays to come.
[ads:3]
Here are a few activities you and your 3+ toddlers might like to try.
Have a virtual Christmas party with friends and family
This virtual holiday party shouldn't be like a regular video call with family or friends. Elevate this online get-together by decorating a specific space in the house where you and your toddlers will be settling in for the entirety of the party.
Make use of available Christmas decor — a Christmas tree, colorful garlands, tinsel, balloons, etc. Delegate the more manageable tasks to your 3+ toddlers: sorting Christmas balls by color, putting up paper snowflakes, or sticking Christmas-themed stickers on the wall. Don't forget to engage them as you decorate! They'll happily talk about how they helped in the creative process during the actual call.

While you're at it, let the kids dress up however they want. No better visual testament to their personality than the clothes they wear.
[ads:7]
Make your own holiday treats
Choose a day during your 3+ toddlers' holiday break to make easy, no-bake Christmas cookies or dessert bars. Pick easy-to-follow recipes and gather all ingredients and kid-friendly kitchen equipment. Adults can handle any cutting or cooking, while 3+ toddlers can mix, sprinkle, or even decorate!
Allow your children to explore their creativity and express their independence during this activity. By doing so, you are building up their confidence!
Organize a Christmas-themed treasure hunt
A treasure hunt is a fun and exciting activity for kids. To make it Christmas-themed, have your 3+ toddlers find little gifts hidden in different areas of the home instead of putting the presents under the tree. This encourages kids to use their problem-solving and creative-thinking skills and allows them to have fun, too.
Prepare a "hunt bucket or basket" and decorate it. Use red and green ribbons, a cartoon face of Santa Claus, or even tinsel. The holiday loot could be as simple as their favorite snacks or art materials for drawing and coloring.
[ads:13]
On top of the joy brought about by the gifts, children will feel a sense of accomplishment for having found the hidden treasures on their own.
Host a gift-giving with a twist
One way to spruce up the usual holiday gift-giving is by preparing several presents for your kids — each of them tagged with a fun "mission" the children will have to accomplish before being allowed to open it.
Said missions can range from simple things like giving you a kiss and a hug to more active ones like packing away their toys. This imparts to them the importance of working hard for the things they want.
And because this activity is better with more gifts than usual, you can opt to get budget-friendly items, so the activity remains abot-kaya for you.
Create Christmas cards from scratch
With just colored papers, pens, crayons, and various artsy ornaments, you and your 3+ toddlers can already make personalized holiday greeting cards. Ask your kids whom they want to give cards to, and guide them in creating them. Do make sure you let them do their thing!
[ads:20]
Through this activity, children will understand that gifts don't have to be expensive to be remarkable. What they have created with their own hands is actually more thoughtful and valuable. To know more about some of the activities moms can do with their kids during the holidays, watch this:
As you encourage your children to be creative and independent through these fun holiday activities, make sure they are energized through a balanced diet complemented with a glass of NIDO® 3+ or NIDO® 5+ for todo sustansiya and protection.

NIDO® 3+, the No. 1 milk brand for kids ages 3 to 5, ensured NIDO® 3+ and NIDO® 5+ are packed with DHA, LA, and ALA for the brain; PREBIO3® fiber to support healthy digestion, and other essential vitamins and minerals to help children's overall growth for their total development.
[ads:23]
Through the NUTRITODS® program's help, NIDO® 3+ and NIDO® 5+ are expertly formulated to address the growing-up needs and nutrient gaps of Filipino children ages 3 to 5. They don't have added sucrose and contain lactose, allowing kids to get the benefits and goodness of milk without added table sugar.
These products are also the only growing-up milk drinks with Lactobacillus Protectus® (L. Rhamnosus), scientifically proven to help support children's respiratory defenses and help protect them against pathogens that cause coughs and colds when partnered with a balanced diet and regular exercise.
NIDO® 3+ has 50% percent more protection nutrients (vitamins A, C, E, and selenium) versus the previous formulation.
For TODO sustansiya and protection but NOT todo in price, partner NIDO® 3+ or NIDO® 5+ with your child's balanced meals! Shop these products on Lazada, Shopee, and GoodFood. For more information, follow NIDO® 3+ on Facebook.
[ads:28]
ASC REFERENCE CODE: N116P120120NS