'Digital Cocaine' Author Describes How Screen Overuse Damages Your Child's Brain

Brad Huddleston believes that children under the age of 12 should NOT use technology.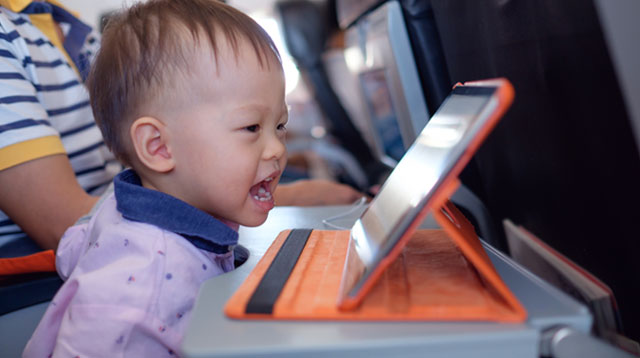 Multitasking parents of today have discovered the perfect babysitter: digital screens that can engage their kids anytime and anywhere.

It's almost too good to be true how quickly a child can calm down when presented a tablet or a phone. We see this everywhere, from the doctor's office to restaurants, even at church. When a child starts to fidget, seven times out of 10, you can expect Mom, Dad or Yaya to keep him entertained with an electronic gadget.  On weekends, most parents find themselves competing with television and personal computers for their children's attention.

And yet did you know that Bill Gates and Steve Jobs, the two men responsible for making these personal computers, tablets and mobile phones accessible to millions of users around the world, raised their children in a technology-free environment?

What other parents are reading

Brad Huddleston is the the author of two best-selling books "Digital Cocaine: A Journey Toward iBalance" and "The Dark Side of Technology: Restoring Balance in the Digital Age."

PHOTO BY

courtesy of Global Homeschool Conference

ADVERTISEMENT - CONTINUE READING BELOW

'Best' babysitter

Brad Huddleston has been touring the world and speaking to parents and educators about the dangers of the growing trend toward technology addiction. He dubbed it 'digital cocaine,' and he has the neuroscience to prove it.

"In its simplest form, when someone cannot do without their digital device, they are addicted. More specifically, when any activity, including interacting with digital devices, interferes with normal life, they are addicted."

Huddleston, who has a degree in computer science, was recently in Manila and was one of the keynote speakers at the first "Global Homeschool Conference" held at SMX Convention Center Aura. His topic was the 'Impact of the digital world on families and learning.'

According to Edric Mendoza, president of Homeschool Global who organized the conference, "Huddleston's views on the damaging effects of digital are both relevant (applicable to every individual and family who use screens) and reliable (based on latest neuroscience research). When we came across his book, and the data that Filipinos are the top users of social media and the internet in the world, we instantly realized we need to invite him to the Philippines."

What other parents are reading

Signs of the digital times

Huddleston argued there is a fine line between technology being beneficial and technology being destructive, and many children today have crossed it.

At the conference, Huddleston presented brain scans of a heroin addict and a heavy user of digital screens side by side.

PHOTO BY

courtesy of Global Homeschool Conference

CONTINUE READING BELOW

Recommended Videos

"People need to realize that it is literally a chemical addiction, on the same level as cocaine and heroin. Neuroscience is showing that when someone snorts cocaine that's extremely stimulating to the brain and it generates lots of dopamine," explained Huddleston. "Video games generate the same [levels of dopamine] in about an hour's time of playing as a line of cocaine."

Parents naturally want to think their child is the exception — no one wants to admit their kids are hooked on 'digital cocaine.' Huddleston suggests going cold turkey and removing access to all digital screens to test the level of addiction if any.

"If you take a tablet away from a child and they consistently have 'meltdowns,' they are literally addicted, and brain damage is occurring."

What other parents are reading

Huddleston went on to list three adverse effects 'digital cocaine' on learning and the youth.

#1 ADHD

"This condition has increased 800% in the past 30 years. The internet is just over 30 years old. In my opinion and global experience, the clear majority of this 800% is digitally induced. It is true that some children are born with attention deficits, but that number is extremely small. The dramatic increase is being caused by hyperstimulation from digital devices."

#2 Multitasking

"Neuroscience has proven beyond all doubt that the brain is a sequential processor, unable to pay attention to more than one data stream at a time yet, schools often encourage this practice." This is one thing people are doing in line with technology that they think is good but is in fact very harmful.

ADVERTISEMENT - CONTINUE READING BELOW

#3 Depression, anxiety, and self-harm

Huddleston says these were the top symptoms of digital addiction. "These are very real conditions that result from misusing digital technology, and will often hamper a child's ability to concentrate on school work."

What other parents are reading

After seeing the disturbing effects of 'digital cocaine' on children in the United States, in Africa and now in Asia, Huddleston campaigns passionately against the introduction of technology to young kids.

He shared some practical tips parents can try to protect their children from 'digital cocaine.'

Do not allow children under the age of 12 to use technology.

"This includes using technology for 'educational' purposes. Many of the technology executives and employees in Silicon Valley live by this rule in some form. Steve Jobs did not allow his children to use the iPad. The reasons are obvious."

Remove all technology from everyone's bedroom and sleep a full night.

"Adults need 8 to 8.5 hours of sleep while teenagers should get 9 1/4 hours.  Children between 4 and 11 years old should be sleeping between 9.5 and 9 ¾ hours, and younger kids a solid 10 hours."

What other parents are reading

Never allow anyone of any age to play video games. 

And this includes "gamification" for educational purposes. Instead, play board games. "I recommend no technology use and no screen time before school. Otherwise, you will have a condition called 'post-stimulation, attentional drift' where fight or flight response chemicals get released in the brain, and you won't be able to focus."

Do not read and study from e-books.

ADVERTISEMENT - CONTINUE READING BELOW

Instead, use the paper version.

Do not listen to music while studying and sleeping.

"Multitasking is a myth.  Because of multitasking as a lifestyle, brain stress is at an all-time high, and cognitive abilities are decreasing."

Return to analog

It's not just the children that need to be weaned, but parents too according to Huddleston. "Perceptually, we think we spend just a few minutes checking email, social media, etc. But when the time is measured intentionally, we find that technology has in fact consumed large quantities of our time."

Huddleston challenged his audience at the conference to embrace a digital detox program immediately.  'Detox means stop. It's not balanced use, it's not 'okay to use on Saturdays or weekends.' We're talking of 'digital cocaine' and cocaine is bad on all days."

Aneth Ng-Lim began her career as a writer and happily returns to her journalism roots after working as a communications specialist in the government and the private sectors. While working for a bank as a consumer education head, she honed personal finance skills and increased her money smarts. A woman empowerment champion, she is a proud mom to two teenage daughters.

What other parents are reading

Celebrate your pregnancy milestones!


Enter your details below and receive weekly email guides on your baby's weight and height in cute illustration of Filipino fruits. PLUS get helpful tips from experts, freebies and more!

You're almost there! Check your inbox.


We sent a verification email. Can't find it? Check your spam, junk, and promotions folder.
Trending in Summit Network