A Guide to Chores You Can Give Your Kids From Age 2 to 7 Years Old

Chores at a young age will foster independence, a sense of responsibility, empathy, and self-reliance.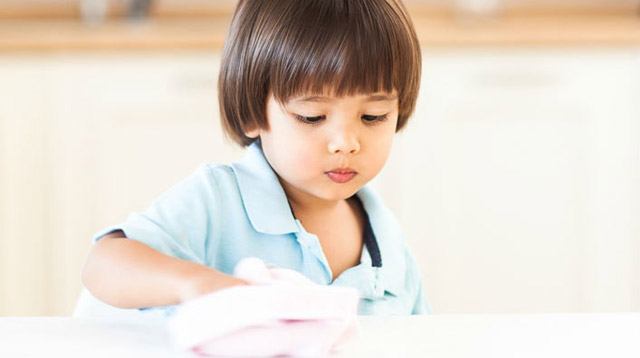 Toddlers have yet to master a lot of things required for daily living, including tying their own shoe laces, which is why you might be thinking your little one is too little for chores. 

"We hold back too long because we think they ought to be ready first," Roger W. McIntire, University of Maryland psychology professor and author of Raising Good Kids in Tough Times, told WebMD. But the best way for your child to be ready is by learning on the job, adds McIntire. 

Chores at a young age will foster independence, a sense of responsibility, empathy, self-reliance and makes your little one feel part of the family. The skills he learn will also be carried into his adult life when he has a home to run on his own. 

What other parents are reading

Even tots 2 to 3 years old can start doing simple tasks at home, says Elizabeth Pantley, parenting expert and author of several parenting books including the No-Cry series. You'll find that your child is already equipped with the skills needed to complete a simple chore, provided it's age-appropriate to him. If you want to begin your child's chore training, here are some things to keep in mind first: 

1. Define "chores" loosely. 
As you may know, telling a toddler to clean his room won't lead to anything but a blank stare from your child. "Your toddler simply doesn't have the cognitive ability yet to break down a large project into its components," says BabyCenter. So, keep your definition of a chore loose and light. Helping you pick up his blocks can already be a chore, as well as placing his bowl, spoon and placemat on the table. Simple, straightforward jobs are what you're looking for -- think chores that only need 1-step to complete. 

2. Demonstrate. 
Firstly, children like being just like mom and dad, so being a role model for chores will encourage your child to do his. You might even find him eager to get started on his own. 

If you want your child to wipe the table, show him how to do it first while giving instructions in words your child will understand. The task you're assigning your child should not require a lengthy explanation, says BabyCenter. "Anything that takes more than a minute to explain is probably too difficult for your toddler to do anyway." 

3. Let go of perfection. 
Once you've told your child what to do, stand back and let him to his job. There's no need to micromanage. Jumping in to help out or correct too early sends your child the message that he's not capable of the job you gave him. Sure, the sock drawer may not be arranged as well as you would like it to be but that's okay. The important thing is that your child was able to take part and carry out the chore, says Elizabeth Anne King-Santos, professor in Early Childhood Education in Kalayaan College and Roosevelt College, in an article for Smartparenting.com.ph. 

ADVERTISEMENT - CONTINUE READING BELOW

What other parents are reading

4. Give lots of praise. 
While your child's is accomplishing his chore, praise his effort and hard work. At this age, your child benefits from lots of encouragement and it will help him have a positive attitude towards chores as he grows older. 

Avoid belittling your child's efforts or telling your child that he's doing a chore wrong. If you want to offer a suggestion, BabyCenter suggests following this example, "You're doing a great job sorting laundry. I like to put the brown socks in with dark clothes, though, since they're a darker color." 

5. Avoid nagging but be consistent. 
One of the things your child can learn from chores is a sense of initiative -- that he doesn't need to be told to do something. So, nagging your child to complete a task is not going to help. Instead, Pantley recommends the "when/then" technique. "When you've put your toys away, then we can read a bedtime story." And as much as possible, be consistent. Expect your child to do his chores every time (like putting back toys in the toybox) or else he'll be more likely to put them off. 

6. Have fun.
Make it so that your toddler doesn't think of chores as boring or dull, says Parents. It's okay if you make chores a little fun by putting back blocks in a box together while singing a song. If he's starting to get the hang of it, you can stand nearby and chat with him while he cleans up. "He'll appreciate your company, and you can encourage him if he loses his focus," says BabyCenter. Your child can do chores on his own when he's older. 

ADVERTISEMENT - CONTINUE READING BELOW

Recommended Videos

What other parents are reading

7. Make it a habit.
As you may already know, children thrive on routine. Incorporating your toddler's chores into her daily activities ups the chances of her getting them done. Make it easier for your child by having a chore chart she can follow. Use symbols and pictures since your child can't read yet. 

Here's a daily schedule sample from the Centers for Disease Control and Prevention. You can opt to customize this to make it more chore-specific. Download a blank one here. 



Rather than placing a check in the box when a task is completed, placing stickers or gold stars make it more fun for toddlers too. 

Here's a list of chores to consider for your 2- to 3-year-old:

Put toys away (provide a catch-all container) 
Wipe up spills (have a rag or paper towel roll within your child's reach)
Put clothes in the laundry bin
Place their bowl, spoon and placemat on the table at mealtimes
Carry their bowl and spoon to the sink after eating
Do simple hygiene tasks like handwashing and combing their hair
Wipe surfaces
Water the plants (have a small spray bottle ready)

ADVERTISEMENT - CONTINUE READING BELOW

Once your child grows older, add in these chores that are age-appropriate for 4- to 5-year olds:

Any of the above
Make their bed
Clear table
Use a hand-held vacuum to pick up crumbs
Fix bowl of cereal
Fill a pet's water and food bowls
Clean floors with a dry mop
Help carry in lighter groceries
Sort clean silverware

Here are a some to for ages 6 to 7:

Any of the above
Sort laundry
Sweep floors
Help make and pack baon
Keep bedroom tidy 

It can be difficult to teach kids to get used to chores and have them do household tasks on their own. But, these early years are the best years for training your child, Michele S. Alignay, a psychologist and registered guidance counselor, told Smartparenting.com.ph in an article. "Independence should be set [early on], as they will go to school and grow up encountering more difficult life tasks — and parents won't always be there to do it for them!"

Sources: BabyCenter, WebMD, Parents, Raising Children

What other parents are reading

Celebrate your pregnancy milestones!


Enter your details below and receive weekly email guides on your baby's weight and height in cute illustration of Filipino fruits. PLUS get helpful tips from experts, freebies and more!

You're almost there! Check your inbox.


We sent a verification email. Can't find it? Check your spam, junk, and promotions folder.

Trending in Summit Network