Educator Says Parents Have 3 'Superpowers' to Raise Smarter and Well-Behaved Kids

As your child's first teacher, these superpowers can help make parenting easier.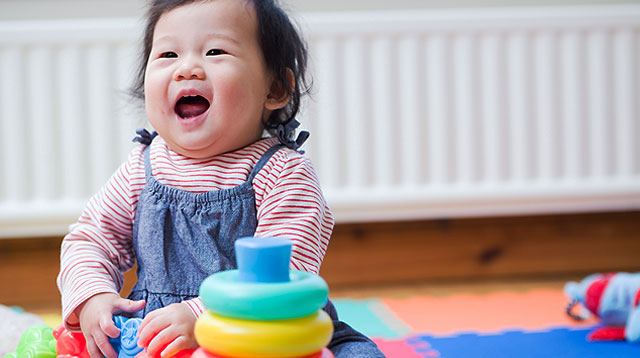 Last July 27, 2019, I had the pleasure of attending the first day of the "Integrating Wonder Based Teaching Into Your Classroom" by Sally Haughey at the Henry Sy Sr. Innovation Center at Miriam College.

It was such an honor to be in the same room as Sally, an American educator famous for founding Fairy Dust Teaching, a company committed to the growth and empowerment of teachers. Sally is also a multi-awarded teacher who has studied Art, Waldorf, Montessori, and Reggio Emila and has taught for 20 years at various school settings.

At the end of the day, Sally said so many things that inspired me as a teacher. As I sat down to think about how I could share some of the things I learned from a parent's perspective, there was one idea that kept coming back at me — superpowers!

How to harness the power of imitation

During the workshop, Sally taught us how to reflect on our teaching styles and beliefs and to look deeply into why we are teachers and how we best reach our students. She gave us the term "superpowers" to help us find and feel confident in what we do best in the classroom.

I think these powers can be shared by parents, who we always like to say, are the children's first teachers, anyway.

The first superpower is imitation, "the underlying and guiding principle of young children's learning," according to Sally. How many times has your child pulled up an object, put it next to her ear, and started mimicking one of your phone conversations?

ADVERTISEMENT - CONTINUE READING BELOW

Children imitate the adults around them. It gives us parents some kind of superpower to use in such a simple way, including modeling the behavior we want them to follow.

In PsychCentral's article "Modeling Behavior for Children has Long-Lasting Effects" by Rick Nauert Ph.D., it named three ways of modeling to children.

Point out sharing among adults

Children often feel that they are the only ones who have to "use your manners," "share," and "take turns." So when you share, point it out to your children. For example: "Daddy is sharing his drink with Mommy. Good job sharing, Daddy!"

Model good ways to calm down

Teach your children how to calm down when they are upset or frustrated. For example, if you are frustrated about sitting in traffic, you might say: "Mommy is really frustrated right now. Please help me calm down by taking 10 deep breaths with me."

Teach children to say how they feel

If you are really frustrated, you might want to say, "You are driving me crazy right now." Instead, try to express your actual feelings: "Mommy is really frustrated right now." This teaches children to say what they feel instead of making critical or hurtful statements. Then help your children do this when they are upset. For example: "It looks like you are feeling sad."

Tell stories to build a better brain 

The other superpower, Sally introduced, was storytelling, the kind that is more focused on narrative sharing or interacting rather than reading books.

CONTINUE READING BELOW

Recommended Videos

In the article "Your Baby's Brain: If You Want To Build A Better Mind, Tell Stories," Christine Bahls writes, "What matters is the back and forth between child and adult, and the constancy of it." She goes on to say that a good example is reading aloud, then adds, "But when parents can't read, just telling stories works, too."

In the same article, Rachel Romeo, a postdoctoral fellow in translational neurodevelopment added, "Preliminary findings show that the more interaction there is, the thicker and larger the frontal parts of the brain involved in language and cognition become."

The whole back and forth, or interaction between adult and child helps build a baby's brain. For older children, it also ignites their imagination, and that is a great motivator. Sally's example of how she used this superpower, was when she would teach the students about the proper way of using and caring for their paintbrushes. She would give it a name and tell them how to make it dance (paint on the paper) or take a bath (clean the tips).

At home, there are so many simple chores children can do. By changing the way they see a room, we can make these chores a wonder. The laundry basket can be a hungry monster who only eats stinky clothes. A cup of water could be a magic potion that gives superhuman speed to pack away. Once they know the stories by heart, they can recall them on their own, and do all these things without you having to nag them.

ADVERTISEMENT - CONTINUE READING BELOW

Sally told the teachers when you see students doing what you want to see, "Acknowledge the children doing the respectful, desired way." By validating and responding to their actions, you reinforce the positive and increase the chance of it happening again.

Help your children retain information with the rule of 3 

For the third superpower, Sally talked about the "rule of 3," and how it is embedded in early childhood." She reminded us about fairy tales and how these stories love the number three — Goldilocks and the 3 Bears, The 3 Little Pigs, The 3 Billy Goats, and so forth.

In the article "The Power of Three: Why Fairy Tales Often Feature a Triple," they explained that the choice of this number is "to make it more memorable to those who heard the tale." But another reason was "in Psychology, experts believe that three plays a big part of persuasion, which is probably why Snow White's stepmother came back three times to try to kill her, and finally succeeded on the third try!"

In the classroom, Sally noticed that children can easily retain information that comes in three's, even instructions. She gave examples of how teachers can tell students to get started on their art activities using 3's. It was so eye-opening how this method was simple but effective.

At home, parents can break down tasks. Instead of just telling your child, "Pack away your toys," you can say, "First, get your basket. Second, put the cars in the basket. Lastly, put the basket on the shelf." It's short, precise, and in each step, your child will be able to visualize what you want him to do and be able to follow through more efficiently.

ADVERTISEMENT - CONTINUE READING BELOW

On most days, it feels more natural to handle a classroom full of children over a car ride with two of my bickering offspring. Usually, what I know about managing children in school flies out the window as soon as we get home. It's nice to know that I can try these superpowers to back me up now and help make parenting easier. So that the wonder Sally taught me to integrate into my classrooms can also come home.

One of this author's latest articles in SmartParenting.com.ph is seven common misconceptions about progressive schools. Click here to read about it.

Barbara Server-Veloso is known as Teacher Thumby in her preschool, Toddlers Unlimited, and Ms. Thumby in her grade school, Thinkers Unlimited, Alabang. She is also a partner in Spark Discovery Center in Jupiter Street, Makati where she teaches the Baby and Me Class. Teacher Thumby has a Masters degree from the University of the Philippines in Family Life and Child Development. She has been teaching since 1993. She is also the mother of Lucas and Verena.

What other parents are reading

Celebrate your pregnancy milestones!


Enter your details below and receive weekly email guides on your baby's weight and height in cute illustration of Filipino fruits. PLUS get helpful tips from experts, freebies and more!

You're almost there! Check your inbox.


We sent a verification email. Can't find it? Check your spam, junk, and promotions folder.
Trending in Summit Network