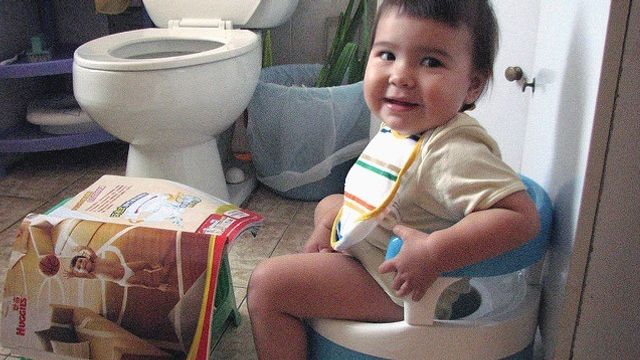 Any mom will whoop in delight when her child becomes potty trained especially when getting there was a challenge. For most parents, potty training can take three years or even more. Anyone who does it in less time with their child is practically a goddess. 

Well, we invite you to bow down before moms from Vietnam because they seem to have found potty training gold! Their babies can reportedly use the potty even before they can walk and as early as 9 months old! What's the trick? Whistling. 

Vietnamese mothers make the sound when the mom notices her baby is relieving himself or showing signs that he needs to poo or pee. They do it from birth, so their children begin to associate whistling with going to the bathroom. 

"The whistling method starts at birth and serves as an increasingly powerful means of communication as time goes on," says researcher Anna-Lena Hellström who conducted the primary study on the matter.  

By the time the babies are 9 months old, Vietnamese moms will sit them down on the potty, whistle, and the toddlers will do their thing -- no peeing in underpants. And by the time they become 2 years old, they no longer need mom, and they will be able to take care of their toilet needs on their own. 
This Vietnamese potty training sounds like it's a similar technique that celebrity mom Jennica Garcia utilized with her daughter, Mori, who was potty trained by the time she was 7 months old. An advocate of natural parenting, a child-rearing approach that includes full-term breastfeeding and co-sleeping among others, Jennica attributes Mori's potty success to attentive parenting. 

Jennica says she was able to pinpoint the signs that indicated her daughter was about to pee through Mori's body movements. Once she notices a sign, she would run for a tabo and put Mori on top. By 7 months old, Mori was wearing panties full-time. "At nine months, she knew how to use the toilet already," she told SmartParenting.com.ph in an interview you can find here. 

We applaud Vietnamese moms and Jennica for being able to achieve it! But by now you may already have noted how the technique requires constant presence and observation. If your toddler has a yaya or in the care of your mom when you're at work, she needs to be on a vigilant lookout for body signs and language. But when it happens, boy, what an impressive feat! 
Meanwhile, here are some tips for when you want to start to potty training your toddler: 

1. Check for signs of readiness
For children ages 18 months to 3 years old, there may be noticeable indicators that your child is ready to ditch his diaper. 
Diapers are less full. 
Your child can stay dry for two hours.
He is curious about underwear.
He has predictable bowel movements.
He is curious about the toilet.
For potty training to go smoothly, your child should already be able to communicate his needs effectively (so he can tell you when he needs to use the toilet) and can understand, follow and commit to instructions. 

2. Keep vigilant
Just like Vietnamese moms, watch out for the signs. Squirming, making faces, and the like are enough to tell you to bring your child to his potty. Whenever this happens, remind your child to use words like "pee-pee" or "poo-poo" and say to you immediately. Reinforce with rewards and praise. 

Reminding and asking your child about the potty every now and again will help, too. It will familiarize him with his body's peeing and pooping cues. 

3. Teach them the whole bathroom process
Go through all the steps: pulling pants and underwear down, sitting on the potty chair or toilet, aiming pee for boys and wiping or washing for girls, flushing, and proper hand washing afterward. 

If training is successful after about six weeks, ditch the diapers. If you're looking for a faster method, a mom of six has a technique that she says will get your little one potty trained in three days. Read about it here.