Join the next Smart Parenting Giveaway and get a chance to win exciting prizes!
Join Now
I Judged Moms Who Gave Kids a Gadget at Restos. Then I Became That Mom

A mom says she will never judge moms again as she remembers the day she gave up her no-gadget rule.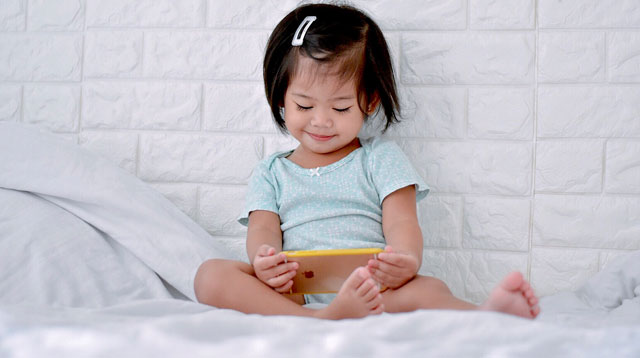 I used to be one of those moms who promised not to give her child a gadget. I didn't want to be that parent in the restaurant who would make her toddler  "behave" by giving her the mobile phone or tablet. Until one day, I became that parent.

It was the day I had a cough and colds with fever, and I could barely move. My husband was at work, and we had no yaya. It was just me and my then 18-month old baby. She, of course, needed me to play with her. But I was too weak to even carry her to the bed and nurse her. 

I kept coughing, and I thought a good rest was all I need to feel better. And so I did what I told myself I would never do, at least for the first two years as many experts suggested. I grabbed my extra phone, downloaded apps suitable for a toddler, and handed it over to my daughter.

ADVERTISEMENT - CONTINUE READING BELOW

More from Smart Parenting

Aaand she got a little too excited. She played with the apps and watched videos in silence. It was a good 30-minute rest for me. And I did feel better. 

That night, I regained my strength, and I realized what helped me was the time-out I got, thanks to the phone that entertained my daughter. It humbled me because as much as I did not want to admit, I yielded to the idea that screen time was the lifesaver. 

And, surprisingly, it did not make me feel bad. In fact, it opened my eyes to the idea that I was just too judgmental of other parents who let their kids use gadgets. I might sound defensive, but I think my reason was valid and for sure theirs are too. 

Of course, I am not suggesting we give them gadgets all the time. But we should not be hard on ourselves, and we must not judge others' parenting styles. For all we know, they are having a rough day, too.

ADVERTISEMENT - CONTINUE READING BELOW

More from Smart Parenting

I learned these lessons from my daughter's first screen time:

#1 Humility
Like what I said, it humbled me. It's not wrong to dream of being the best parent. What's not good is if you put it in your head too much that you compare yourself to others thinking you are better. 

#2 Don't be too quick to judge
This should be the case in all aspects. I was always feeling negative towards those who give phones to their kids. But it all changed when it happened to me. It's true — you'll never know until it happens to you. 

#3 Gadgets are not at all bad
This statement may be bold for some, and I won't contest. However, with us, it works with moderation and supervision. My daughter is a toddler, and I don't think any parent would want their kid to go gadget-gaga for long hours. So we let her play with it as last resort. We control what she watches.

ADVERTISEMENT - CONTINUE READING BELOW

More from Smart Parenting

#4 But gadgets when used excessively is really bad
It is still best that kids interact with us and with other kids. Outdoor play still wins over different educational apps. While we allow screen time, it's still a rule in our family to limit it. So we play, we talk, we go out. Anyway, our daughter has learned to veer away from the phone on her own and whenever we say, "it's enough", she would give the phone back without crying. 

At the end of the day, we, parents, do what we think is best for our kids. So if you're the parent who does not agree on screen time, good for you. And if you are the other parent who allows but with limitations, then go on. Let's not be hard on ourselves. It's fine. Times have changed, and we need to cope. And this is the reality, at least for me.

Din Real Bautista is a proud full-time homemaker. Most of the time, she's busy raising a kind-hearted and strong human being named Monica with the help of the most amazing husband, Beejay. And the rest of her time, she's making sure her life is better outside social media.

ADVERTISEMENT - CONTINUE READING BELOW

More from Smart Parenting