Music Lessons Can Help Improve Your Kid's Brain Development

According to research, encouraging your kids to get music training can help his language acquisition skills, among others.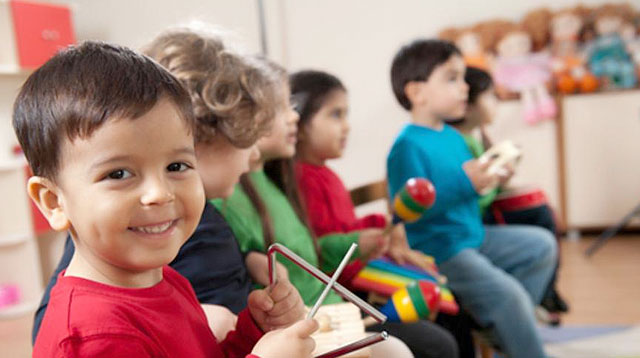 Science has long established the impact of music to the brain. It's becomes even more relevant when raising kids. Music is unique in that it is able to reach parts of the brain that conventional teaching methods cannot. In yet another study that adds weight to that claim, it has been found that musical training or learning to play a musical instrument as a child will have heaps of benefits later on in life.

"[Music] stimulates the brain in a very powerful way, because of our emotional connection with it," neuropsychologist Catherine Loveday of the University of Westminster explained to The Guardian. "It's a strong cognitive stimulus that grows the brain in a way that nothing else does, and the evidence that musical training enhances things like working memory and language is very robust."

What other parents are reading
In one study, researchers at the Brain and Creativity Institute at the University of Southern California investigated the effects of music training in underprivileged children ages 6 and 7 in a span of five years. The kids were divided into three groups: one group began music training program, another began a community-based soccer sports program, and the third group did not engage in any specific training program. 

The study's findings suggest that music training during childhood can accelerate brain development and sound processing. At first, all three groups of children exhibited no differences in the brain's intellectual, motor, musical and social measures. However, after two years, the children subjected to music training were shown to be more sensitive in detecting changes in pitch and melodies, and had a stronger brain response to these changes compared to the other kids.

"Our findings suggest that music training during childhood, even for a period as brief as two years, can accelerate brain development and sound processing," writes Assal Habibi, senior research associate at the University of Southern California, in The Conversation. "We believe that this may benefit language acquisition in children given that developing language and reading skills engage similar brain areas."  
ADVERTISEMENT - CONTINUE READING BELOW
What other parents are reading
If you think about it, playing a musical instrument involves integrating information from the vision, hearing, and touch senses, as well as fine and minute movements. Learning to play an instrument as a young child, when the brain is still at its developmental stages, effectively trains the brain to better coordinate the different brain regions seamlessly. 

Past research has shown that music training has been found to be related to better language and mathematical skills, higher IQ, memory, spatial reasoning, and overall greater academic achievement. It has also been linked to improvement in areas of the brain related to hearing and movement, among others. Educators have long used music as a tool for teaching, which on its own, already has a positive effect on how the brain develops and how kids learn.   

If there's one extra-curricular activity you should actively encourage, let it be how to play a musical instrument especially if he shows an interest or inclination. But should you force your child to undergo music training? That's a separate topic for discussion. If he loses interest along the way, however, the building blocks of the different areas of the brain working together should, in theory, stay with him as he grows up. Don't sweat it. 
What other parents are reading

Trending in Summit Network