LOOK: Solenn and Nico's Thylane Was Just Baptized! Plus How You Can Plan One Too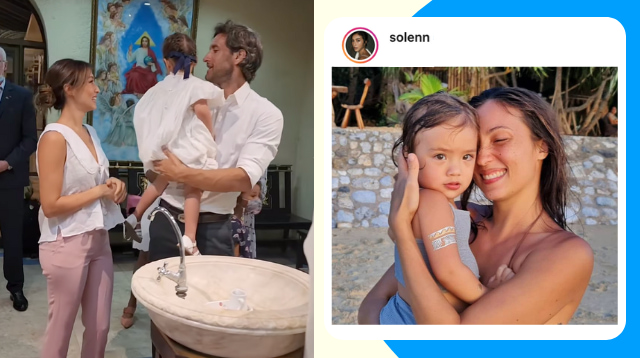 The pandemic has made us either forego or postpone many major occasions in our children's lives from birthday celebrations to attending the prom or graduation.  With Covid-19 at its lowest levels in the past months, everyone is determined to make up for lost time and one of those people are celebrity mom and dad Solenn Heusaff and Nico Bolzico. 

Freshly uploaded on his Instagram is a short video of their unica hija Thylane's christening with a caption that read "After 2 years and four months…' Among Catholics and Filipino families, the sacrament of baptism is often held when the child is around three to six months old. 

The quick video captured Nico carrying Thylane who looked pretty in her nicely braided hair and white dress. She was being blessed by the priest by gesturing the sign of the cross on her forehead.

Doting mom, Solenn couldn't help but beam with pride as she looked on. A quick pan of the video also showed family members in attendance such as Aunt Anne Curtis who was with her daughter Dahlia and Nico's Dad.  The post did not say where the baptism was held. 

ADVERTISEMENT - CONTINUE READING BELOW

RELATED: 'Kami Naman!': Isabelle Daza, Anne Curtis, Solenn Heussaff And It Moms Reunite For Moms Night Out

Things to remember if your planning you child's baptism

Great for the Bolzico family to finally have their daughter Thylane baptized after waiting for more than two years. Many parents who have postponed the same event may be wondering how to go about preparing for their child's christening since the country is not yet out of the pandemic.

Currently NCR is at Alert Level 1 which refers to "areas wherein case transmission is low and decreasing, total bed utilization rate, and intensive care unit utilization rate is low."

RELATED: 'Nang-aaway Na Ng Pari!' Parents Share Hilarious Binyag Pics Of Their Toddlers

Some regions however are still at Level 2 which refers to "areas where transmission and healthcare utilization is low but case counts are increasing, or case counts are low and decreasing but total bed utilization rate and intensive care unit utilization rate is increasing."

Here are some things you should know and prepare for if you're planning your child's christening

1. Plan ahead.

Planning for your child's baptism is not as simple as bringing her to the church. In fact there are a couple of requirements such as securing the child's birth certificate.

For a stress-free preparation, the first order of the day should be to choose the date of the baptism—three weeks to a month should be a good lead and give you ample time to gather and accomplish the church's requirements.

2. Choose your church.

While it's fine to have your child baptized outside of your parish, it would be wiser to hold it in one that has jurisdiction over your residence.

This is not only for proximity but to avoid the hassle of being asked for a clearance or recommendation from your parish.  Other than that, you are free to hold it at the church of your choice.

3. Know the requirements.

Once you have chosen a church, inquire about the requirements. Depending on the church, there might be requirements specific to their parish but, generally, the following will be asked from you: 

Birth certificate of the child
Marriage Certificate of the parents, if married
If you are a single parent, separated, or living in, the church will not refuse baptism but may require you to attend a seminar
Names of two sponsors (Ninong and Ninang) which will be placed in the certificate. Outside of those two names, some churches allow as much as five godparents
Some Churches may require seminars for both parents and godparents
Church fee may vary if it is a private baptism or mass baptism. Learn about the different church rates here. 

ADVERTISEMENT - CONTINUE READING BELOW

RELATED: Awww! Nico Bolzico, Erwan Heussaff, Doug Kramer Share Touching Messages For Wives On Mother's Day

4. There's a dress code.

While there are no strict rules when it comes to what you should wear during baptism, the church, however, requires that the child come in white accompanied by a white veil.

Traditionally, babies, whether a boy or a girl come dressed in a white gown or a white christening dress. Apart from being a symbol of purity and cleanliness, the white clothing also symbolizes being cleansed from original sin. 

5. Bring your own candles.

While the church will provide you with candles in case you forgot to bring some, it's good to be prepared and bring several for the godparents as well.

It would be nice if you provide wax catchers for protection from burns and to avoid spills on the church pews and floors.  

6. Observe minimum health standards.

According to the Department of Health, all establishments (which includes the church), persons, or activities, are allowed to operate, work, or be undertaken at full on-site or venue/seating capacity, as long as they are consistent with minimum public health standards.

Such standards includes wearing masks, sanitizing with alcohol, and observing social distancing as much as possible. Take note of these guidelines whether inside the church or at the reception venue. 

Like Solenn and Nico, now would be a great time to plan for your child's baptism and take advantage of the mobility and freedoms allowed under Alert Level 1. 

ADVERTISEMENT - CONTINUE READING BELOW

Don't wait before Covid-19 cases surges again. Happy christening!

Trending in Summit Network