26 Photos That Prove a Silent Toddler Means a Big 'OMG' Mess

We know they're exploring, but we're the ones cleaning up after our toddler's mess!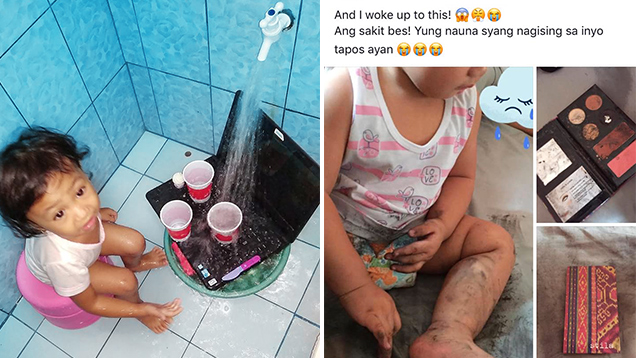 There's a meme that goes, "Silence is golden…unless you have a toddler. In that case, silence is very, very suspicious." Truer words have never been written as you will see from these submissions of children's messiest moments — some photos were so chaotic we thought they must be fake.

Well, the joke's on us because these photos are very, very real. Just ask these moms who showed us that little kids do explore their world one disaster at a time.

Here are 26 times toddlers made a huge mess (and almost made their moms lose their minds).

Be careful of 'behaved' kids

Mom Crystal Bautista started it all for us when she sent us this photo of her son Johann spreading a newly-bought bottle of lotion all over their furniture…and her tablet! "First rule of parenting: Never trust a silent toddler," she shares. We agree, Crystal!

When Ann Alcantara-Porto went to the bathroom to bathe her youngest, she was surprised to find her older son, Rakim, sitting quietly on a chair. Then, she saw why: he had spread diaper cream all over his leg!

ADVERTISEMENT - CONTINUE READING BELOW

Rakim's reason for putting cream on his leg: "Dami ouchy, mommy!"

PHOTO BY

Ann Jellie Alcantara-Porto

Dijiana Lim was doing the laundry when she realized her daughter Bella had become very quiet. "I thought, naku, may ginagawa 'tong bata na to," she tells SmartParenting.com.ph via Facebook Messenger. And, lo and behold, Bella drew on her face because her mom taught her not to write on the walls!

CONTINUE READING BELOW

Recommended Videos

Fun fact: Bella used permanent marker. "Nung pinapaliguan ko siya, aray siya ng aray 'pag kuskos ko. 'Di na raw siya uulit!" shared Dijiana.

School days mean early bedtimes, and Krisstina Manuel made sure her kids were asleep before spending quality time with her husband in the living room. But when she snuck a peek upstairs, she was shocked to find her daughter Leona playing with her makeup kit. "Inobserbahan ko po siya habang nag-me-makeup — feel na feel niya pong maganda siya!" Krisstina shares.

"She wanted to do my makeup, too," Krisstina shares.

PHOTO BY

Krisstina Manuel

What other parents are reading




Mia Tayoto was busy doing chores when she suddenly became very suspicious. "Bakit parang ang tahimik?" She got the answer when she went up to the bedroom and saw the "disaster." Her son, Jiroh, had taken the labels off the crayons and made a mess inside two bedrooms.

ADVERTISEMENT - CONTINUE READING BELOW

Mia shares, "'Di ko alam kung maiinis o matatawa ako, so I just took a photo to show his dad!"

Mom Sofia Bonnevie loves putting on makeup, and her 1-year-old daughter, Scarlett, watches her intently every time. "We sometimes joke about applying make up on her, and she loves it," she tells Smart Parenting. One morning, Scarlett woke up earlier than everybody and Sofia woke up to this. "Scarlett was able to open my Stila eyeshadow palette and applied it all over her leg — and the bed! Naiyak ako talaga!"

Lesson learned: always wake up before your kids! 

A mom's best friend: Washable markers

Ann Delos Reyes thought that she could reel in daughter Erin Amara's mess when she bought a whiteboard so Erin could draw on it. But it was not enough.

ADVERTISEMENT - CONTINUE READING BELOW

Ann shared, "Sa liit ng white board niya, hindi siya nakuntento. Kaya nag-write na siya sa floor. Buti na lang washable lahat ng pens niya!"

Mom Courtney Hinnen told us she woke up to this sight after her daughter snuck a marker into bed.

Powder is a child's favorite form of mess

Unsurprisingly, a lot of moms submitted their kids playing with baby powder. And though mom Joy Evangelista was frustrated that her daughter, Sophia, had emptied a whole bottle of powder, she realized she couldn't get mad at her. "She just looked so happy!"

Happy indeed with the powder she put on her face, body, and floor.

ADVERTISEMENT - CONTINUE READING BELOW

After coming from the bathroom, Sharah Dayrit  found her son Yash covered in baby powder.

Look at Yash who is calmly puting baby powder everywhere.

Mom Jhona Concepcion was watching a movie with her eldest son in the living room while her 3-year-old son, Miggy, was quiet in the bedroom. "But it was too quiet, so I thought of checking up on him," Jhona shares. And surprise! Miggy had covered himself in baby powder.

ADVERTISEMENT - CONTINUE READING BELOW

Jhona shares she had had goosebumps and was actually scared of her son. "I couldn't recognize him! All I could think about was that kid from 'The Grudge'!"

PHOTO BY

Jhona Concepcion

A classic story of a toddler being suspiciously quiet, said mom Geela Olaes whose daughter, Andreina, sprinkled baby powder on the bed and the floor!

Say goodbye to your milk stash

We all know moms are often sleep-deprived, but Jeremy Cheng-Sy had to pay the price for trying to catch some zzzs. "My son Liam asked for his milk around 6 a.m. I prepared his milk then went back to sleep," Jeremy shares. Then, Jeremy woke up to the sound of Liam making truck sounds. "When I moved my hand, I felt it. He had spilled a newly opened can of milk!"

"He looked so guilty, but he was too cute I couldn't resist taking a photo," said Jeremy. Oh, mom!

ADVERTISEMENT - CONTINUE READING BELOW

And no more bathroom breaks!

For moms, peeing in private is a blessing, but for Cecille Quema, it was the opposite. "I had to pee really quick and when I came back, there was milk powder all over our bed care of my daughter, Myrcella."

There's no use crying over spilled milk…powder.

Mom Kenya Badajos had to take a quick bathroom break so she left her two girls alone in the room. A couple of minutes later, her eldest started calling her, saying, "Ma! Lala apun!" Translation: her youngest daughter, Lala, spilled leftover chocolate drink.

ADVERTISEMENT - CONTINUE READING BELOW

Lala looks pretty content sitting on her chocolate drink.

Rezel Orallo needed to check on the food she was cooking so she briefly left her son inside the bedroom. It was only a few minutes, but it was enough for him to break his mom's lip tint and make a mess.

Mom tip: instead of yelling, take a picture instead!

Keep a close eye on your gadgets

Sonny Raagas and his wife were busy cleaning their apartment so they decided to let their 2-year-old daughter, Kyri, watch movies on a laptop. She got bored so they got her working on putting all her toys away. "Later, we just saw her inside the toilet and tada! Our laptop is already soaking wet." he shared.

ADVERTISEMENT - CONTINUE READING BELOW

Sonny says he was so shocked but he was able to quickly remove the battery. "But since the damage was done, I decided to snap a photo for remembrance." Well, it's certainly something you don't see every day!

Remember: art is a form of expression

Moms think of the most creative ways to get their kids to lessen screen time, and Liezel Balen thought she had struck gold because her daughter, Gilianna loves to paint. "I gave my two daughters paper and paint to distract them while I was doing the laundry. Guess what — when I came back, Gilianna painted her body and face instead!"

Let's just call it a beautiful mess.

Mom Vanessa Dimpas says her 5-year-old son, Levan, has been drawing on their walls since he was 2. "We always give him paper but for some reason, he likes drawing on our wall, furniture, and our TV screen! Visitors always say that he's an artist," Vanessa explains.

ADVERTISEMENT - CONTINUE READING BELOW

Now, Levan has a "freedom wall" to draw on!

After Zy Pannakal woke up from a nap, she saw that her 4-year-old son Charles had gotten hold of a marker and their home's floor tiles were full of his drawings! Instead of getting angry, she asked him what the drawings were all about. "He said he drew the minions (from the movie Despicable Me) and he was also trying his initials, CH," Zy tells Smart Parenting. 

ADVERTISEMENT - CONTINUE READING BELOW

Zy now makes sure to keep all books, pencils, and boards on her son's desk. She also made sure he understood not to draw on the tiles and walls again.

Just think: kids are natural explorers.

Mom Neriza Rama and her son Four are usually left at home so Neriza has to juggle doing housework and keeping an eye on her son. "This is a photo taken by my husband when he and my daughter arrived home from school," she explains. "There's nothing special about it, but Four is always like that. He'd rather play with the things that I use than his toys. He probably thinks those are better than his own toys."

Who needs pretend toy pots and pans when you can play with the real thing?

Saying 'wait' to your toddler often backfires

Michelle Tubay was putting diaper cream on her baby when her firstborn, Damian, tried to get her attention. He also wanted her to put the cream on a small wound he got when he slipped and fell from his bike. Michelle said she would, but only after she handed over his brother to his lolo (so lolo can keep an eye on the baby). "When I got back, he was already putting the cream on his body and his toy," she shares.

ADVERTISEMENT - CONTINUE READING BELOW

"Oops! I couldn't wait, mom!"

After seeing these photos, we're sure every parent out there can feel the pain. So, let us leave you with more photos submitted by our readers — feel free to make your own captions!

 

Toddlers love baby powder!

ADVERTISEMENT - CONTINUE READING BELOW

Where do we start decluttering?

That's chocolate on the child's face...right?

PHOTO BY

Lailani dela Cruz

Uh-oh. Double the trouble!

ADVERTISEMENT - CONTINUE READING BELOW

 

Got your own 'OMG Mess' moments to share? Send photos or videos by commenting on our Facebook or sending us a message via Messenger. You can also email us at smartparenting2013@gmail.com.

This article was updated on October 19, 2018 at 10:17 a.m.

What other parents are reading

Celebrate your pregnancy milestones!


Enter your details below and receive weekly email guides on your baby's weight and height in cute illustration of Filipino fruits. PLUS get helpful tips from experts, freebies and more!

You're almost there! Check your inbox.


We sent a verification email. Can't find it? Check your spam, junk, and promotions folder.

Trending in Summit Network