Nakabasag ang Kalaro ng Anak Ko! How to Deal With Playdate Problems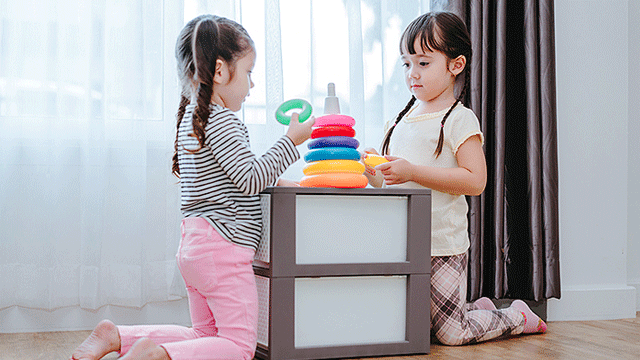 As parents, we want the best for our children. We want to give them every opportunity to grow, learn, and thrive. Part of this is letting them interact with others, including their peers. We enroll them in enrichment classes, let them play outdoors with the neighborhood kids, and schedule playdates.

However, things don't always go the way we expect them to. Sometimes, enrichment classes are "boring," the neighborhood kids turn out to be bullies, or playdates become "playdisasters" instead.

How to handle certain playdate scenarios

Playdate problem: Damaged goods

"My son's playmate accidentally destroyed something in our home. Should I let his parents know?"

Mariel Uyquiengco, a Kindermusik educator and parenting speaker behind TheLearningBasket.com, says, "[Calmly] let the parents know that their child accidentally broke something in your home. Assure them that you understand that it was an accident."

This actually happened to Clarice Talavera-Avinante, mom and former play therapist. She was initially very upset but later realized that she "shouldn't have let the kids play with such an expensive toy." She advises parents to always childproof their homes, "and to know and accept that accidents do happen."

Uyquiengco advises that if the broken item is something valuable and you'd like to be compensated for it, tell the parents calmly. "Maybe you can wait for them to offer to pay for the item," she says.

Talavera-Avinante expounds, "Was it an accident, or was it done on purpose? If you think it was done on purpose, you have to tell his parents, no matter the price of the item. If it was an accident and the item was inexpensive, just let it go. If it was pricey and you want it replaced, you have to tell them."

ADVERTISEMENT - CONTINUE READING BELOW

What other parents are reading

If you want to ask the child's parents to replace or pay for the broken item, here are some helpful tips from Talavera-Avinante:

1. Do it as soon as possible. Do not wait for several days to pass to tell them about the incident. Talk to the parents when they pick up their child.

2. Do the "sandwich approach." The sandwich approach is when you say something positive before you talk about the negative, and then finish with a positive statement.

Playdate problem: The plus one

"My son's friend likes to bring along his big sister to playdates at our home (or their mom asks me, 'Can his sister come, too?'), but my child picks up nasty habits from his friend's ate. How do I tactfully invite just one kid to a playdate?"

Uyquiengco says that we cannot control whom our kids interact with when they are in school or in other places. "However, I believe that we have the right to choose whom to invite to our homes," she says. "You have at least two options: Either you no longer invite the friend and his sister, or make sure that you are there to look after the kids while they are playing."

Talavera-Avinante advises parents to explicitly say the name of the child whom they are inviting to a playdate. "If the mom asks if the sister could come along, turn her down politely, citing reasons such as, 'My child feels intimidated when there are older kids around,'" she says. "It is also possible that the mom wants to bring her other kid because she has no one to leave her with. In this case, assure the mom that she can just drop off the invited kid and then pick him up afterwards."

ADVERTISEMENT - CONTINUE READING BELOW

Recommended Videos

What other parents are reading

Playdate problem: Overstepping boundaries

"I've seen my son's friend step on our furniture during playdates at our home. I know I shouldn't discipline someone else's child, but how can I properly tell him to keep his feet off our furniture?"

Disciplining other people's children is certainly not our responsibility, but we also need to make sure that our house rules are followed, especially if it means proper care of our belongings.

Nina Era, a professor and child, adolescent, and family specialist, says that parents faced with this situation need to consider the child's age. 

"If the child is a preschooler, then find a place in your house where the children could really play and explore.

"For a grade-schooler, it is best to first tell the yaya if she is there. If not, the parent hosting the playdate can always talk to the child gently and respectfully and explain why he shouldn't be stepping on the furniture. 

What other parents are reading

Playdate commandments

Here are 4 rules for hassle-free playdates:

1. Set your family's playdate rules and explain them to your kids and their playmates in easy-to-understand terms.

2. If you're hosting the playdate, specify where the children are allowed to play, and make sure to keep the area free of valuable items that can be damaged.

3. Whenever possible, talk to the parents of your child's playmate and invite them to join their child during the playdate.

4. Make sure you know if your child's playmate has certain allergies or special conditions that you should be aware of before he comes over to play.

ADVERTISEMENT - CONTINUE READING BELOW

Celebrate your pregnancy milestones!


Enter your details below and receive weekly email guides on your baby's weight and height in cute illustration of Filipino fruits. PLUS get helpful tips from experts, freebies and more!

You're almost there! Check your inbox.


We sent a verification email. Can't find it? Check your spam, junk, and promotions folder.

Trending in Summit Network