Saying 'No' Won't Make Your Child Behave Better. 5 Things You Can Say Instead

Giving her an explanation she can understand is one tip you can try.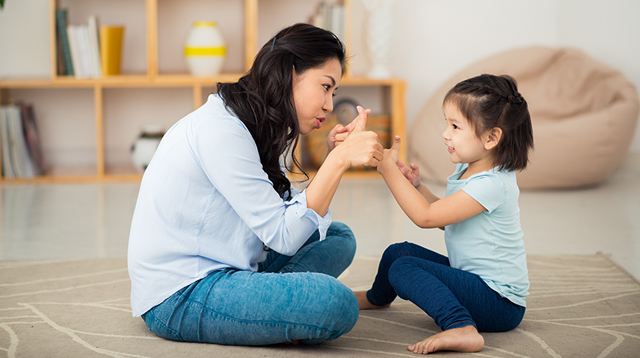 How many times do you tell your child, "No!" in a day? Usually, saying "No" can be parents' way of trying to keep their children from getting hurt or making a mess. Unfortunately, refusing kids too often can also backfire. Audrey Ricker, Psy.D., co-author of Backtalk: 4 Steps in Ending Rude Behavior in Your Kids, tells Parents that saying "No" too frequently can cause a child to become desensitized to its meaning. It might even make her resent her parents or rebel from them.

More positive ways to say "No" to your child

In dangerous situations, saying "No" might be necessary, but in daily life, there are better ways to discipline, deny, or resist giving in to your child's tantrums than just saying "No." Learn about five positive ways to say "No" to your child without causing any drama at home.

Turn it into a conditional "Yes"

A conditional "Yes" simply means allowing your child to do that thing she is asking for — as long as she complies with a certain condition you have set. For example, if your tot asks for a sweet snack, instead of just saying "No," tell her, "Yes, you can have a snack — after we finish dinner." Thrive Global says that this tactic can help children learn about boundaries and improve their sense of self-control without causing a power struggle or unnecessary drama.

As Daniel Siegel, a clinical professor of psychiatry, and Tina Payne Bryson, a pediatric and adolescent psychotherapist, write in their book No-Drama Discipline: The Whole-Brain Way to Calm the Chaos and Nurture Your Child's Developing Mind:

ADVERTISEMENT - CONTINUE READING BELOW

"An out-and-out no can be much harder to accept than a yes without conditions. No, especially if said in a harsh and dismissive tone, can automatically activate a reactive state in a child (or anyone). In the brain, reactivity can involve the impulse to fight, flee, freeze, or, in extreme cases, faint. In contrast, a supportive yes statement, even when not permitting a behavior, turns on the social engagement circuitry, making the brain receptive to what's happening, making learning more likely, and promoting connections with others."

Explain why she shouldn't do something

Kids are much smarter than some adults may give them credit for, and just like grown-ups, they deserve to know why they are not allowed to have or do certain things. This can help them learn to make better choices in the future. Simply saying "No" without providing any reason can rob them of that chance.

For example, if your child tries to touch or play with a certain fragile object inside your home, rather than telling her, "No, don't touch that," Motherly suggests saying, "That isn't a toy, so we will leave it on the shelf. It's delicate and it could break if we touch or play with it."

Focus on what she can do instead

According to Motherly, saying "No" primarily focuses on informing children what they can't do. And just as it doesn't teach them why they shouldn't do that thing, saying "No" also doesn't guide them into a more productive choice, and so they are left confused about what they should do instead.

CONTINUE READING BELOW

Recommended Videos

If, during your family dinner, your child takes her favorite toy to the table, instead of saying, "No, we're not supposed to play while eating," you can say, "During dinner, we set aside our toys and sit down properly so we can focus on eating."

Give her an alternative

In an article for the Child Development Institute, Pam Myers, BSEd, writes that providing alternatives "can convince your child that you're not declining their request." This is also a simple way to give your child the chance to choose, which will empower her and make her feel that you respect her opinion.

So when your child asks if she can eat chocolate as a snack, instead of immediately saying "No," maybe try saying something like, "No, you can't eat chocolate, but you can have an apple or a banana." This way, you also get an opportunity to educate her on the health benefits of choosing fruits as snacks.

Connect with your child

Taking advantage of every opportunity to connect with your child is another key teaching Siegel and Bryson emphasize in their bestselling book — and it is something you can apply when you are tempted to say "No" to your kid. They say that connecting with your child lets you set boundaries while also showing her that you're on her side — something that you skip when you simply tell her "No," according to Motherly.

For example, if your tot throws a tantrum and starts hitting you, rather than exclaiming, "No, don't hit me!" you can choose to calmly respond, "You were really upset and you hit me. I can see how frustrated you are, but it's not okay to hit people because it hurts. Try telling me with your words how you feel."

ADVERTISEMENT - CONTINUE READING BELOW

What other parents are reading

Celebrate your pregnancy milestones!


Enter your details below and receive weekly email guides on your baby's weight and height in cute illustration of Filipino fruits. PLUS get helpful tips from experts, freebies and more!

You're almost there! Check your inbox.


We sent a verification email. Can't find it? Check your spam, junk, and promotions folder.
Trending in Summit Network