12 Major Red Flags of Physical Developmental Delay (4 to 24 Months)

Delayed physical development can point to serious conditions. Check on your baby with this guide.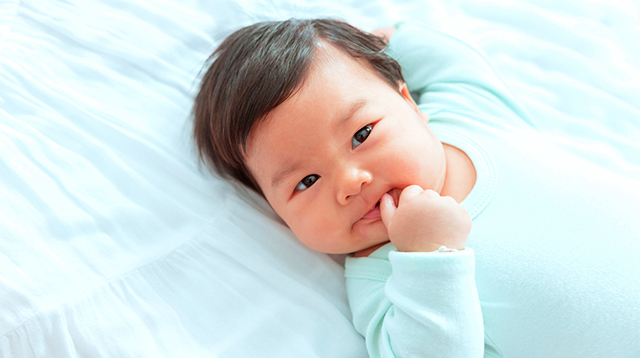 Though your baby's doctor checks your child's developmental growth at every check-up, you need be vigilant in observing red flags that point to physical developmental delays, which can be a sign of a serious health condition.

"Physical developmental delays are when children aren't doing activities (like rolling over, sitting without support, or walking) that other children their age are doing," explains the American Academy of Pediatrics (AAP). "Spotting these signs and finding the health condition as early as possible will help your child get the care he or she needs to grow and develop."

Here are some of the things you need to watch out for at every stage of your baby's physical development, according to the AAP, the Centers for Disease Control and Prevention, and BabyCenter. Now, the items below do not immediately point to a serious health condition. If you do notice one of them in your baby, it's always best to talk to your child's pediatrician about it. And remember, babies develop at different rates.

What other parents are reading

4 Months

Baby can't hold his head up on his own

At this age, your child should be able to hold his head up without your support. His head flopping or falling to one side when unsupported is a red flag. 

If he's lying down on his back and you pull him to a sitting position, his head should follow the movement. When on his stomach during "tummy time," he should be able to push himself up on his elbows.

ADVERTISEMENT - CONTINUE READING BELOW

Baby does not bring toys to her mouth

Bringing objects to her mouth to explore requires your baby to work out muscles in her hand. "The hand is very complex," Daniela Corbetta, Ph.D., who studies infant fine motor development, tells Parents. "There are joints and muscles that need to be organized and can be moved in very different ways. Babies need to differentiate those sets of muscles to use their fingers, their hands, and their arms in a very fine-tuned fashion."

Baby does not try to grab, reach, and hold toys

Around this age, a baby's reflexes to clench his fist disappears and he will gain the ability to control his hands. Reaching, grasping, and holding objects in his hand, though clumsy at this stage, is crucial to development. 

What other parents are reading

6 Months

Baby, when standing with assistance, cannot support her own weight

When you hold your baby by the armpits with her feet on a hard surface, her legs should be strong enough to support her weight. 

Baby cannot roll over on his own

Rolling over in both directions can be seen at this age. This means the baby, when lying on his back, can roll to a crawling position on his tummy. And when he's on his belly, he can roll and return to a lying position on his back.

Baby limbs are very stiff or very limp

Stiff limbs may be a sign of high muscle tone, or what's called as hypertonia. Floppy and loose limbs, or hypotonia, may be a sign of low muscle tone. 

A baby with high muscle tone seems is unable to relax certain muscles or keep his hands in a tight fist. "A child with low muscle tone might feel like he's slipping through your grasp," says pediatrician Dr. Andrew Adesman to BabyCenter. "If you pick your child up under the arms you should be able to get a solid grip and swing him up."

CONTINUE READING BELOW

Recommended Videos

9 Months

Baby cannot pull herself up to a standing position on her own

While holding on to a sturdy object, such as a low table, couch, or the edge of a bed, a baby around this age will be able to pull herself up to a standing position. She will then be able to maintain standing while holding on to the object. 

Baby cannot sit on his own without support

Babies this age can typically support themselves while sitting down and do not need to be propped against a person or pillow. Being able to sit without support is also crucial for babies starting solids. 

What other parents are reading

12 Months

Baby has an unusual walk not typical of other tots

Babies will still be unsteady on their feet when taking a few steps. However, if you've noticed that your baby's walk is more of a waddle, talk to your pediatrician about it. Take note if it gets better or worse over time as well. 

18 Months

Toddler has not walked a few steps on her own without support

Not being able to walk at this age is a red flag for a health condition. The AAP strongly suggests seeing a pediatrician as soon as possible. 

Toddler has trouble grasping and manipulating objects

At 18 months onwards, not being able to grasp a spoon or toothbrush is a cause for concern. It could only be that your child has not had enough practice (as someone has always spoon-fed her, for example). There is the possibility of developmental delays that need therapy. 

"Fine motor skill delays may be associated with intellectual disability or with a neurological problem, but it's unlikely that trouble with grasping would be the only signal you'd see resulting from one of these more serious problems," says BabyCenter. 

ADVERTISEMENT - CONTINUE READING BELOW

24 Months

Toddler is very clumsy

Toddlers will trip and fall from time to time, but a parent will usually notice if a baby's clumsiness is glaring. "If his mishaps seem more serious – like if he's bumping into walls or misstepping on stairs – you may have cause for concern," says BabyCenter. The AAP suggests talking to a pediatrician as soon as possible.

What other parents are reading

Celebrate your pregnancy milestones!


Enter your details below and receive weekly email guides on your baby's weight and height in cute illustration of Filipino fruits. PLUS get helpful tips from experts, freebies and more!

You're almost there! Check your inbox.


We sent a verification email. Can't find it? Check your spam, junk, and promotions folder.
Trending in Summit Network