Ayaw ng Gulay? Try Serving Veggies as Merienda Plus Other EffectIve Tips From Moms

Is your child skipping the veggies on her plate? Teach the importance of vegetables with real-mom advice.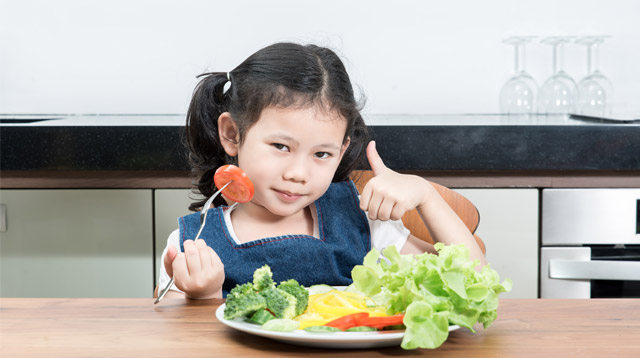 Parents always want to do what's best for their children and that involves making sure they consume a healthy diet. While it's easy to imagine that we can just ask our children to happily munch on broccoli and spinach, we often find ourselves pleading and pushing them to eat the greens on their plate. How many times have you tried to ask them to eat their vegetables? On days when they won't eat the greens served to them, we sometimes dismiss the moment and bank on the excuse that at least they ate rice and meat.

How to teach kids to love vegetables

Even if it seems like your proclaimed "picky eater" will never touch a vegetable, you can definitely train them to pick up their forks, take a carrot off their plate, and willingly munch on it. It's simply adhering to the concept of developing their tastes for healthier food options by training their taste buds and giving them the opportunity to learn and like it. How do you do that exactly? Here are a few tried-and-tested ways and real suggestions from fellow moms on how you can get your kids to develop a taste for their greens:

What other parents are reading

1. Start them young.

Children are more open to discovering new tastes and flavors when they're in their infancy and toddler stages. At a young age, they're willing to eat almost anything so this is a great window of opportunity to introduce vegetables into their diets.

Whether you've chosen the traditional way of feeding or baby-led weaning, you can start giving them a variety of vegetables. "You don't have to start with rice cereal as their first food. You can introduce vegetables like broccoli or carrots," says Eira Alagan, stay-at-home mom of 3-year-old Izo.

ADVERTISEMENT - CONTINUE READING BELOW

We have to remove the idea of "kid-friendly food" out of our systems. It's foolish to think that just because they're children, they won't like vegetables right away. Even if it seems like your infant is reacting negatively to a vegetable, remember all these tastes are new to them and they will react differently to each. Be patient. They will eventually develop a taste for these flavors. If they don't, you can try serving it to them differently.

Eira also adds that a great way to introduce veggies to kids is by serving them as snacks. "Sometimes children do not like vegetables because of the texture they have once cooked. Serving fresh and crunchy carrots, cucumbers, or bell peppers might help them see that veggies can be delicious," she says.

2. Avoid arguments.

It can be frustrating trying to get kids to eat their vegetables. All you want is to give them a well-balanced meal, but things don't always go as planned. Communicate with your child. Try to educate them about the health benefits of certain vegetables and why they're crucial to our diets. Use the "Go, Grow, and Glow" food chart to show the effects of the right food to our bodies (see it here.)

If they're still not convinced, take a cue from Karen Le Billon, author of French Kids Eat Everything. She suggests that instead of relaying the health benefits of vegetables, tell your kids about their unique flavors or textures instead.

ADVERTISEMENT - CONTINUE READING BELOW

Recommended Videos

She explains, "In France, parents don't cajole with nutritional information (such as explanations that a food has a lot of iron or calcium). Parents say: 'Taste this, it's really yummy,' rather than 'Eat this: it's good for you.' They believe (and tell their children), that good-for-you foods taste good. Healthy eating habits are a happy byproduct."

What other parents are reading

You can also strike deals with your kids. Le Billon encourages parents to tell their children to try food first before saying no to them (advice I've personally applied to my kids and have had success.) Explain to them they can't possibly know they don't like something unless they've tried it. If they don't like it after the first try, don't force it on them. You can just serve it again at a next meal and have them try again. Eventually, they may begin to have a taste for it.

3. Let them take part in meal preparation.

Children are naturally curious and are willing to try anything if it means discovering something new. Take advantage of that curiosity and involve your kids in the process of preparing meals.

Bring them to the market to look at different vegetables and ingredients. Allow them to select vegetables that look appealing to them and try out a recipe using those ingredients. Let them peel and cut open the vegetables to smell, feel, and see what's inside. Turn it into a science experiment where they can document the taste, texture, and look of a vegetable before and after its cooked.

ADVERTISEMENT - CONTINUE READING BELOW

Involve them in the entire cooking process so they feel proud knowing they've prepared the meal. They'll feel more excited to eat something they've selected and prepared themselves and be more willing to eat it.

You can also incorporate vegetables in their favorite food. Mitch Lastrilla, mom of three boys, Ian, 14, Quinn, 8, and Nic, 4, says her kids love eating their favorite food even when she adds all kinds of vegetables to the recipe.

Some of her recipes include Eggplant Moussaka with a sauce loaded with carrots, spinach, tomatoes, celery, and zucchini; Chicken Pot Pie with mushrooms, celery, and asparagus; and soups made with pumpkin, sweet potato, and roasted bell peppers as well as broccoli, cauliflower, and ricotta cheese.

Even by simply adding leafy greens to Filipino staples such as Sinigang or Kare-Kare should encourage kids to add it on their plate. If you feel the need to hide vegetables in their food, you can also try recipes that do so. I, myself, add spinach to the mango smoothies I serve my kids during mornings, but kids will learn how to love their veggies if they know that veggies are included in the food they're eating so do this sparingly.

4. Keep things consistent.

If you really want to drive the message home to your kids, consistency is key. Serving vegetables during every meal will help your children understand that it should be part of their daily diet.

Annie Dionisio, mother of Taj, 13, Nile, 4, and twins Reef and Sierra, 4 months old, says that normalizing vegetables during mealtime helped her ease them into her kid's diets. "I've had success by not making a huge deal out of eating veggies so that there's no expected resistance or rebellion," she explains of her kids. "If we treat vegetables like it's different from other food, they will also treat it as such. We must resist the urge to make a big fuss about their vegetables."

ADVERTISEMENT - CONTINUE READING BELOW

Annie adds that language plays a relevant part explaining, "not labeling it separately as 'veggies.' I wouldn't say, eat your veggies, but instead, finish your food or finish your whole plate."

Consistency also means that you're also persistent in encouraging your children to eat their vegetables. To train their taste buds to like healthier food, they have to try it often. They have to repeatedly sample their vegetables to develop their taste for it — even if it means they only take a bite. Soon, that small bite will turn into a few more bites, then a few more pieces, until they're eating an entire serving.

What other parents are reading

5. Set a good example.

Yes, parents, if you really want your kids to eat their greens, you have to eat them as well. Actions speak louder than words, especially for kids, so your children will follow your example and that includes eating habits. Studies have even shown that people, adults and children alike, respond better to and are influenced by seeing other people's eating behaviors. Do your kids a favor and don't skip out on that serving of spinach. Not only will it be good for you, but it will greatly influence your kids as well.

You can even use the example of other kids. If they have cousins and friends eating with you, show your kids how well they're eating their vegetables (if they do so). Don't pressure them, though. Just show them that vegetables can be liked; even liked by other kids so they should try it, too.

ADVERTISEMENT - CONTINUE READING BELOW

What other parents are reading

Celebrate your pregnancy milestones!


Enter your details below and receive weekly email guides on your baby's weight and height in cute illustration of Filipino fruits. PLUS get helpful tips from experts, freebies and more!

You're almost there! Check your inbox.


We sent a verification email. Can't find it? Check your spam, junk, and promotions folder.

Trending in Summit Network