Young kids learn best through play. Several studies have proven that play fosters creativity, resilience, openness to new ideas, and many more. But while independent play builds confidence and critical thinking, kids should also learn to play with others to boost their social skills.

Moms understand how crucial it is to start building socio-emotional skills at a young age, but they wonder if they can give what their kids really need. It's why toddler classes or playschools have become popular these days. They have early childhood experts who can conduct the kind of play that actually leads to learning these skills.
So what if you get to have that playschool experience at home?
It's what got SmartParenting.com.ph to accept an invitation to sit in at a playgroup conducted by Playscape, which describes itself as a premium early childhood service brought directly to a child's home that aims to address your toddler's learning, development, and socialization needs.
MORE FROM Smartparenting.com.ph
What is Playscape?
Playscape caters to children ages 12-24 months. They encourage the kids to learn through play, develop their language, and explore through art. They come to the host home and teach one hour and ten-minute classes for a minimum of 10 sessions (two to three times a week).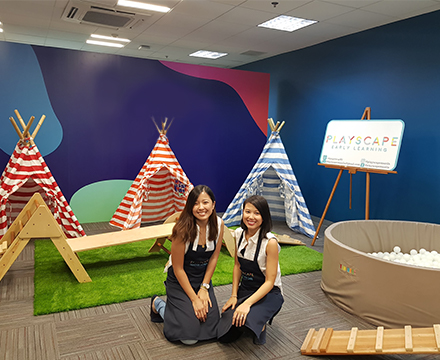 ADVERTISEMENT - CONTINUE READING BELOW
Teachers Sari Lee and Monica Guevarra are the women behind Playscape, and both have 10 years of experience teaching early childhood locally and internationally. Sari is an early childhood teacher with a post-graduate degree in Educational Leadership from Macquarie University in Sydney. Monica, on the other hand, had spent three years teaching in Singapore, handling curriculum development and the music program of the K2 level. Both are graduates of the College of Education of De La Salle University-Manila.

Teacher Sari says, "My philosophy was shaped by my teaching experience in Australia, where children spent their time outdoors with a vast area to run with complete freedom of movement through climbing A-frames and balancing beams. It was a truly encouraging learning environment where all children 0-5 were seen as competent and active learners."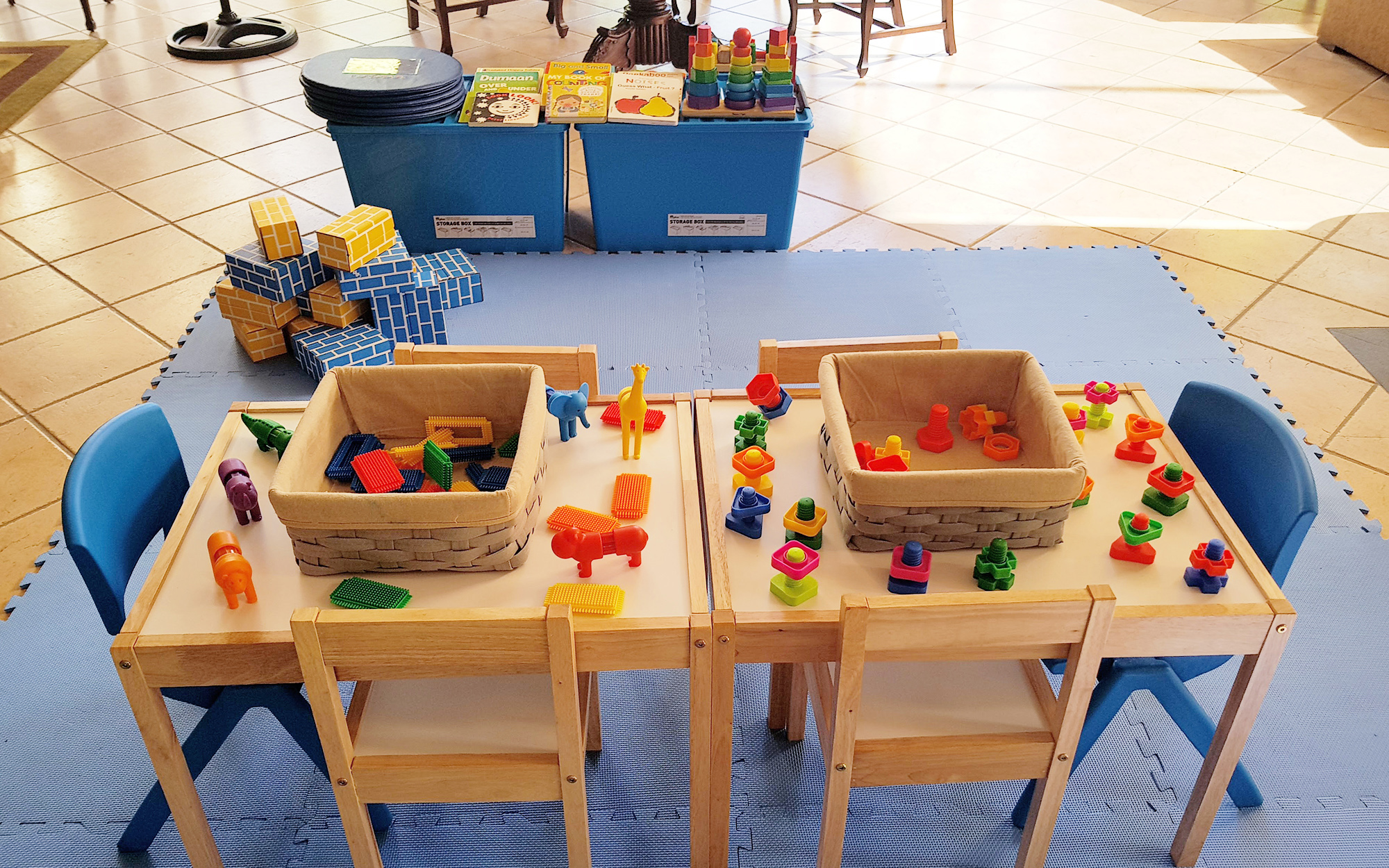 PHOTO: courtesy of Playscape
At a Playscape session, the young students were accompanied by either their mom or yaya and started by playing on tabletops. Playscape provides the tables and chairs as well as all the materials, mats, and music.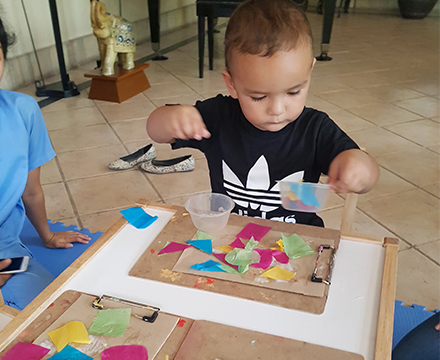 Mom Mikaela Lagdameo-Martinez, whose son is enrolled in Playscape, noted that despite their ages, the kids were all able to sit still for a few minutes and share their toys with their classmates. She said that during their first session with Playscape, the kids were not able to sit down on their chairs yet. Another mom of a 1-year-old girl noted that Playscape has allowed her daughter to learn how to share with other children, a skill that is not easy to learn if you are an only child.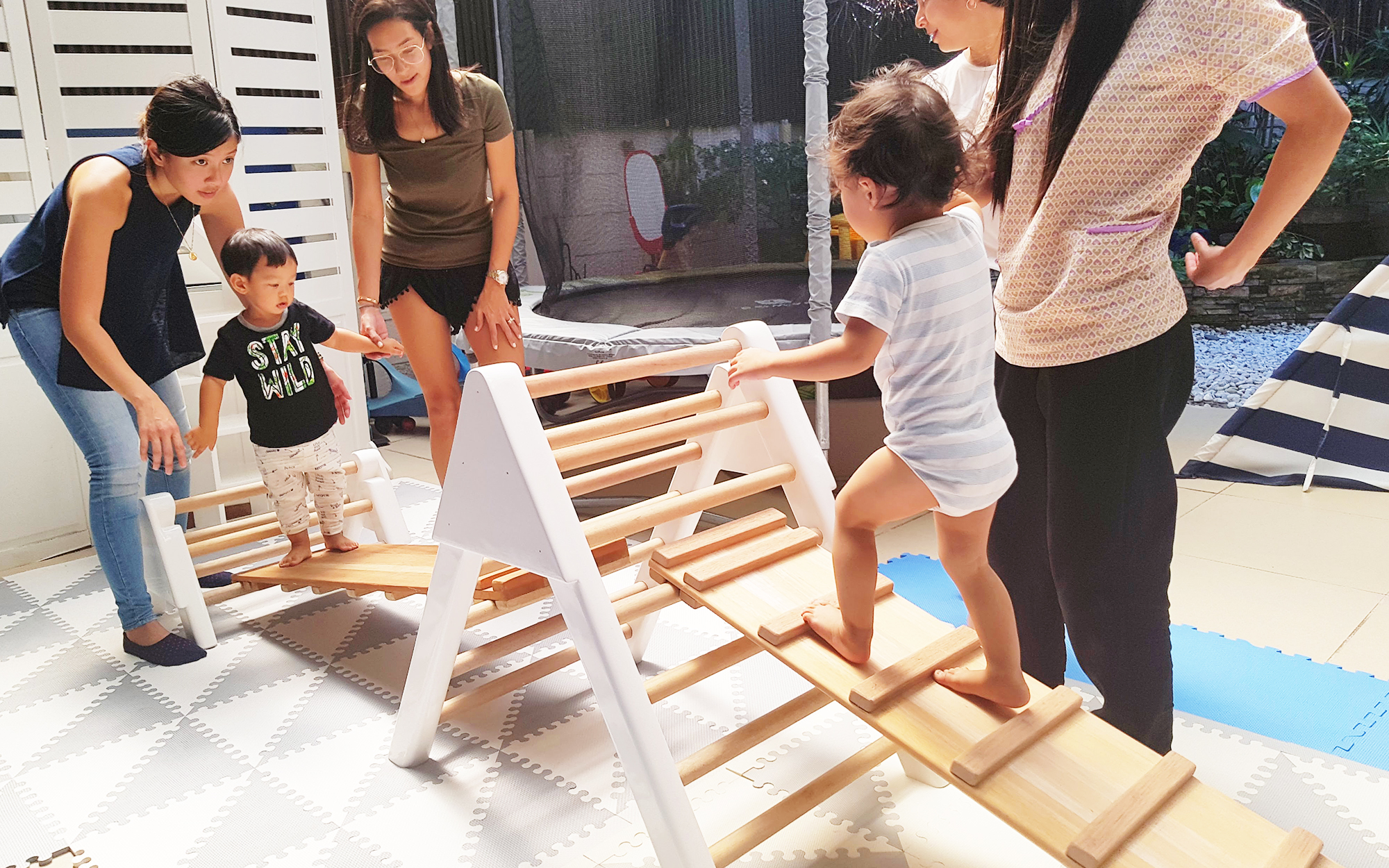 PHOTO: courtesy of Playscape
Circle time followed soon after and Teachers Sari and Monica sang along with the kids' guardians. Kids who were not able to follow instructions of the teachers were not reprimanded, rather they were lovingly encouraged to join the class.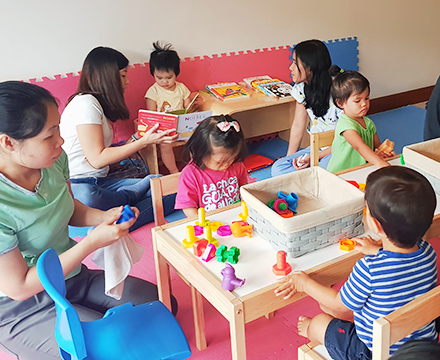 Not all Playscape sessions are the same. Playscape uses an "emergent curriculum," which means purposefully planning around each child's interests, skills, and needs. What makes Playscape different than other programs is the introduction of risky play.
ADVERTISEMENT - CONTINUE READING BELOW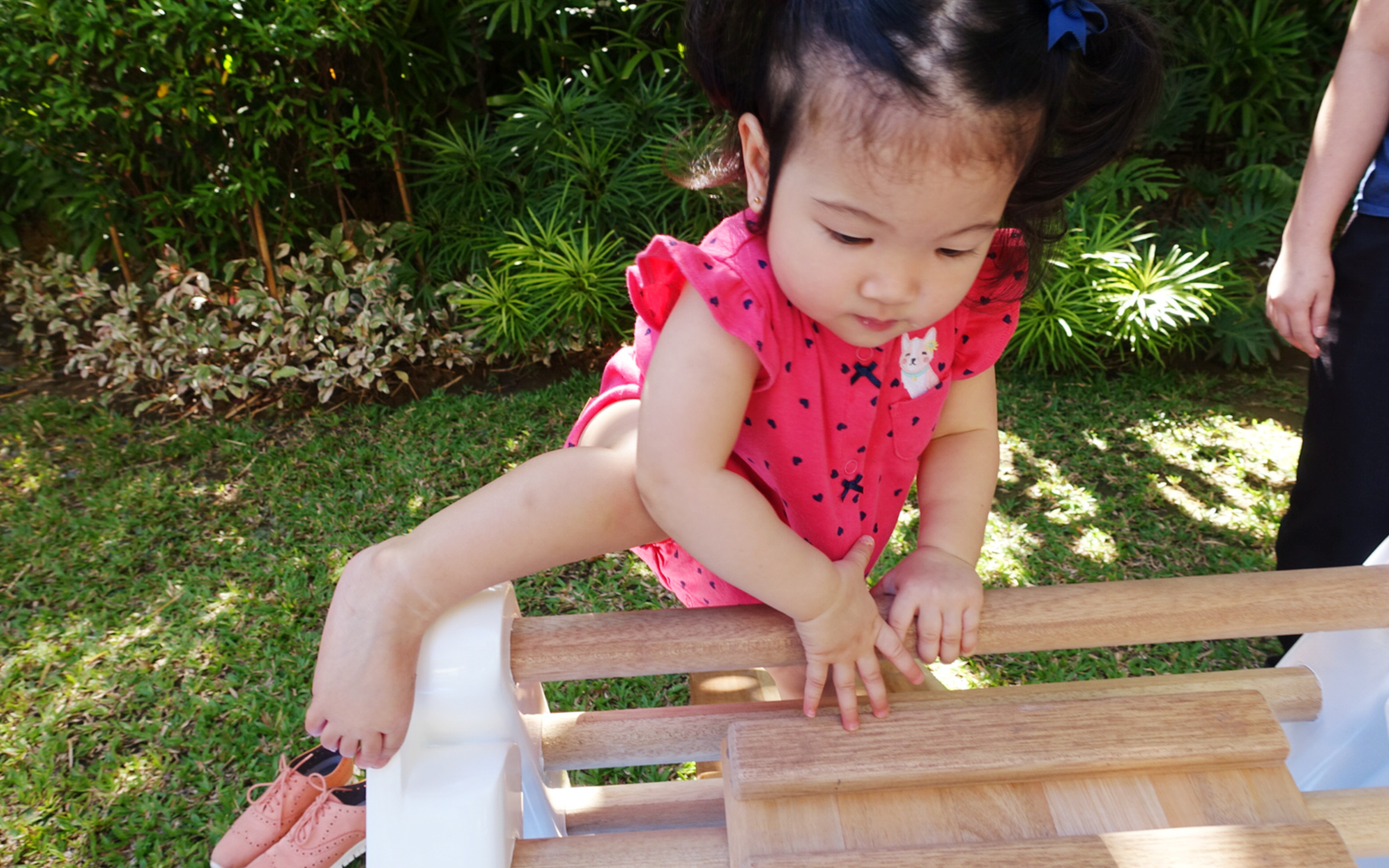 PHOTO: courtesy of Playscape
"We encourage parents to help their child develop physically through more opportunities of healthy risk," Teach Sari says. "Our outdoor program offers children the freedom to apply himself/herself physically through experimental choices as they climb Pikler triangles, walk through wooden ramps/balance beams and learn to be sensitive about their balance as they independently explore our outdoor equipment."
Risky play is a concept that can be new to many families and caregivers. Children aged 12-24 months most likely hear "be careful!" all day long, but as Playscape believes, some risk is needed to help children develop self-confidence and to be unafraid of new experiences.
"Allowing their 1-year-old up a wooden climber unassisted was a confronting experience for most. Parents would prop their children up to the very top without letting their child explore independently. Our goal was to encourage parents to trust their child and as they see this "freedom of movement" in practice, they were able to trust their children more and more with each session.
MORE FROM Smartparenting.com.ph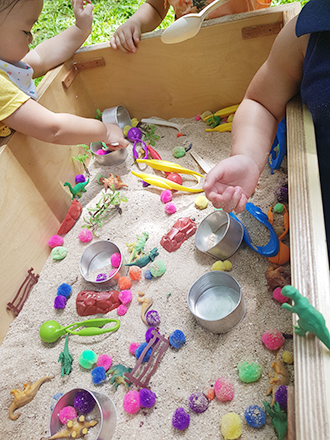 ADVERTISEMENT - CONTINUE READING BELOW
The beauty of allowing risky play with Playscape? You are in the comforts of your home or your friend's home!
After circle time, the kids got to enjoy art exploration by painting with sponges. Parents or guardians no longer minded the mess that some of their kids got in. It seemed as if everyone had learned Playscape's thrust when it comes to art—the process is more important than the product.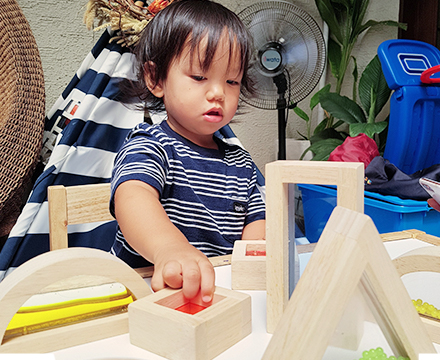 Soon after, everyone was sent to wash up quickly in order to enjoy their healthy snacks, popcorn, and apple slices. Learning did not stop at the activities, as the students were encouraged to scoop up their own popcorn servings to their animal-face plates and pick their own apple slices using spoons and tongs their little hands could grip. Again, the kids were able to sit for a few minutes during their snack time and just a bit of help from their guardians was welcomed. They continued to practice independence, which all the students were excited to do.
ADVERTISEMENT - CONTINUE READING BELOW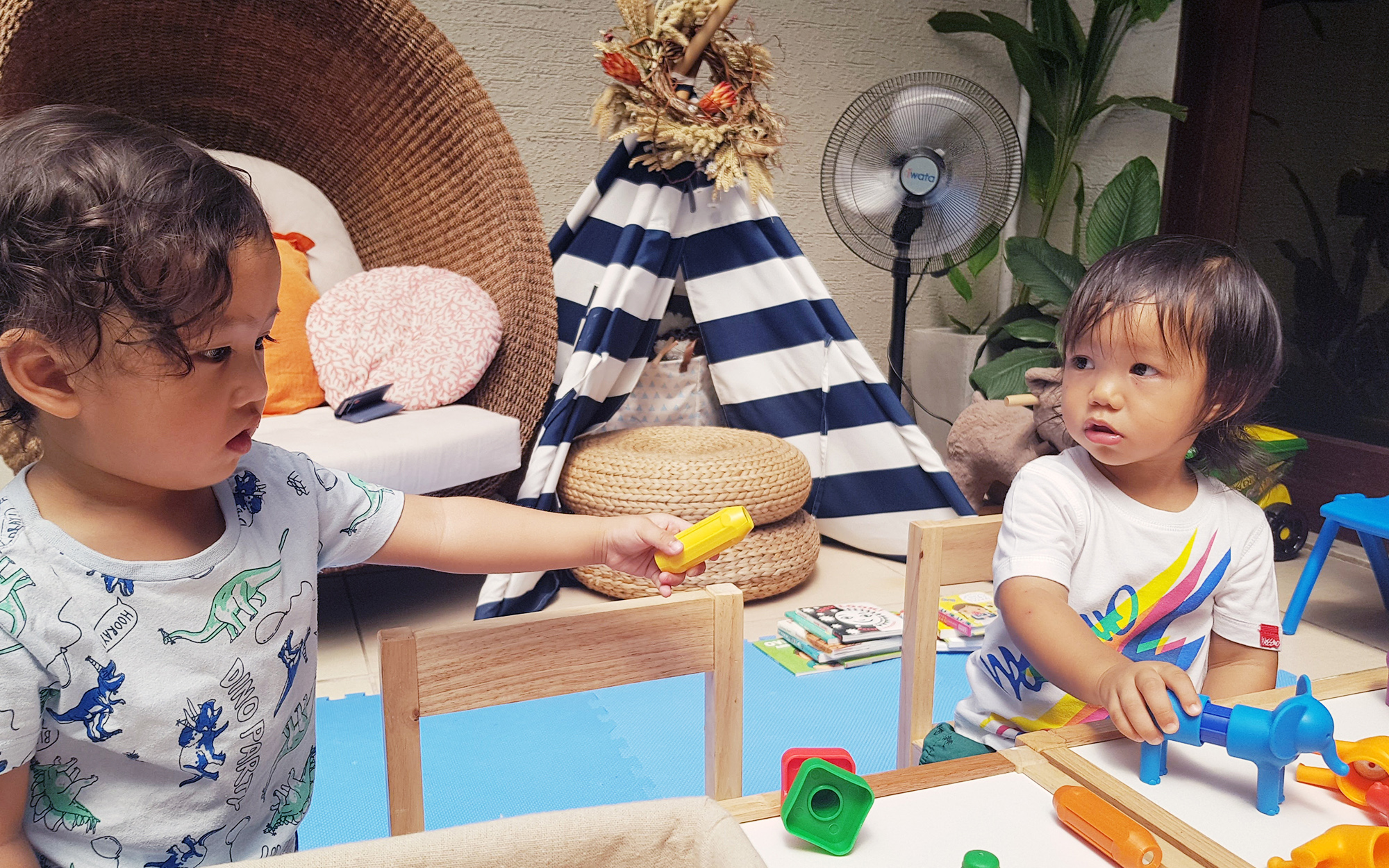 PHOTO: courtesy of Playscape
Playscape wants to show how the power of play is an important learning experience for kids, which can be difficult to provide in this digital and condominium-dwelling age. Rather than discouraging our kids that "you're always playing," Playscape shows that especially during the formative years, authentic play time is not wasted time. Kids enjoying classes inside a home and with guardians they trust (who aren't sent out to wait till the student is done) create a comfortable setting for toddlers and it allows for a better bond between child and guardian.
Teacher Sari says she and Teacher Monica set up Playscape also to challenge the notion that kids are "too young to learn" by focusing on rote skills. "Play is repetitive and this is often undervalued. At Playscape, we encourage the development of your child's learning through repetition as your child fills, transports, connects and encloses various manipulatives and other natural materials."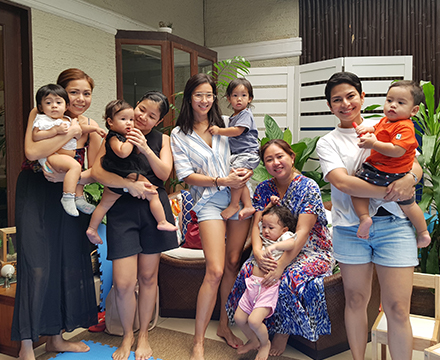 ADVERTISEMENT - CONTINUE READING BELOW
Even if you strip it of educational terms and jargon, the joy and wonder the toddlers express during class is more than enough reason to push them to learn through play.

Playscape is now playing at BGC, Makati, Alabang, and Parañaque. Email playscapemanila@gmail.com and check out @playscapemanila on Instagram. The program fee is Php8,000 for 10 sessions.

There is a minimum of 6 kids to a group and maximum of 8 kids to 2 teachers. Health and safety are important to Playscape as it requires the immunization history of the kids. If a guardian or kids exhibits symptoms of sickness, participants will be sent home in the interest of the class.

This article was updated June 1, 2018 at 11:18 a.m.
MORE FROM Smartparenting.com.ph