6 Precious Toddler Milestones Your Doctor Won't Ask About But Will Make Your Heart Melt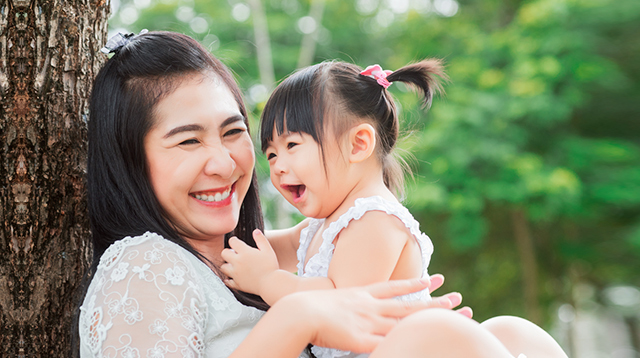 To have a baby is one of the happiest moments a parent can ever experience, and yet it is also filled with worry and anxiety as moms and dads wait and see whether their child is hitting her developmental milestones.

"Milestones are signs of normal and healthy development, and when children don't achieve them in the way we expect, it may be a sign of a problem," says pediatrician Dr. Claire McCarthy in an article for Harvard Health Publishing.

While it's important to track babies and toddlers' developmental progress, we should also celebrate the milestones that cannot be found in textbooks — feats that your pediatricians probably won't ask about during checkups, but ones that would make your heart melt (and make you a little teary-eyed!) when your child achieves it. It's a list only parents would understand.

What other parents are reading

Here are six of those milestones or 'firsts' that might make you sentimental when your toddler achieves it

1. The first sentence

First words are exciting, but there's nothing like hearing your toddler stringing together words to form a sentence — it's like the grand finale of her baby talk phase! Between 18 and 24 months, your child will start using simple two-word sentences — and it's something they'll be saying over and over again.

"Mommy, play," or "Read book," are just some of the sentences that will set your hearts aflutter. One of the best sentences you should look forward to? "Mama, I love you."

2. Walking without a stroller

ADVERTISEMENT - CONTINUE READING BELOW

You know your toddler is gaining independence when she finally moves on from unsteady steps to a steadier gait. She won't need to hold on to furniture to keep herself upright — she can now let go and walk distances on her own. And the moment that you can park the stroller permanently and just hold her hand to get to places, you'll realize your baby has grown into a kid. (Sniff!)

3. Showing a distinct personality

While you might already notice snippets of her personality as a baby, it's when she reaches toddler age that you can really begin to see your child's "true" type. As she becomes more verbal and social, you'll notice her preferences — is she an introvert or extrovert? Is she more thinking or feeling? You might be surprised that your child, who was shy and aloof as a baby, is now braver and more expressive. It's so exciting to find out what their personality is like!

What other parents are reading

4. The first full-blown tantrum

Okay, this probably won't make you sentimental, but it will be memorable for sure. One minute your child is happy, the next, she's raging and screaming and crying. Uh-oh, you've reached the 'Terrible Twos' and there's no turning back.

While it's not fun, it's still a milestone — having a meltdown definitely means your child is no longer a baby. This tiny little human can now feel frustration and she's trying to assert her independence. So, buckle up, moms and dads! It's a tough parenting journey ahead!

ADVERTISEMENT - CONTINUE READING BELOW

Recommended Videos

5. Learning how to use stuff (instead of just putting everything in their mouths)

Babies tend to get grabby and try to put everything in their mouths — it's how they explore — so the moment you give your child a crayon and she actually grips it and tries to draw with it? That might fill you with a sense of pride. Will she be a future artist — who knos? For now it's fun to see what things she can create using her imagination.

6. Learning to love

Around toddler age, your little one learns affectionate behaviors such as kissing. At first, she might do it because she's imitating you, but as she repeats these behaviors, she'll see that they generate happy reactions and that she's pleasing the people she loves, so she'll continue doing the action more frequently. From blowing you a kiss to giving you a proper peck on the lips, it's one of those precious milestones you will definitely remember for the rest of your life.

What other parents are reading

Celebrate your pregnancy milestones!


Enter your details below and receive weekly email guides on your baby's weight and height in cute illustration of Filipino fruits. PLUS get helpful tips from experts, freebies and more!

You're almost there! Check your inbox.


We sent a verification email. Can't find it? Check your spam, junk, and promotions folder.

Trending in Summit Network