From Progressive to Traditional High School: Help Your Child Adjust

There will be transition pains, but it will prepare her well to overcome challenges in her future.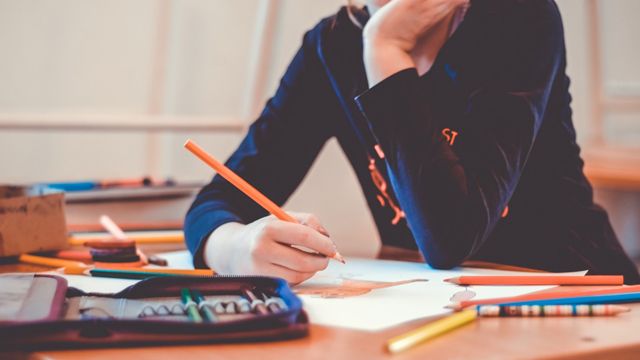 Every parent who has considered putting their kids into a progressive school has one nagging fear: "How will they adjust to the traditional educational system when he reaches high school or college?" (Progressive school or not, the fear is the same for a parent whose child is entering high school.) 

The good news is he'll do just fine when it comes to academics. The best progressive schools follow the same curriculum, so your child will hold his own among his peers. He passed the entrance tests and met the school's grade requirements. If the admissions board believes he can do it, so should you!

So what bumps and transition pains can we expect? Progressive school parents who've been through this share what happened to them. The tips can also apply to any parent and child who may be transitioning into high school. 

What other parents are reading

1. Your child may be the only one from his school. 
High school thrusts every child into a new world filled with teachers and students who are strangers and routines that are unfamiliar. Will he be anxious? Yes. So will everyone else in the room. Teacher Abbie S., who teaches freshman English at one of the top all-boys' schools in Quezon City, jokes that "on the first day, you can smell the awkwardness."  

However, students from smaller progressive schools may be less likely to find familiar faces. "Many of those kids in the room transitioned from the grade school, so they already have a barkada," observes Teacher Abbie. Your child will need to overcome shyness and approach groups who have already bonded.  

How to prepare your child:   
Get him outside his comfort zone. As early as now, encourage your child to socialize outside of his circle of school friends. "My daughter is used to meeting different kinds of people because of her church kids' group, playdates with my friends' kids, and summer workshops held outside of her school," says Tricia V. "She didn't have any trouble going up to strangers and saying hi!"  

ADVERTISEMENT - CONTINUE READING BELOW

Share your own high school stories. Talk about how you met and became close to your high school friends, and (as you've probably learned), you may not click with everyone right away but once you find your tribe those friendships last forever.   

What other parents are reading

Give budding friendships a little nudge. Does your child keep mentioning a set of names? Arrange after-school bonding: invite them over to your house or have after-school snacks at a nearby restaurant. Think of it as a tween/teen version of a playdate. "This also gave me a chance to get to know his friends and their parents," says Cherie F., whose house became the barkada hangout. "In my way, I recreated that tiny community that I loved from his grade school where everyone knew each other and looked out for each other."  

2. He may experience culture shock. 
Grace P. recalls how her daughter struggled with the competitiveness of her classmates. "In her old school, there were no honors, and kids worked hard but didn't obsess over grades. She was disturbed how her new classmates compared scores and would sometimes cry if they got low on a test."

How to prepare your child:   
Consider this as a lesson in Life 101. Let's face it: we live in a competitive world, and this won't be the last time he'll experience pressure or disagree with the way people handle it. Just help him process his observations, and then share your own about what you see in the workplace or society at large. 

CONTINUE READING BELOW

Recommended Videos

Teach him stress management skills. Grades and competitive classmates introduce your child to a different kind of pressure: meeting standards, dealing with strong personalities, handling uncomfortable situations. He'll figure it out on his own, but give him a healthy outlet for those conflicting or overwhelming feelings. "I had enrolled in a boxing class to lose weight, but I asked my son if he wanted to try it too. I think it helped him release the stress, and we also had some really good talks during those boxing dates," says Dana O. 

What other parents are reading

Reinforce the value of learning over perfect scores or impressing classmates. "I told my daughter, compete against yourself – you just try to do better with each test, and don't pay any attention to the others," says Grace P. 

3. He will learn that not everything will be "fun."
Sarah R.'s kids were lucky to have grade school teachers who went out of their way to teach concepts through games, projects, and experiments. "Both of them had to adjust to more traditional classroom lectures. They would complain that teacher so and so was boring or wasn't as creative as her other teachers, etc." However, this is the teaching method they will encounter in universities, where professors will often lecture in large halls. In a way, the traditional high school set up prepares them to learn on their own, and be responsible for their attitude.

"I hear far too many complaints from parents who try to pin a bad grade on the teacher's teaching style," says Vivian R., a high school administrator. "However, your children are now young adults who  don't need to be entertained for them to sit still and listen." She also believes that it is the student's responsibility to ask questions if they are confused, or find creative ways to expand or apply what they learn.

"High school teachers do their best, but students also have to take a more active role. It is part of becoming independent, and parents should not 'baby' them and encourage them to blame their bad performance on somebody else."  

ADVERTISEMENT - CONTINUE READING BELOW

What other parents are reading

How to prepare your child:   
Teach independent study skills. Note-taking, cross-referencing from different sources, asking the right questions, how to Google a topic they don't understand to get the most credible results or run an efficient study group -- these can all help your child build on what he learns in the classroom.

Check the websites of Ivy League universities (Harvard, Dartmouth, etc.). They usually have tips for students to help them cope with college work, which is entirely applicable to high school work too.Don't complain about a teacher in front of your child. You're entitled to your opinions, but keep it to yourself. If your child rants, listen and help him look for a way to understand or enjoy the subject matter.  

Don't automatically "fix" the problem by getting a tutor. Yes, they can contribute to explain particular topic, especially if your child is falling behind in a subject, but they are temporary measures. Ideally, your child should be able to listen in class, ask questions, and research and practice on his own.  

What other parents are reading

Celebrate your pregnancy milestones!


Enter your details below and receive weekly email guides on your baby's weight and height in cute illustration of Filipino fruits. PLUS get helpful tips from experts, freebies and more!

You're almost there! Check your inbox.


We sent a verification email. Can't find it? Check your spam, junk, and promotions folder.

Trending in Summit Network