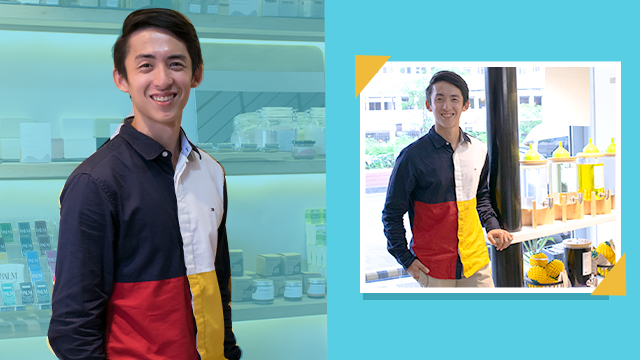 Like many Kumon students before him who are now successful in their respective fields, Sip PH CEO Pocholo Miguel Espina, known as Poch, owes his success to his humble beginnings.
He was already in fifth grade when his mom enrolled him in the Kumon math program. Poch started at Level A (horizontal addition and subtraction), which he easily breezed through because it was more of refining his knowledge of lessons he was already familiar with.
He only realized that he wanted to complete the program when he reached Level K (functions), despite the challenges he encountered in school and in his Kumon studies. He had only four levels left to finish until he could finally say that he completed the program; so he took this challenge to heart.
"I didn't worry about the succeeding levels, because I believed that if I finished a certain level, what I've learned from it was enough to equip me for the succeeding levels," Poch said. "Also, I work best when I enjoy doing what I do, so I did my best to find joy in learning to keep me motivated until I completed the program."
Poch said Kumon has contributed three life lessons that he continues to follow today:
1. Get things done on time.
"If there's one thing I really learned from Kumon that I still apply until today, it is getting things done in a specified time. This is where I got my go-getter attitude, wherein I try things out until it works. And if it doesn't work, then I'll always find another way."
2. Make it a habit.
"A lot of this has to do with the repetitive aspect of doing my Kumon worksheets. Besides merely repeating and practicing, doing these in a timed manner even pushed me to become better. This kind of pressure worked well with me, and I was happy pushing myself toward excellence."
3. Be detail-oriented.
"In a practical sense, the math skills I've learned in Kumon helped me crunch numbers in an instant through being wary of the little things. This is essential for me, especially in the business industry, where I have to be sensitive with what these numbers mean—be it in profits or in market shares."

Poch likened what he has learned in Kumon to what he experienced upon doing Levels M (trigonometry, straight lines, and circles), N (loci, sequences and series, limits of functions, and differentiation), and O (advanced differentiation and integration, and differential equations) in the math program. These levels required a lot of critical-thinking and problem-solving skills.
"When I checked my answers in these sets of equations, I would find out that my answer was correct, but the solutions were different from that in the answer book! It means that there is no one-solution book to all and that the only one stopping you is yourself," he said.
This mindset allowed Poch to understand better the world he is in and to believe he could always do something more. He also learned this from being exposed to changing environments and competitive surroundings at an early age—experiences that propelled him to be in the position he has today: CEO of Sip PH.
Sip PH is a Filipino enterprise that champions waste management solutions. It also helps corporations, local government units, and other groups to move into more sustainable practices.
Poch strongly believes in the lessons he gets from experience, which Kumon was able to offer him.
"There are so many problems in this world that need solving. Kumon has been crucial in forming a habit of dissecting real-world problems," he said.
For more information, please visit Kumon's website and Kumon's Official Facebook Page.
This article is sponsored by KUMON.