Dingdong Dantes Opposes the Proposed Age of Criminal Liability. Why It Should Worry You, Too

Plus, what the amended bill looks like and what it means for your child.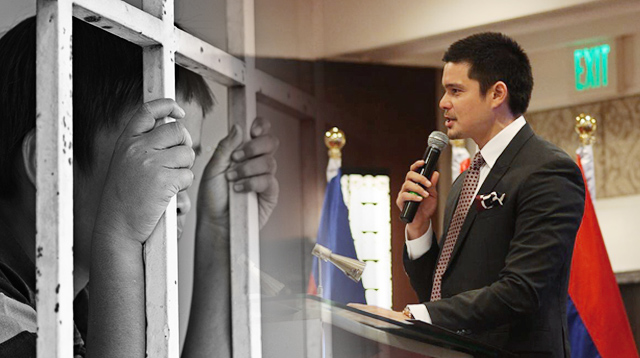 Actor and father Dingdong Dantes took to his personal Twitter account to voice out his concerns about lowering the age of criminal responsibility from 15 to 9 years old, one day before the House Committee on Justice approved House Bill 505.

Retweeting Senatorial candidate Atty. Jose Manuel "Chel" Diokno's disapproval of the bill, Dingdong shared, "Crucial stage ang childhood and adolescence to one's development. These are periods where psychological, emotional, social, and physical aspects are strongly influenced by the surroundings and are formed."

What other parents are reading

In a follow-up tweet, the actor added, "Instead of focusing on criminalizing, the government should invest more on creating an enabling environment that will allow young people to be productive members of the society."

Dingdong is echoing the sentiments of many child welfare groups who strongly oppose the measure. In his video, Atty. Diokno pointed out that the Philippines is a signatory of the United Nations Convention on the Rights of the Child (CRC), where it recommends the age of 12 years as the absolute minimum age. The UN also urges its member-countries to continue to increase it to a higher age level.

According to the CRC, "a higher minimum age of criminal responsibility, for instance 14 or 16 year of age, contributes to a juvenile justice system which, in accordance with article 40 (3) (b) of CRC, deals with children in conflict with the law without resorting to judicial proceedings, providing that the child's human rights and legal safeguards are fully respected." (Click here for the full text.)

ADVERTISEMENT - CONTINUE READING BELOW

What other parents are reading

What House Bill 505 means for your 9-year-old child

Below, Atty. Patty Sison-Arroyo, an independent consultant on children's rights, human trafficking, and violence against women and children, law professor, and a mom of four boys, shares her opinion on the consequences of lowering the minimum age of criminal responsibility. (Atty. Sison-Arroyo is also a former director at International Justice Mission, a non-government organization focused on human rights.)

1. Your child's misbehavior will become a misdemeanor. 

hurts someone during rough play = physical injuries
takes someone else's things without permission = theft
says something bad about another kid = slander
breaks another kid's gadget = malicious mischief
hurts someone by accident = reckless imprudence

2. Your child may be arrested on the spot even without a warrant of arrest if your child has just committed, is actually committing, or is attempting to commit a "crime."

3. Your child may be detained in a detention cell, possibly with adult detention prisoners, if there is no child-caring institution in your locality.

What other parents are reading

4. If there is "probable cause" (i.e., it looks like your kid committed the crime), a criminal case will be filed against your child, and your child will have to go to court for trial or "diversion" (an alternative way of finding guilt), which may take years to resolve.

5. If you're lucky, the case may end up with a child-friendly court — i.e., there's a stuffed toy in the waiting room, some crayons and coloring books, the judge will not put on the black robe, and your kid can testify in front of a video camera from the judge's chambers right beside the courtroom.

6. If your child is convicted, he or she will not be imprisoned but will remain in the custody of a child-caring institution until the court is satisfied that your child has reformed.

7. After having gone through all of the above, a process that has the potential to destroy the soul and spirit of a full-grown adult, your child will be released back to you.

CONTINUE READING BELOW

Recommended Videos

Atty. Sison-Arroyo asks us an important question: "Do we really want to subject our children to this?"

What other parents are reading

What is House Bill 505

Online news outlet Rappler published the highlights of the substitute bill that was approved by Congress. It includes:

Children from 9 years old to below 15 years old, and who committed the serious offenses of murder, parricide, infanticide, serious illegal detention, carnapping, and violation of the dangerous drugs law would be brought to Bahay Pag-asa for rehabilitation.
The exploiter of the child could face 12 to 20 years in prison if the crime committed has a punishment equivalent to 6 years of jail time. If the child in conflict with the law commits a crime where the sentence is more than 6 years in prison, his or her exploiter will face life imprisonment or up to 40 years in prison.
Parents of the children in conflict with the law would undergo a similar intervention program at Bahay Pag-asa. 

Oriental Mindoro Rep. Salvador "Doy" Leachon, chairman of the House Justice Committee,

says parents can go to jail instead if they "will not perform."
The penalty to be imposed upon children in conflict with the law will always be two degrees lower compared to when an adult has committed the crime. But if the children commit an offense where the punishment is equal to life imprisonment, they would face only up to 12 years imprisonment.
If the child in conflict with the law reaches 18 years old and fails to be reformed, that is the only time he or she would be sent to agricultural camps or training centers. Upon reaching 25 years old, he or she will be set free, whether or not the sentence was completed. These camps will be supervised by the Bureau of Corrections and the Technical Education and Skills Development Authority.
Records of children in conflict with the law would be kept confidential.
Supervision of Bahay Pag-asa will be transferred from local government units to the Department of Social Welfare and Development. Congress will allocate funds for Bahay Pag-asa annually.

ADVERTISEMENT - CONTINUE READING BELOW

What other parents are reading

What your child is like at 9 years old

According to WebMD, your child at 9 years old "begins to understand about being liked and seeking approval. He also will start to show he knows right from wrong and understand rules."

Between 9 to 11 years old, you'll also notice the first signs of puberty. The US Centers for Disease Control and Prevention (CDC) shares that "healthy friendships are very important to your child's development, but peer pressure can become strong during this time. This is an important time for children to gain a sense of responsibility along with their growing independence."

The CDC adds that it is also crucial that you help your child develop his own sense of right and wrong. "Talk with him about risky things friends might pressure him to do, like smoking or dangerous physical dares."

What other parents are reading

The United Nations International Children's Emergency Fund, or UNICEF, said in a statement that "scientific studies show that brain function reaches maturity only at around 16 years old, affecting children's reasoning and impulse control."

The Commission on Human Rights (CHR), in its official statement, says the government must protect our children, "in line with the commitment we accepted when we signed the UN Convention on the Rights of the Child. Our constitution is also explicit that children should be protected from all forms of neglect, abuse, cruelty, exploitations, and other conditions prejudicial to their development."

Perhaps before seeking to lower the minimum age of criminal liability, the government must first address the right of our children to these necessities. "We urge the government to address conditions that push children to such circumstances, rather than placing the burden on a child for the failures of institutions meant to protect them," says the CHR.

ADVERTISEMENT - CONTINUE READING BELOW

What other parents are reading

Celebrate your pregnancy milestones!


Enter your details below and receive weekly email guides on your baby's weight and height in cute illustration of Filipino fruits. PLUS get helpful tips from experts, freebies and more!

You're almost there! Check your inbox.


We sent a verification email. Can't find it? Check your spam, junk, and promotions folder.
Trending in Summit Network