How Do You Raise An Isabel Sieh Who Began Teaching Coding At 11

Isabel is headed to Stanford University to take up Computer Science.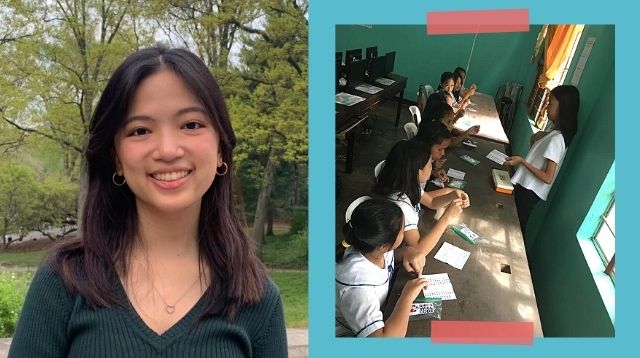 Isabel Sieh became fascinated with coding when she was just 10 years old. The following year she founded Girls Will Code, a company whose aim is to get more girls interested in STEM. At 14 years old, Isabel co-founded The Coding School with her mom Ronna Reyes Sieh.

Isabel is now off to college and headed for Stanford University to take up a degree in Computer Science.

How Isabel Sieh learned to code 

Isabel's passion for coding began when she asked her math teacher for extra work, and he suggested coding. She already had a high aptitude for math, thanks to her mom, who made sure Isabel and her sisters never thought of the subject as intimidating.

"In our household it was never discussed that math is a difficult subject. Math was just as fun as art. That has always been my mindset," Ronna says. "That was very important for me and all my three daughters really don't consider it hard. It's just another way of problem solving."

Isabel taught herself how to code using online resources. Then, as she began to build the games she loved to play, she realized the possibilities were limitless. However, it wasn't easy for Isabel to find the answers she needed on online forums, populated mainly by adult males.

Ronna didn't know anything about coding, but she was on the board of the Philippine Development Foundation, whose chairman Dado Banatao was a prominent figure in Silicon Valley. So she asked him for help, and he found a tutor from the University of the Philippines for Isabel.

ADVERTISEMENT - CONTINUE READING BELOW

"I think what Dado did well is he made sure it was a tutor whose personality was similar to Isabel's," Ronna recalls. "And that really worked out well. It's like she became a role model/tutor. Belay Montes is very intelligent and knows a lot about coding, but she also knows how to balance coding and real life. And I think that really helped Isabel be more encouraged."

Teaching coding 

As Isabel learned more about programming, she noticed the gender disparity, especially when Ronna took her to hackathons or events where coders work non-stop to create a working program within a set time frame. The participating teams were mainly composed of men.

Isabel decided hackathons were not for her. But, at the same time, she knew from personal experience that coding could be learned from a young age. So she said yes when her neighbors asked if she could teach their daughters how to code. Isabel quickly went from teaching kids one-on-one to having 20 students dropping by every weekend.

"She created a system to teach them. It was amazing," Ronna says. "It was very pass-the-hat because Isabel would incur costs and some people would leave some money to support her. Isabel hired a co-teacher to help her. So she knew there was a need and she created curriculums really geared towards children for coding."

Isabel started doing outreach at public schools too. It was challenging at first since most public schools didn't have wi-fi, and if they had computers, they were outdated. But Isabel discovered online that she could teach coding even without computers.

CONTINUE READING BELOW

Recommended Videos

With different colored beads and string, Isabel taught students how to make the first letter of their name in a coding language called binary.

PHOTO BY

courtesy of Ronna Reyes Sieh

How to empower kids to make a difference

Ronna explains that having a desire to serve has always been mandatory in their family. "I never asked for their grades, it never really mattered to me. I knew that they are so self driven. But what I do ask them is what amount of their time has been spent making an impact on others.

"And I think when it's bigger than yourself you're really more thoughtful in what you do. It just doesn't end, what you can do for others. Yung mindset na ganoon you can start when they're young. It's good for them."

Ronna adds that it's good for parents to expose kids to what they can do and to model the behavior you want to see yourself. It's also essential to boost your kids' confidence and self-esteem so that they'll feel empowered to make a difference.

ADVERTISEMENT - CONTINUE READING BELOW

"Whatever my daughters' interests are, my everyday goal is to provide a supportive environment for whatever they want. Of course, I have limits, and I try to be consistent with the discipline. I like knowing that they have a schedule or they have goals.

"But if they believe in themselves, they will achieve more than they think they can. And even as a parent, you'll be surprised. But their source of self-esteem is really from the home."

Ronna makes it a point to never shame her kids for what they think out loud or for trying to do something different. So, for example, she didn't show any skepticism when Isabel's twin sister Mia wanted to start an advocacy for left-handed people.

In 2019, Mia succeeded in getting a law passed that would require all schools to provide neutral desks for the left-handed student population.

Ronna also makes sure her kids never see failure as something shameful. "I tell them, 'Fall two times, rise three times. You just have to stand up one more time than you fall,'" she says.

ADVERTISEMENT - CONTINUE READING BELOW

Girls will code

After teaching her neighbors at home, Isabel got the idea to start Girls Will Code and tried to recruit club members at her school — one student signed up. And at the next school Isabel visited, no one signed up.

Ronna told her, "People not wanting to join is not something shameful for you. They just didn't understand, so maybe you can help them understand more."

Isabel was determined to succeed and changed her approach. Instead of talking to 100 students in an auditorium, she went from classroom to classroom and recruited 15 girls.

Ronna says daughter Isabel had her own teaching system. "She created curriculums really geared towards children for coding."

PHOTO BY

courtesy of Ronna Reyes Sieh

"She piqued the interest of the students and made it more engaging. I think the process of failing allowed her to see that the message is not just what she wants to tell them. She has to understand what the students are looking for and what they need to hear to convince them," Ronna recalls.

ADVERTISEMENT - CONTINUE READING BELOW

Supporting what your child really wants

When Isabel's advocacy started to gain traction, she got hundreds of emails from companies and news outlets. But Ronna made sure to shield her daughter from too much media attention.

"I really thought about it like, what will it do to her if she does all that? What lesson does it teach her? I didn't really see any good in that," she explains. "I didn't want her to spend time talking about what she was doing. I just wanted her to spend time doing what she wanted to do. If she wanted to talk about it then yes, but I didn't think it would help her as a person, being popular just for that."

Isabel and Ronna made sure to partner only with companies who were genuinely interested in Girls Will Code's mission, such as Google and Accenture, which provided workshops at their offices.

PHOTO BY

courtesy of Ronna Reyes Sieh

ADVERTISEMENT - CONTINUE READING BELOW

"Google and Accenture were very good partners in that they let Isabel take the lead on what she wanted to do," Ronna explains. "They never required a photo or video recording of her, you knew they weren't gonna use her to be a marketing tool. All they wanted was whatever Isabel's vision is, whatever they can do to help it grow."

They also refused most of the requests for TV guestings and interviews because Ronna wanted to make sure Isabel didn't feel pressured by all the attention.

"The whole world was telling her, 'You're the Bill Gates or Steve Jobs of the Philippines. What if in the end she actually wanted to be an educator and not think of anything to do with computer science? What if that's her real calling? I do not want to take that away from her because the whole world is telling her she's Bill Gates. I was very protective of her true self," she says.

The Coding School

By the time she was 14, many kids wanted to learn coding from Isabel, and it became too much for her to handle by herself. Boys now wanted to join her classes, but she was adamant about teaching only girls. And while she loved teaching, she didn't enjoy the administrative tasks, such as taking attendance and accounting.

It was then that Ronna suggested starting a coding school. When Isabel agreed, Ronna quit her job to help her establish The Coding School.

ADVERTISEMENT - CONTINUE READING BELOW

"I really saw the impact of what she was doing and what it was doing for the ecosystem," she says. "And I did see the value in professionalizing it so that it's institutionalized. So that you'll always have this place for students to learn how to prepare for the future, and have the skills needed for that."

If your kids would like to dip their toes into the world of coding, Girls Will Code has an initiative called

#CodeSaBahay

, which provides free resources for kids to learn programming at home.

PHOTO BY

courtesy of Ronna Reyes Sieh

When mother and daughter started The Coding School, Isabel determined the curriculum: the different tracks and classes they would have, and what content was suitable for different age groups.

"I did not have to learn how to code. I just had to understand what kind of students and coaches she needed. When I got on board that was a big focus: training coaches, getting coaches, making sure that standards were met," Ronna explains.

ADVERTISEMENT - CONTINUE READING BELOW

When asked for tips on getting kids interested in programming, Ronna says parents should understand that coding is for everyone. At The Coding School, they match students to classes that are aligned with their interests.

"Because coding is not just one thing, it's a lot of different things you can do. Also, coding is preparing them for the future," she says. "These are the things happening in arts and music, in robotics, and getting them interested at an early age is very good.

"And Isabel says this all the time in her speeches, there's a window for girls — they gain interest between 10 and 11, and they lose it when they're 15. So getting them at that age is important."

Interested in enrolling your kids in online coding classes? The Coding School has courses for kids and teens. Check out their courses or email them at hello@coding.ph so they can recommend classes that would be a good fit for your child.

Trending in Summit Network