Lian Paz Said Her Daughters With Paolo Contis Want To Have Their Surname Changed

What would it take to do it?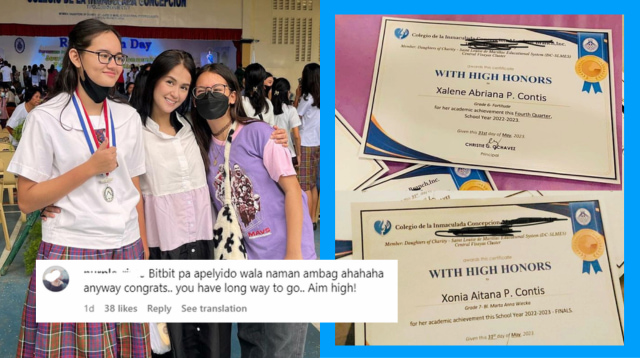 Former dancer Lian Paz is a proud mom after both her daughters, with ex-husband Paolo Contis, received awards from the last school year.

On Instagram, Lian shared photos from the graduation and recognition rites. Her eldest daughter, Xonia, finished her first year in high school.

READ ALSO: 'Sad To Say Wala' Lian Paz On Paolo Contis' Financial Support For Their 2 Daughters

"Congratulations our dear Ate Xonia!!! My Nia2x! You ended your first year in high school as Top 1 in your class, and overall Top achiever in your grade level! You have always been consistent being excellent in school, I am amazed with your perseverance and I am grateful to God for that gift to you. Continue to honor the Lord in everything! I am proud of you Xonia! Always have!!!"

Lian mentioned that Xonia was very shy and anxious while going up the stage after more than two years of lockdowns due to the Covid-19 pandemic.



ADVERTISEMENT - CONTINUE READING BELOW

Meanwhile, Xalene graduated from elementary school with high honors and is now entering high school.

"Xalene has been consistent in school, lagi high honors until today graduating elementary. Hindi namin sinanay ang mga bata na lagi may rewards. Lagi ko pinapaalala that whatever their achievements are, para sa kanila yun, bonus yan sa amin bilang parents, we are here to guide them but sila ang gagawa ng future nila honoring God first and second, kami," Lian said in a separate post.

She and her partner, John Cabahug, surprised Xalene with her long-time wish: a dog. John decided to give it to her on her awarding day.

"Gulat siya and super happy, kilig na kilig siya talaga. She named her new puppy, "Peanut." Pagbaba namin ng stage ni John, naghiwalay kami ng pwesto, nagmuni-muni kami pareho. Teary-eyed kasi, wow! May another high school na kami next year," Lian shared.

Lian also expressed her gratitude to her partner for his help with her daughter's education. "Thank you daddy John Cabahug for the love and support for the girls. I am always thankful. I appreciate everything mahal! Congrats may bago mag high school na tayo na naman."

Apart from Xonia and Xylene, Lian and John are also raising Lexy, John's daughter from a previous relationship. They also have a daughter together, Niña, their youngest.

Changing a minor's surname

Netizens couldn't help but express their wish for Lian's daughters to carry either Lian or John's surname.

In a recent interview, Paolo admitted that he hasn't been providing financial support to either of his daughters with Lian or LJ Reyes. 

READ ALSO: Xian Gaza Challenges Paolo Contis, 'Obligasyon Mo Magpadala Ng Fixed Amount Para Sa Mga Anak Mo'

One user said, "Bitbit pa apelyido wala naman ambag ahahaha. Anyway, congrats. You have [a] long way to go.. Aim high!"

To which Lian responded, "Asking na nga po ang mga bata to have it changed [sad emoji]."

Another user said, "Dapat di na Contis ang dala na surname ng mga bata. Hindi naman need bigyan pa ng credit ang iresponsableng ama."

ADVERTISEMENT - CONTINUE READING BELOW

In a Smart Parenting article in 2012, changing a minor's surname is not as simple as making an affidavit. It is possible, but it would entail "a long and tedious process," according to Atty. Nikki Jimeno.

"Under Article 376 of the Civil Code, "No person can change his name or surname without judicial authority." Thus, you will need to file a petition in court in order to change your son's surname," said Atty. Jimeno.

She continued, "Please take note that courts tend to be very strict when it comes to the change of surnames."

"Courts tend to disfavor petitions for change of name made by a parent in behalf of a minor child, because the minor has no choice in the matter. As the Supreme Court explained: "…'the child should, and in the course of time must, know of his parentage.' If, when he fully appreciates the circumstances and is capable of selecting a name for himself, he wants to use his mother's surname only and to avoid using his father's surname, then he should be the one to apply for a change of surname." Read more about it here.

ADVERTISEMENT - CONTINUE READING BELOW

Paolo and Lian got married in 2009, and broke up in 2012. In February, Lian was engaged to her current partner, but they are still not annulled. 

What other parents are reading

Meanwhile, Xonia graduated from elementary school with high honors and is now entering high school.

Trending in Summit Network