Richard Gomez Avoids Watching Juliana's Games Live For This Surprising Reason

Lucy Torres also doesn't catch all their daughter's games live, but she has a different reason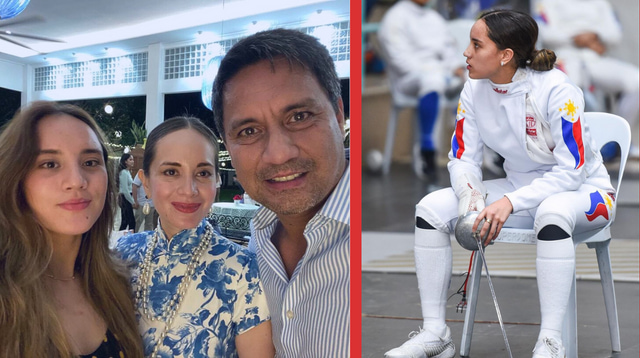 "When I found out that she won, I was crying, as in tears. I was so happy. Because she really worked hard for it. And I'm so proud of her," Rep. Richard Gomez told Gretchen Ho in a recent interview about daughter Juliana's most recent win. 

Juliana Gomez, Rep. Richard Gomez and Mayor Lucy Torres' only daughter, made headlines when she bagged the first and only gold medal for UP Fencing Team in February. 

The secret behind Juliana's wins, Richard shared, is that they made sure that they did not pressure Juliana on being an 'achiever'.

"That's what I told Lucy, nung ipinanganak si Juliana. Ang dami kong awards, ang daming medals and trophies. I don't want Juliana to see that everyday. Kasi baka pag nakita niya, uy ang daming medals and achievements ni Daddy and Mom, and sometimes it's discouraging sa mga bata, parang ang hirap to be better than their parents," Leyte Representative Richard Gomez said.

Richard Gomez was also a gold medalist in the team men's epee fencing event in the 2005 Southeast Asian Games.

Dad Richard and Mom Lucy even avoid watching Juliana's games live, because Dad Richard can be a bit 'tough' on her, while Mom Lucy becomes too nervous. 

By making sure that Juliana isn't pressured to be as distinguished as her parents, she was also free to pursue the things she wanted. 

Gretchen Ho wrote in her Instagram post, "What surprised me in the sit-down with Juliana is the noticeable mental and emotional fortitude that she has."

ADVERTISEMENT - CONTINUE READING BELOW

Juliana is studying Public Administration in the University of the Philippines, and was initially training to be part of the university's volleyball team. 

When she did not make it into UP Volleyball Team A, that's when she decided to learn fencing. She said in a separate interview with Gretchen Ho, "I never made into the Team A (UP Volleyball) because I was a freshman at that time. And when the pandemic hit, you can't play volleyball. It was easy to decide that I'll take up fencing because it's a sport that I can do during the pandemic."

RELATED: Lucy Torres Reveals Constant Prayer for Daughter Juliana

Richard shared what they taught Juliana about losing, which strengthened her 'mental and emotional fortitude', "I saw she was really competitive. Nakikita ko din yung frustrations niya 'pag hindi niya nagagawa yung gusto niya. 'Pag natatalo siya sa mga games niya, umiiyak yan eh. Naaawa ako, pero ganun talaga. You don't win all the games. You lose today, you train harder tomorrow, then you prepare for the next competition."

Instead of stopping when she did not make it into UP's Volleyball Team, Juliana did not hesitate to start again, even at an 'older age'. 

Juliana shared that his dad's fencing career became her inspiration, "I think his journey was very helpful to mine because I think he also started fencing a bit late. Because in your 20's, that's already your peak. You're supposed to be a master at your sport. But at 20 I was a beginner, but I felt that it wasn't hopeless, because he was able to do amazing things even if he started at 23."

She's currently in a team with the same winning formula as Hidilyn Diaz--a fencing coach, a strength and conditioning coach, and a sports psychologist.

Juliana continues to train, "I'm not scared to dream big. I hope to represent the country in the SEA games after Cambodia, ang hopefully in the Asian games." Her ultimate goal: to represent the Philippines in the Olympics. 

We're rooting for you, Juliana! 

Here's a story of another athlete dad who's helping his daughter's sportsmanship.

Trending in Summit Network