Pumped Breast Milk Has Lower Levels of Good Bacteria, Study Says

Breast milk has been shown to "plant good bacteria" in a baby's digestive system. Does it matter if it's fed directly or pumped?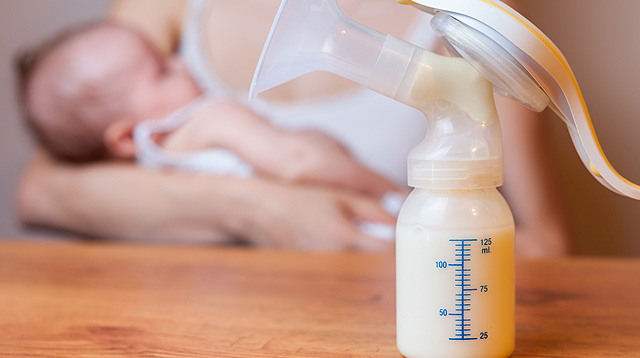 Breast milk is called the liquid gold because it has antibodies that help protect a baby's immune system. Many try their best to exclusively breastfeed or if they can't, they express milk by pumping. It shouldn't make a difference, right? A large new research shows, however, there may be a slight difference, and it comes down to bacteria.

The research, published in the peer-reviewed journal Cell Host & Microbe, analyzed the bacteria in the breast milk of 393 mother-and-baby pairs. In a press release, the findings suggest that "milk microbiota is affected by bacteria both from the infant's mouth and from environmental sources such as breast pumps, although future research will be needed to assess the effects that these changes may have on the infant gut microbiome and infant health."

Insider reports the researchers discovered that breast milk from moms who pumped "had lower levels of bifidobacteria, which is common in the infant gut and generally thought to be a good and helpful bacterium."

Before you get the wrong message, the study isn't saying pumped breast milk is bad.

Meghan Azad, the senior study author of the Children's Hospital Research Institute of Manitoba and the Canada Research Chair in Developmental Origins of Chronic Disease at the University of Manitoba, explains to Insider, "These are microbes that in certain contexts could possibly lead to infection, but this depends on other factors like what other bacteria are present, and whether the individual is immunocompromised.

"So it is not the case that if your milk contains these bacteria, your baby will necessarily get sick. It's not that straightforward. But it is an interesting finding that deserves further investigation."

What other parents are reading
But why is bacteria important? Breast milk has been shown to "plant good bacteria" in a baby's digestive system. Previous studies suggest that good bacteria protect our baby from disease, and a decline in his "gut health" puts him at risk of developing asthma, allergies, and other autoimmune diseases.
ADVERTISEMENT - CONTINUE READING BELOW
The study's findings are not surprising. Direct breastfeeding, which contains higher overall bacterial richness and diversity, leaves less room for other contaminants to enter breast milk versus using a breast pump and milk bags before feeding it to a child.
Again, no one is suggesting you only directly nurse your baby. Azad points out in her interview, "By understanding more about the difference between pumped milk and breastfeeding...we can empower all moms, regardless of how they choose to feed their babies. This might involve new recommendations about bottle feeding, cleaning breast pumps, or storing pumped milk, or new supplements for babies that can't be breastfed," 
One key takeaway from this study is you need to keep your breast pump and other pumping paraphernalia as sterile as possible.
What other parents are reading
The U.S. Centers for Disease and Control (CDC) had released an updated cleaning guidelines for breast pump kits. Here are some salient points from the CDC's new guidelines (Read more about it here):
Always wash hands with soap and water and do so correctly by scrubbing your hands to the length of a full "Happy Birthday" song before handling your breast pump.
Use disinfectant wipes to make sure your machine and pumping area are clean before and after pumping.
When assembling your breast pump, always check the parts for any sign of molding. If you see it, discard and replace.
Seal milk container or bag safely and label with date and time it was expressed. Store immediately in the refrigerator, freezer or cooler bag with ice packs. Follow proper breast milk storage guidelines.
Disassemble breast pump parts and separate each one that comes in contact with your breast and your breast milk. Hold the breast pump parts under running water to rinse off remaining breast milk. Never place them directly in the sink.
Any breast pump part that came in contact with your breasts or breast milk should be cleaned after use as soon as possible. Quick cleanups via disinfectant wipes are not enough, or refrigerating to clean at a later time is unacceptable
ADVERTISEMENT - CONTINUE READING BELOW
Here's how to clean your breast pump:
Place breast pump parts in a basin used only for cleaning the pump kit and infant feeding items. Add soap and water, and then scrub items using a clean brush used just for cleaning infant feeding items.
Rinse the parts by holding them under running water or submerging them in fresh, clean water in a separate clean basin that's used only for infant feeding items.
Air-dry the breast pump parts thoroughly. Place them on a clean, unused dish towel or paper towel in an area free from dirt and dust. Don't use a dish towel to rub or pat items dry.
Make sure the parts are completely dry before you store them in an air-dried container. Do the same with bottle brushes and wash basins uses for cleaning the parts and other infant feeding items.
What other parents are reading

Trending in Summit Network